Step into the world of Poppin, a company that wants to transform the way people shop for their workspace.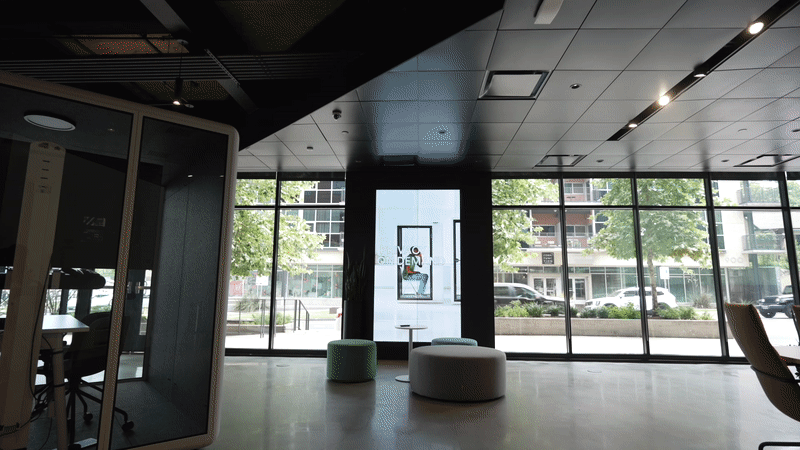 On a mission to make outfitting offices easy, Poppin offers a complete collection of commercial-grade office furniture and supplies, delivering workspace solutions that resonate with businesses of all sizes.
Recognized as one of New York's fastest growing businesses, and with showrooms in 9 major cities across the United States, Poppin's products have made their way into over 20,000 offices and 3,000 retail locations nationwide.
We spoke with Poppin's System Administrator Reymy Gomez about how their digital signage project came together with Fugo at the helm.
The Challenge
As a company dedicated to reimagining the work experience and physical workspace for organizations, Poppin recognized the need to integrate screens into their own offices.
Their initial vision for the project was to enhance employee-facing communications by leveraging the power of screens. However, what started as a simple initiative to inform and engage employees quickly evolved into a resounding success that prompted Poppin to expand the project into their customer-facing showrooms.
"The thought behind our decision to use screens was just to share company information with our employees. Eventually, this evolved into us adding screens in our showrooms as well to showcase our products."

Reymy Gomez
Systems Administrator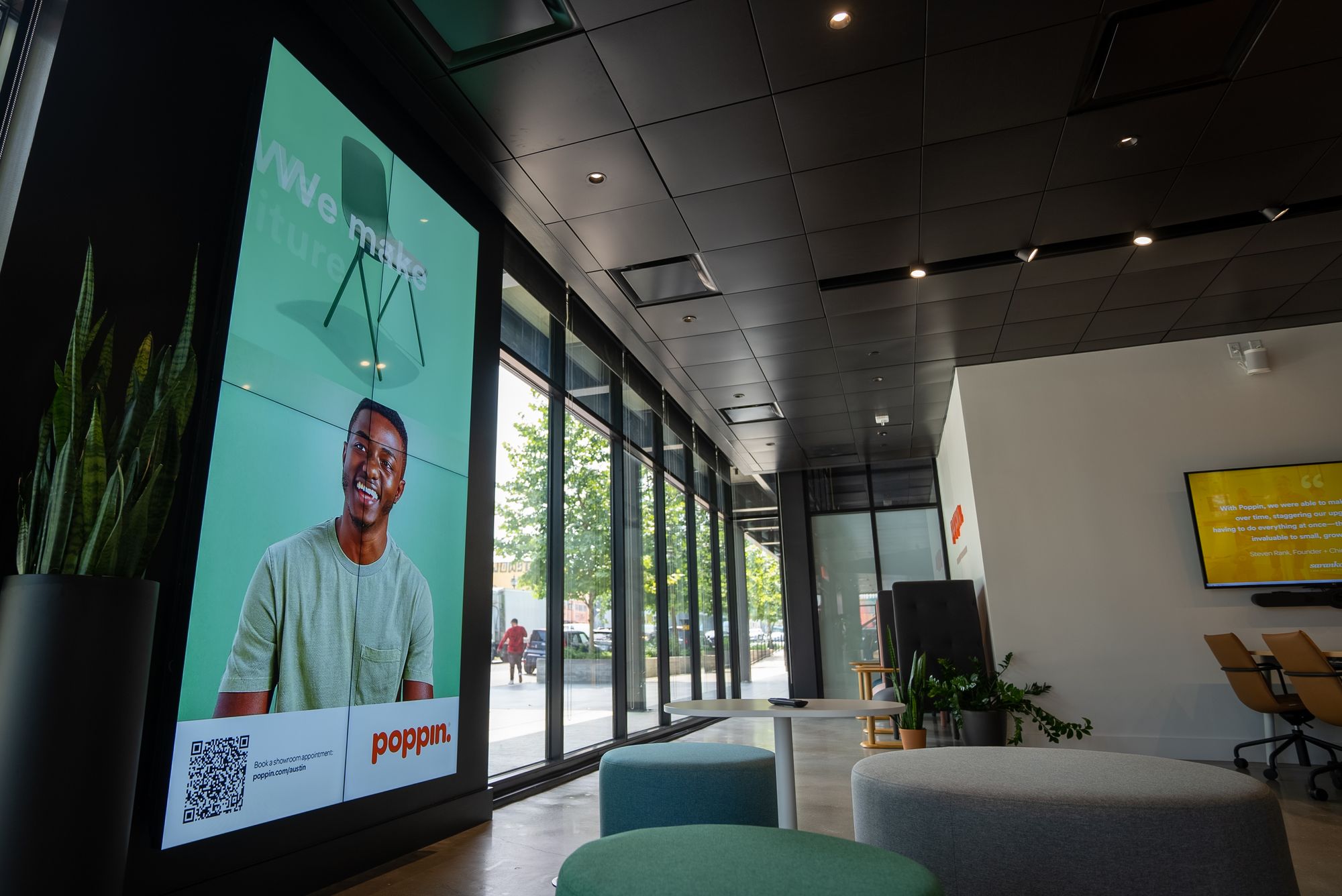 Like any ambitious project, Poppin faced challenges as they embarked on their digital signage journey. The IT team primarily had concerns about the complexity and cost of deploying and managing screens across multiple cities, including in Texas, Florida, and California - opposite ends of a very big country.
They wanted a solution that would empower them to control and update their digital signage content from one central place, ensuring a consistent and impactful experience for both their employees and customers.
The Solution
Enter Fugo, a game-changing digital signage platform that became Poppin's answer to their challenges. Fugo provided an affordable and user-friendly solution that exceeded their expectations. From the initial deployment to ongoing management, Fugo's features and capabilities proved to be the perfect fit for Poppin's needs.
Affordability was a crucial factor for Poppin, and Fugo delivered on this front without compromising on quality or functionality. With a seamless setup process, Fugo integrated effortlessly with Poppin's Google TVs and Fire TVs, ensuring a smooth transition and compatibility with their existing hardware.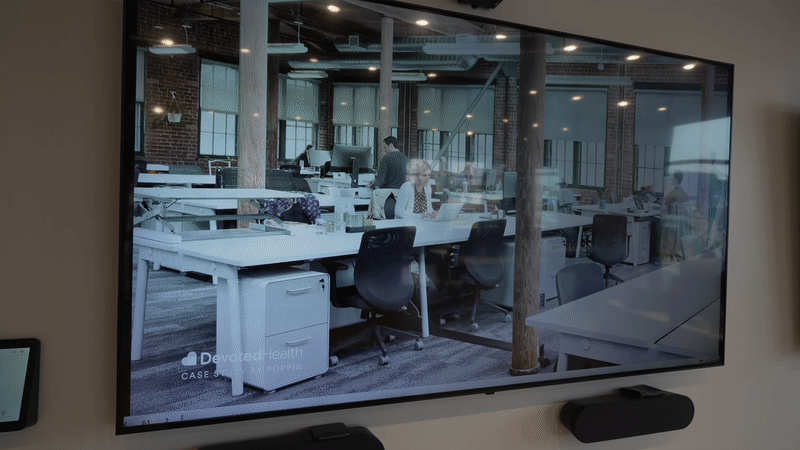 What truly set Fugo apart was its ability to involve multiple teams in the project. Poppin's creative and marketing teams could easily contribute by uploading content for special events and announcements, enabling a collaborative and dynamic digital signage strategy.
"Our screens are used to show company information to our employees within our offices. Fugo is really great in that it allows us to give access to our other teams - like our marketing team - to upload their content as well for special events in the office or showrooms."
The flexibility and integration capabilities of Fugo, particularly its compatibility with Google systems, further solidified its position as the preferred solution for Poppin. As a company heavily reliant on Google products for email, collaboration, and more, Fugo's seamless integration with the Google workspace was a game-changer.
"We use a combination of Google TVs and Fire TVs, and Fugo does a very good job at allowing us to manage all the content centrally from their platform across all of our showrooms in the US. The experience has been great. We haven't had any issues."
With Fugo's powerful management platform, Poppin was able to deliver important work-related announcements, tips, and motivational content to their employees.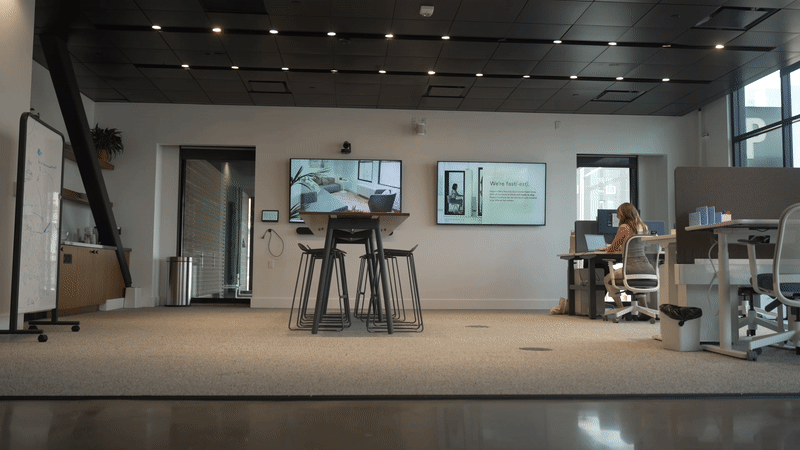 The platform's user-friendly interface made content updates and customization a breeze, empowering Poppin to create engaging and visually engaging experiences.
But Fugo didn't stop at internal communications. It became an indispensable tool for Poppin's showrooms, enabling them to showcase their products and create immersive displays that left a lasting impression on their customers.
Fugo's support for video walls allowed Poppin to create custom configurations that perfectly matched their screen resolutions and aspect ratios.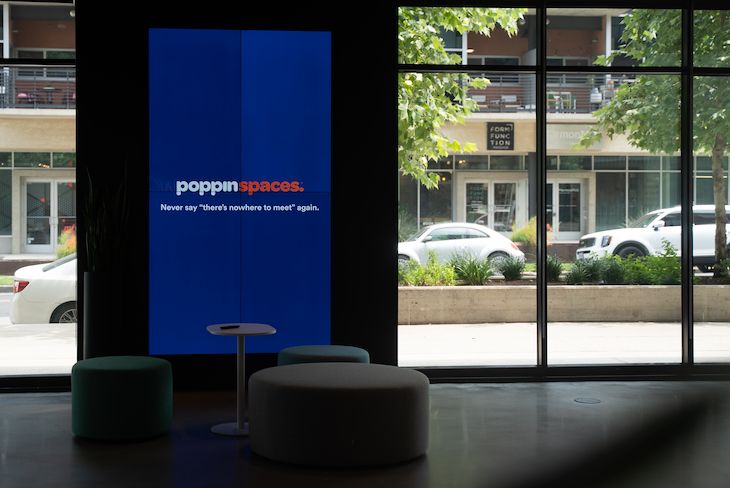 The ability to manage content on screens across multiple locations from a centralized platform was a game-changer for Poppin. With Fugo, they could effortlessly control their digital signage network, ensuring consistent branding and messaging throughout their offices and showrooms across the United States.
Key Fugo Benefits

Ease of Setup & Use
One of the standout benefits of Fugo was its remarkable ease of setup. Regardless of the hardware device, Fugo made it simple for Poppin to get their TV screens up and running with content in a matter of minutes.
"My favorite thing about Fugo is how easy it is to set up. I can get a TV now, and within minutes, it will be up and running with whatever content I want. The platform overall is just very easy to use."
Integration with Google Systems
Fugo's many integrations with Google systems proved to be a pivotal advantage for Poppin. As a company heavily invested in Google products for their daily workflows, Fugo's compatibility and synergy with the Google workspace elevated its position among other solutions:
"What gave Fugo the upper hand was the Google Apps implementation. Here at Poppin, we use Google products for email and collaboration, and that was something that definitely put them at the top of our list."
Video Wall Support
Creating captivating video walls is impossible without a content management software engineered to handle the mechanics of fitting content for custom, multi-screen configurations.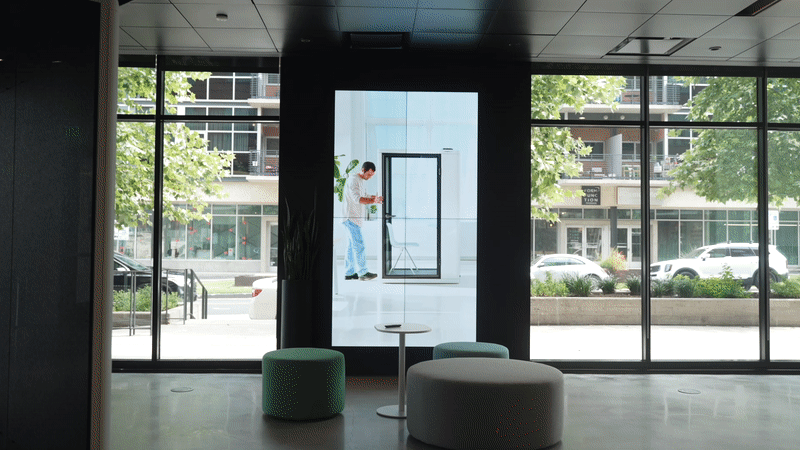 Fugo simplified the project for Poppin by keeping the video wall management under the same roof as their digital signage screens. With Fugo's Design Studio, Poppin can design and implement custom video wall layouts, ensuring an immersive and visually striking experience for their customers. No need to search for another 3rd party vendor to handle those particular installations.
Proven ROI
For Poppin, measuring the return on investment of their digital signage initiative was crucial. With Fugo, they quickly saw the impact of their screens via the engagement among their employees.
The continuous feedback, questions, and interaction with the announcements and content on the screens validated the effectiveness of their communication strategy.
"We've accomplished what we set out to do, which was to provide information. I get great feedback on the announcements we post on the screen, and that lets me know that our screens are doing what they're supposed to."
Elevate Your Company's Internal Communications with Fugo
When it comes to efficient and secure communication across multiple locations, digital signage is an often overlooked, but impactful medium with just a small investment of company resources.
Fugo, the preferred provider for businesses in over 60 countries, offers a highly versatile solution that caters to organizations deploying both employee-facing and customer-facing screens. Fugo empowers businesses across various industries, including retail, hospitality, and education.
Discover if digital signage is the perfect fit for your organization without investing any resources upfront. Take advantage of Fugo's 14-day free trial, allowing you to experience the power of digital signage on spare TV screens or directly in your Chrome browser.
If you're ready to explore the full potential of Fugo, schedule a demo with our team. Let us show you how Fugo can help you:
Manage multiple screens across multiple locations effortlessly.
Create visually captivating content tailored to your displays and use cases.
Reach your deskless employees with familiar and existing technology.
Display crucial business intelligence data from tools like Looker, Power BI, Salesforce, Tableau, and more.
Connect screens seamlessly with your internal systems to streamline work processes.
Measure the tangible ROI of digital signage for your organization.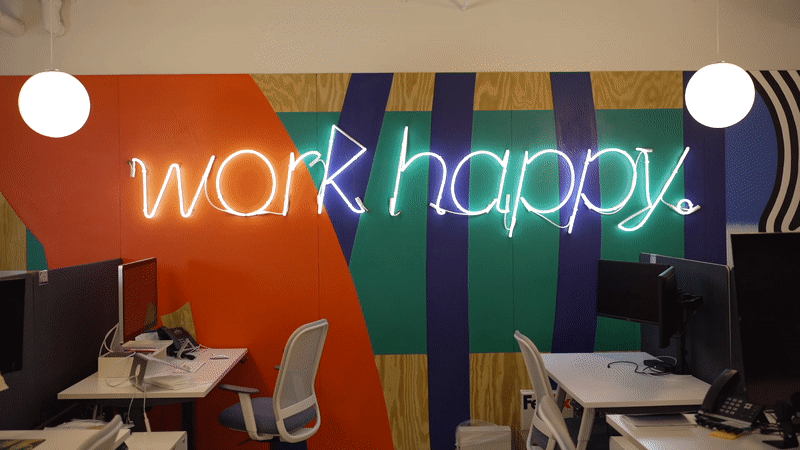 Your TV screens have the potential to make a real and measurable impact on your business. Our dedicated team is ready to guide you and unlock the full potential of digital signage for your organization.