You've just set up your new TV screen at the office. Or store. Or lobby... Now what?
You love the idea of using digital signage in your business. But you don't love the idea of building a content strategy from scratch.
Good news! You don't have to reinvent the digital signage wheel to hop onboard the hype train. Instead, you can take some inspiration from the best digital signage examples of 2023.
We've shared 20 ways you can use those screens to make sure you're getting a good ROI.
Looking for a platform where you can design and display digital signage? We also explain how Fugo can help at the bottom of the guide.
Now, let's jump into 20 digital signage examples you can use for your growing brand.
The Best Digital Signage Examples Of 2023
Whether you own a busy restaurant or a bustling office building, you can use one of these 20 digital signage examples to spark inspiration for your display.
Let's start with one of the most common applications for modern digital signage:
1. Holiday greetings, promotions & reminders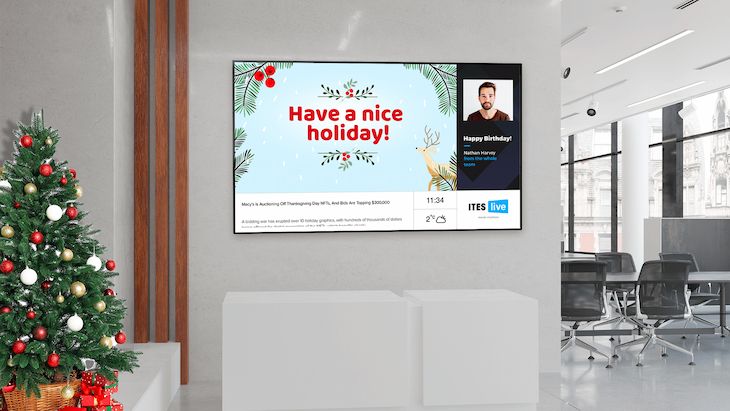 Holidays are an opportunity to make memories, give gifts, and reflect on our past year. Digital signage can help you tap into this holiday spirit to engage with customers, visitors, and employees in a more meaningful way.
Keep in mind you can celebrate any holiday of the year — not just the big ones that most people know. Think of all the fun you could have with holiday signage for National Donut Day, or even a fun company-wide challenge for National Clean Your Desk Day.
2. Display digital menu boards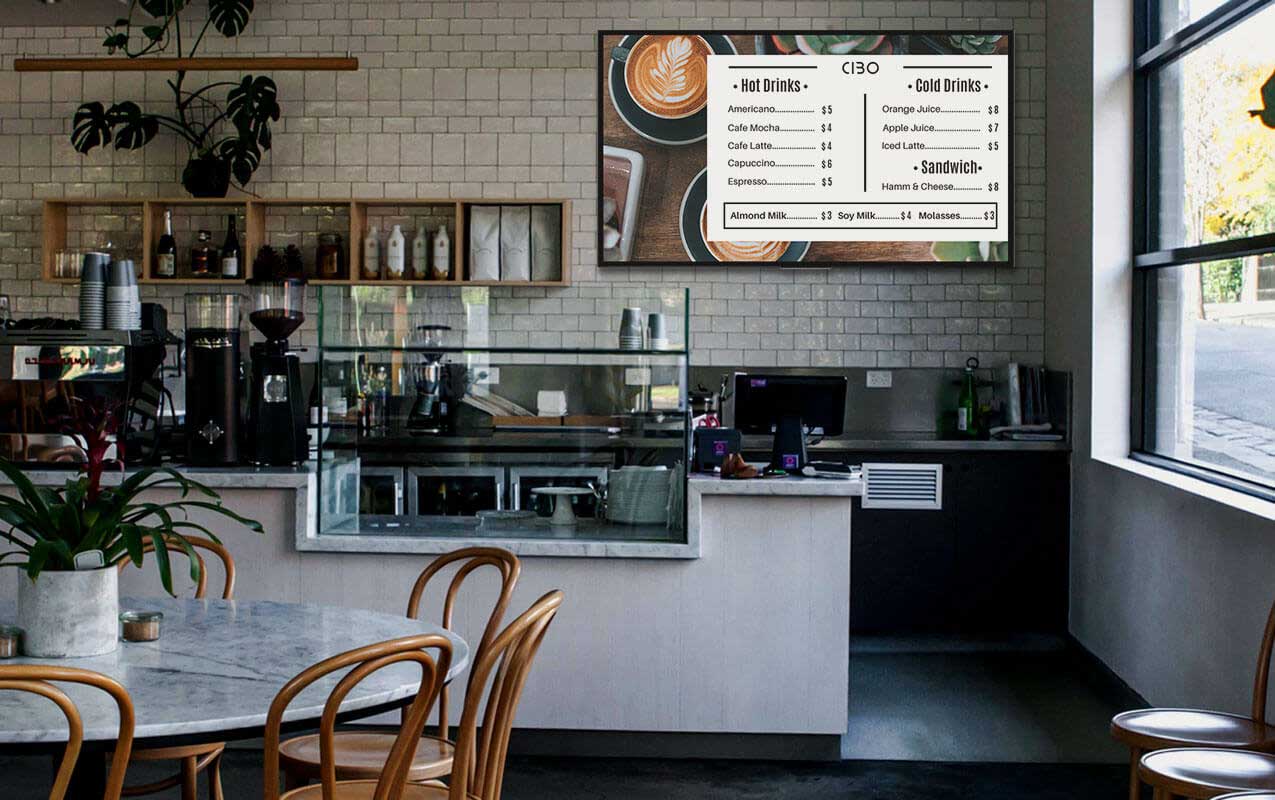 Digital menu boards aren't just a drool-worthy decoration. A whopping 59% of customers say digital menus positively influence their purchasing decisions. This means a single board (like the one above) could boost sales in three out of every five customers. Talk about an easy win for boosting your margins!
You can make your digital menu board simple, easy, and totally customized by using one of the editable templates from Fugo.
3. Track your brand engagement with a social media wall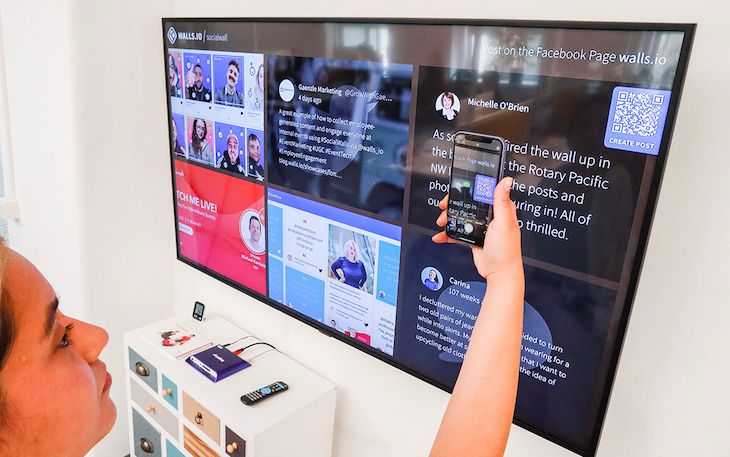 The world's abuzz on social media, so why not throw your chips on the table as well? You can use digital signage to build social media walls that highlight relevant conversations and specific interactions.
Just don't forget to plug your own channels to build a customer following!
4. Highlight seasonal promotions & events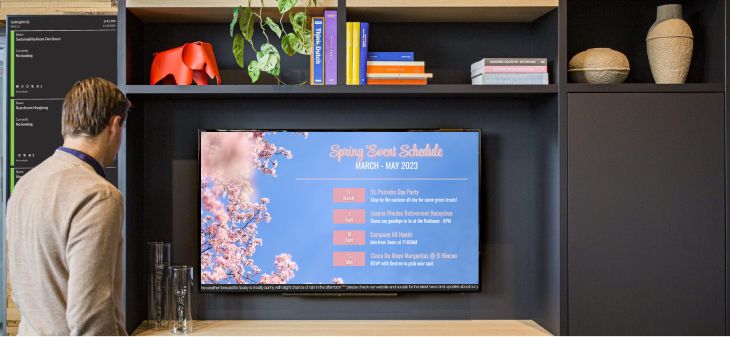 Don't want to hassle with a display for every holiday? You can always highlight some seasonal company info instead. Maybe you could highlight summer sales or winter deals, or let customers know what's on the horizon during your big spring rush.
Feel free to check out more seasonal info examples here.
5. Promote your healthcare programs, initiatives & patient reviews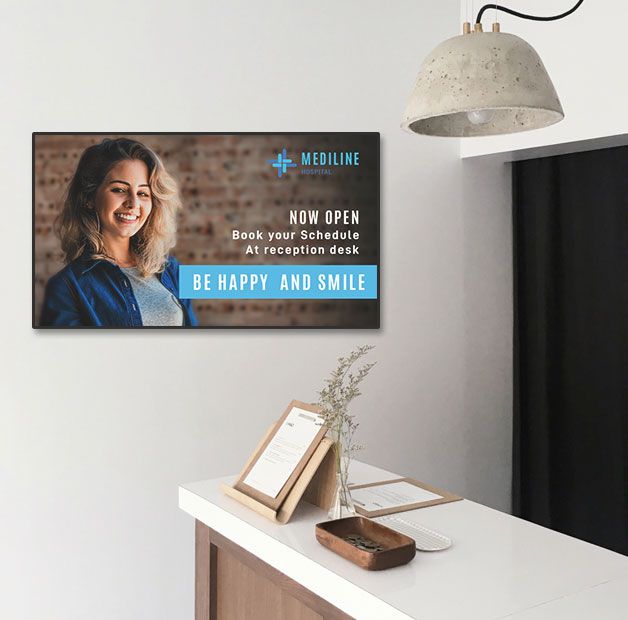 Who says healthcare signage has to be dry or scary? With the right digital signage by your side, you can build better relationships with patients while setting clear expectations.
The example above shows how you can use signage to advertise your latest healthcare offerings. But the possibilities don't stop there — you can also showcase waiting times, advertise your app, or use a QR code to encourage registration and reviews through mobile phones.
6. Display aisle numbers & way-finding information
Let's be honest: physical aisle signage is clunky, boring, and drab. And don't even get us started on the accessibility considerations.
But with digital signage, thankfully, all this is in the past. All you need is a tap and a type to instantly switch out your numbers, goods, and inventory.
Psst — want more digital signage examples for the retail industry? Check out our list of retail signage templates here.
7. Welcome visitors to your place of worship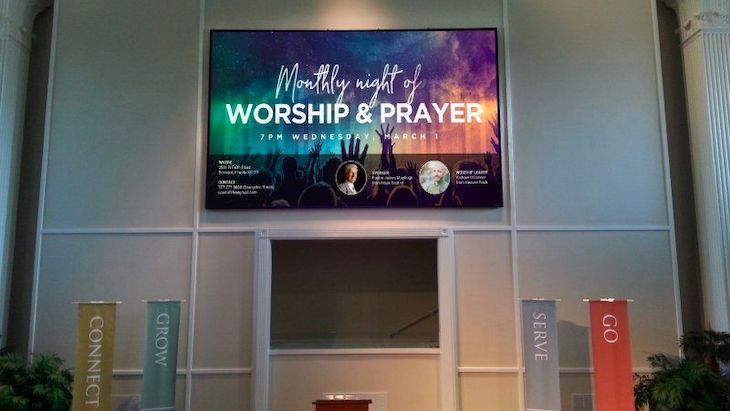 Whether you're displaying the morning announcements or calling out a fellowship event, digital signage can work wonders for your growing place of worship. You can make your display as comprehensive or simplistic as you like — the only genuine restriction is your imagination.
Feel free to check out these other templates for even more inspiration.
8. Create internal marketing hubs for employee news, reminders, and events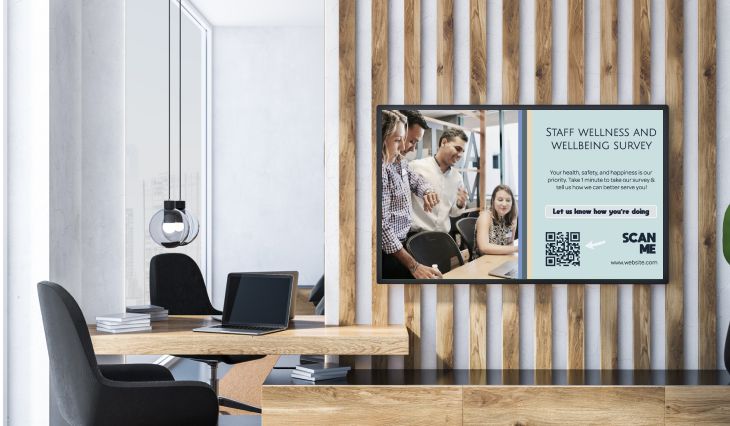 Employees deserve as much attention as your customers. So why not turn your team into brand ambassadors? All you need is some well-placed digital signage to make a beautiful display that's custom for your brand.
If you don't like the example listed above, you're welcome to try something different in our template arsenal. You can create referral links, celebrate employee successes, or welcome new team members in a single screen (or three).
Looking for some strategies to boost your internal marketing? Fugo's got you covered with a comprehensive guide.
9. Put your conference room TV screen to work between video calls & meetings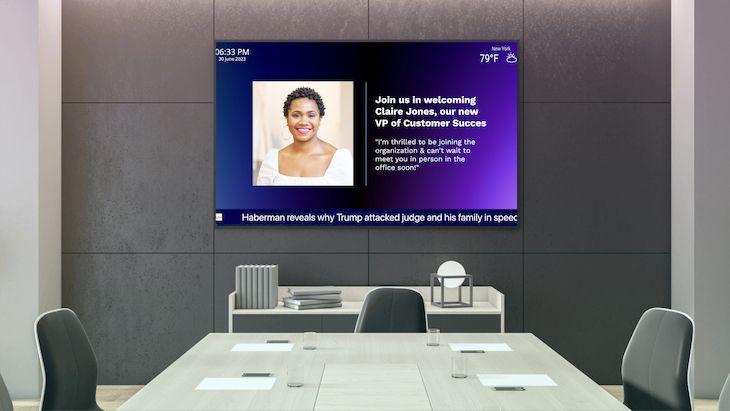 Digital signage is a great way to connect with employees, no matter where they work around your organization. From highlighting major events to distributing important reminders, you can easily turn your conference room TV into a hub of helpful information when they're not being used for meetings.
10. Company and building directories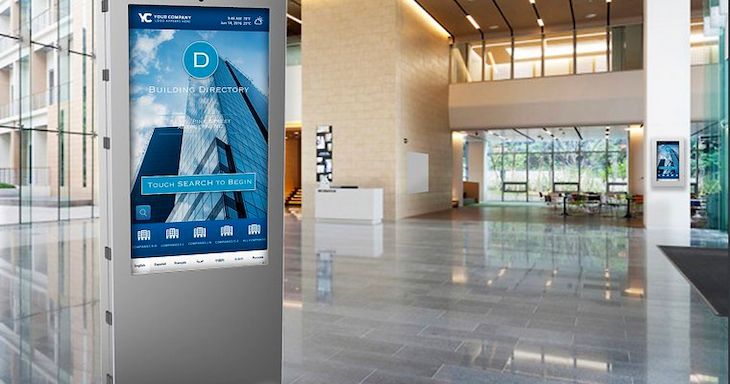 If you happen to own a large commercial building, you may be trapped in a cycle of helping visitors get around. That's where the power of a company map comes in — it's a self-service information portal that makes you look extra professional to customers.
Think about labeling different TV locations with 'you are here' markers, or adding some directive arrows to better visualize your rooms or hallways. And by the way — you can always use Fugo to make interactive displays connected to touchscreen technology.
11. Bring more customers into your store with promotional displays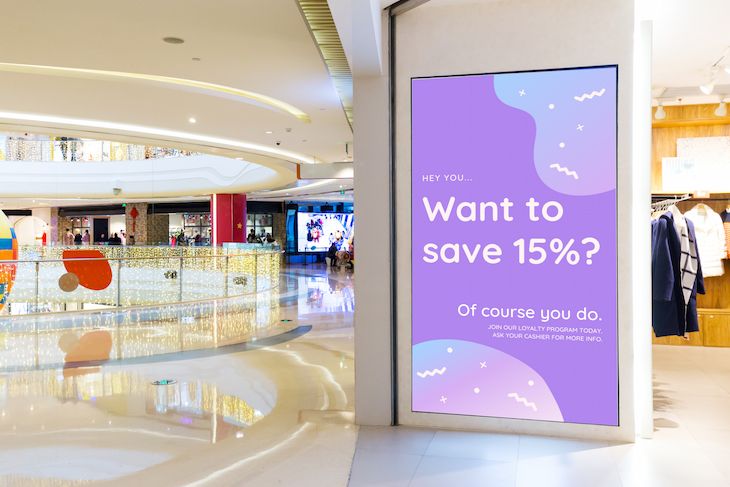 Few shoppers can resist the siren song of a discount. Why not keep it top of mind with lovely digital signage?
We recommend a combination of branded imagery and QR codes to spur your customers into action. You can always opt for one or the other, but using both works best.
And speaking of QR codes. . .
12. Use QR codes to engage viewers with surveys, polls, initiatives, socials & more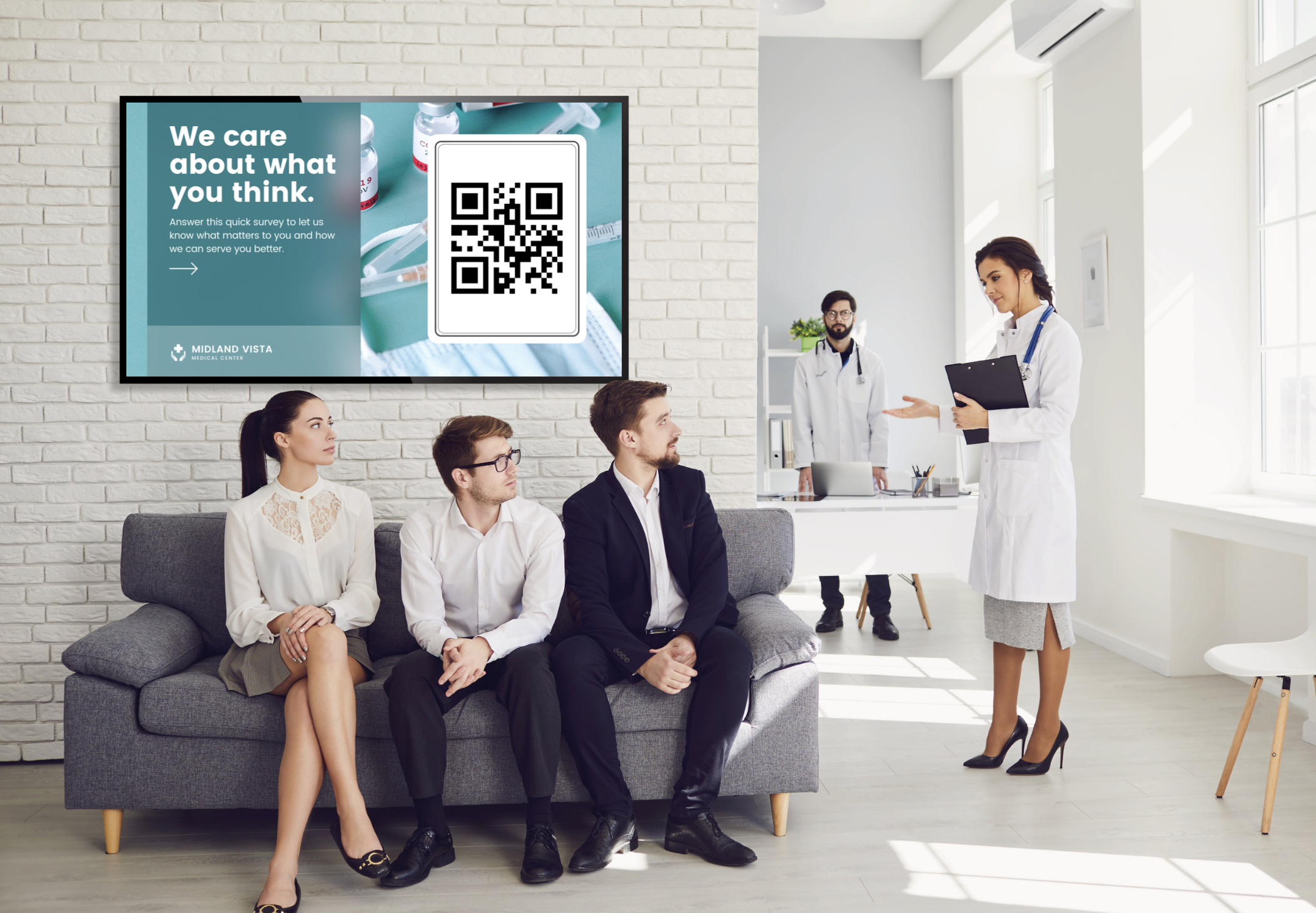 The QR code remains a powerful (if somewhat dated) element of the digital marketing schema. But no matter how old this tactic becomes, you can't deny its excellent staying power!
Don't think there's much you can do with QR? You may want to think again. These days, you can use QR codes to:
Connect customers or team members to WiFi
Help customers find the right discount or coupon
Encourage employees to fill out eNPS surveys
Plug your audience into upcoming webinars
Queue up or send branded company Tweets
Register attendees for events and policies
Distribute articles and information to visitors
Boost positive reviews on your GMB profile
With Fugo, you can embed a customized QR code into any of your digital signage displays.
13. Create live TV dashboards for your workforce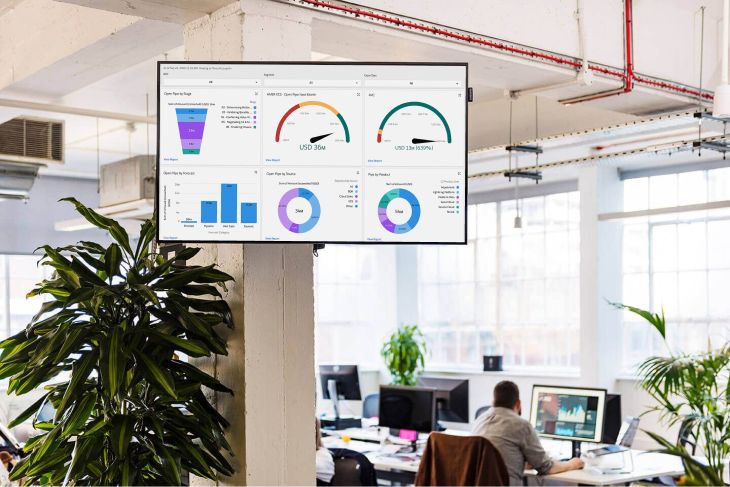 A data-driven business is a successful business, and it all starts with easy employee access to data. One of the best ways to do this is with TV dashboards, especially those connected to your existing BI platforms.
With Fugo, you can connect data dashboards to conference room TVs in just three easy steps. Once you sign up for a Fugo account and connect your BI platform, you can build a TV dashboard display updated with real-time information.
You're welcome to dive deeper with our comprehensive guide to driving data adoption among frontline workers.
14. Boost awareness & attendance of upcoming events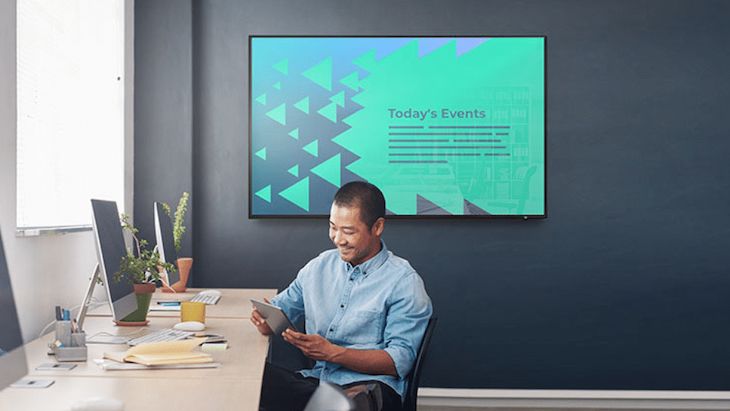 Worried your annual poker party might be a royal flush? You can rely on convenient digital signage to keep everyone in the know.
As always, we recommend embedded QR codes to gain (and monitor) any event signups. But as long as you're listing the date, place, and time, you're pretty much guaranteed to see a few people drop by. Just don't forget the snack table!
15. Greet visitors to your reception or co-working space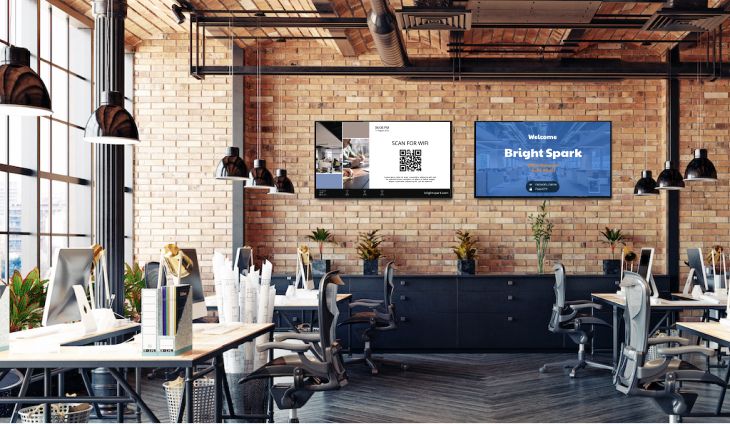 No one wants to feel like the odd man out, especially when visiting a brand-new business. But with some well-designed digital signage strewn about, you can quickly abate lingering fears and help everyone feel welcome.
This example comes with everything you need to help company visitors feel at home. A welcome message, WiFi password, and simple set of directions can help everyone feel more confident while navigating a brand-new space.
16. Share tips, hacks, encouragement, or words of wisdom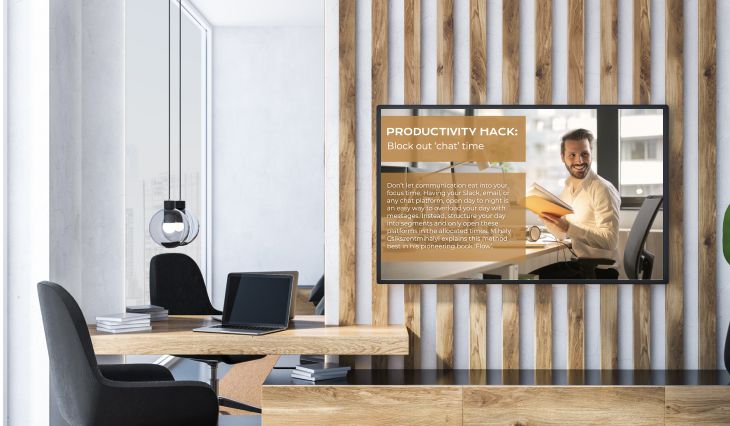 Out of ideas for your digital signage display? There's nothing a well-placed quote can't fix! If it's not a direct message from someone in your company, it could be something your company's doing instead.
Think about sustainability initiatives, for example, or community service days where you can really make an impact. This can be great for engaging with customers and opening lines of dialogue with passionate employees.
Take this template, for instance:
You could customize it to remind your employees & visitors of the good work your organization is doing to promote a healthy climate, or even ask them to get involved at work.
17. Drive more engagement with your loyalty programs or internal initiatives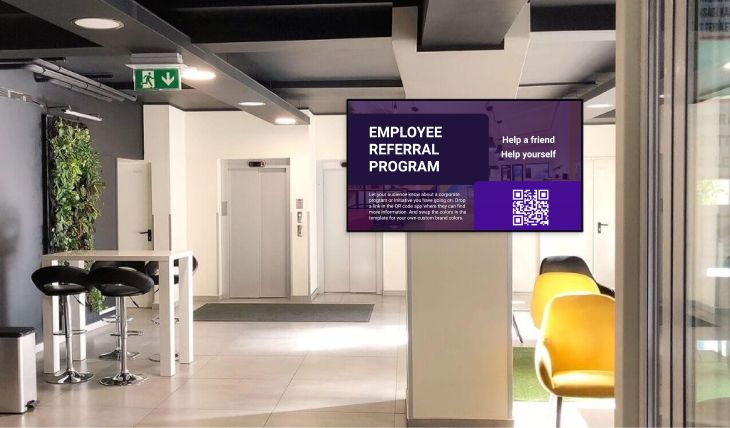 Loyalty programs have an enormous impact on how customers perceive (and buy from) your brand. They can also work wonders for internal employees, especially when attached to a valuable reward.
Try putting up some digital signage with information about your loyalty program, complete with a QR code and a few details about what to expect. If you're planning on changing the terms of your program, you can easily update your signage in a click with Fugo.
18. Hype the good news with congratulations or shoutouts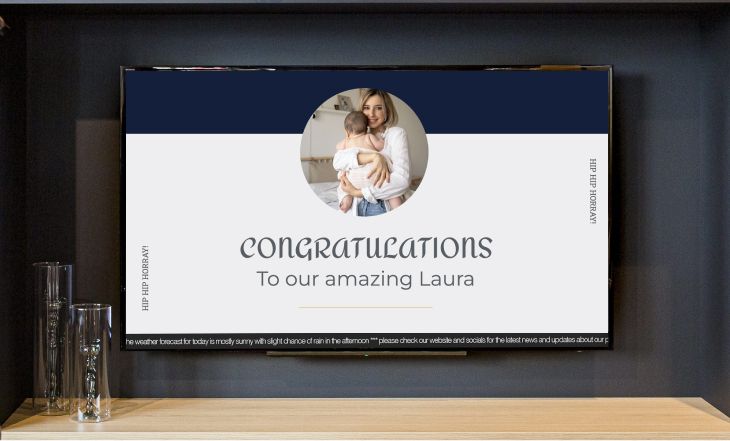 A simple 'congratulations' can be music to your employees' ears — and a digital signage display is a terrific way to do this at scale.
You can give out kudos in practically any context, although retirements, new hires, and baby arrivals are some of the most obvious ones. You may want to get creative with a 'congratulations' of your own, like highlighting the employee with the best socks of the week.
19. Update your business hours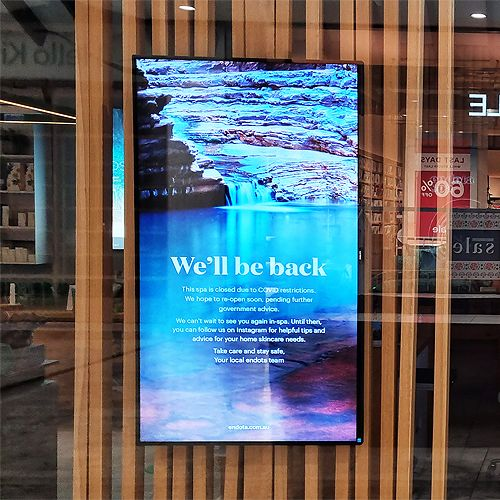 It's a good idea to call out specific business hours to keep customers in the loop without buying expensive signage.
This example shows how you can let everyone know you're away or highlight 'special' hours for specific services like delivery. However, that's not the only situation where this example can be useful.
Maybe you offer a Friday happy hour between 5 PM and 6PM, or provide discounted meals during Monday lunchtime. Either way, you can easily change the nature of your hours without constantly updating physical signs.
20. Keep everybody on track with a company calendar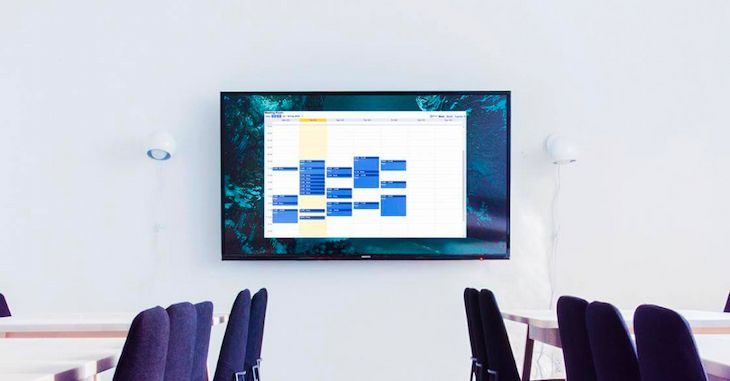 Maybe you want employees to see upcoming events or who's off on holiday at a glance. Or maybe you're looking for a way to help visitors get their bearings. No matter which application makes the most sense for your organization, you can use a template like the one above to create a customized calendar for your business.
Remember: you can always lean into touchscreen technology to add another layer of interactivity to your display.
Craft Your Own Digital Signage Content Strategy With Fugo

The sky's the limit with digital signage — and these examples are just the beginning. Once you've found a template you like, you can easily replicate the design, colors, and transitions using a digital signage platform like Fugo.
You can think of Fugo like Canva for TV screens —  just specifically designed for digital signage displays. We've helped hundreds of companies turn their signage into revenue, and if you're interested in learning more, we can do the same for you too. All you need is a TV (and maybe a media player too) and an open mind. We can take care of the rest!
You're welcome to take Fugo on a spin for yourself during our 14-day free trial.