Using QR codes is one of the best ways to level up your guests' experience if you work in the guest service industry. They make it easy to get valuable information straight into your customers' hands without a ton of work on your behalf.
If you're here, it's because you're probably wondering how to make QR code marketing a working part of your customer experience. Let's just say we at Fugo know a thing or two about making QR codes work for you in more ways than one.
First, it's important to get a few basics down before going all in. 😊
The two things you need to make QR marketing work for you
At its most basic, a QR code is designed to transfer additional information about any services or product you offer with ease. It's designed so your customers spend more time immersed within your brand's services or products.
Though QR codes can lead to more money spent by your customer during their stay, they aren't only useful to that end. They can also put stay-enriching information - like how to use an appliance in their room or how to easily order room service - in your customers' hands in a matter of seconds.
QR codes are essentially just portals to any content hosted on the web - so the uses for them are practically endless!
To get them working, you need 2 things:
A QR generator
A way to make your QR codes visible
A QR generator
You can't do much with QR codes unless you have a way to create them. Thankfully, there are a few ways to go about it. A quick Google search can throw a ton of different QR generating options your way.
Though abundant, it can be hard to know which one's more reliable. A lot of QR code generators that are out are detached from any real marketing tools. They don't help you with displaying or maintaining your QR codes, only creating them. However, a solid way to use QR codes effectively is to incorporate them into any digital signage you're already using.
What better way to display your QR codes than digitally? Where you can easily change them out or edit them in literal seconds?
Once you figure out a way to generate your QR code - which in our case means signing in to your digital signage dashboard once you've onboarded digital signage software that works in tandem with your QR strategy - the next thing you want to know is what your QR codes will link to. It's helpful to make a list, and to determine where you'll display your QR codes. The more visible they are, the better they'll automatically work in the background for you.
Create screen-ready QR codes for your screens with Fugo's digital signage QR code generator. Just drag & drop the QR code app onto your designs in Fugo, stick in a URL & bam - done. You've got an actionable, interactive display for your customers to engage with.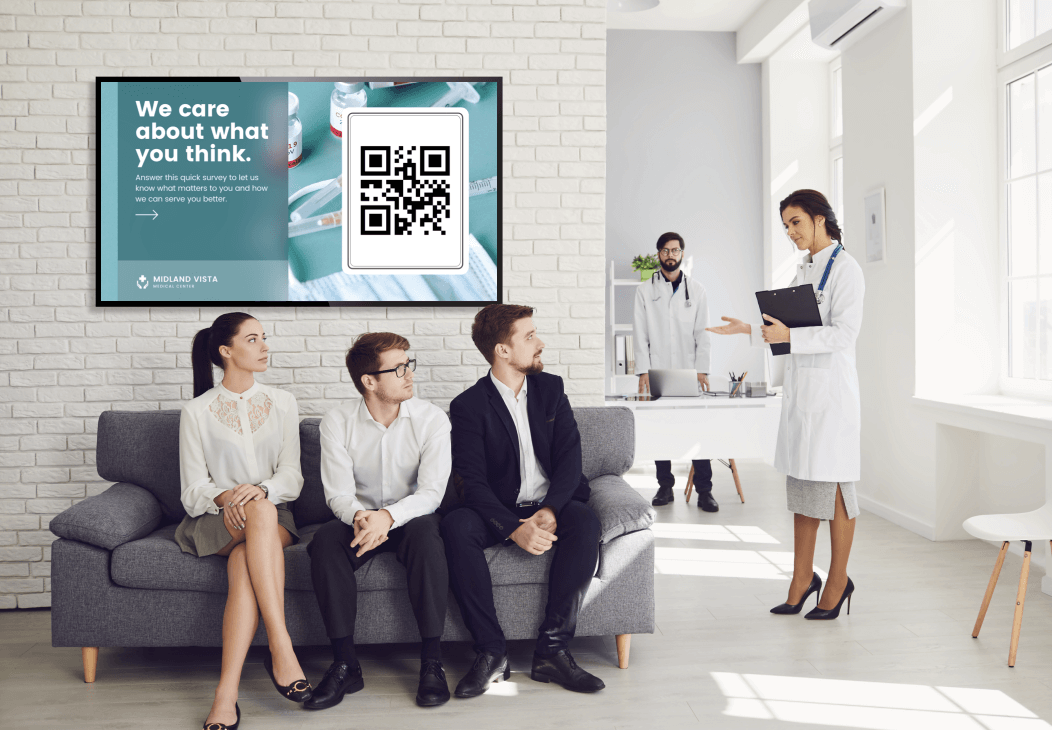 Need a QR code generator for your web & print materials?
The free and simple QR Code Generator from Canva lets you create a free QR code to attract new customers. Create professionally designed QR codes in just a few clicks — perfect for marketing brochures, posters, business cards and more.
A way to make your QR codes visible
Making your QR codes visible is a key part of the enhanced guest service process. Here's where you'll want to consider adding your codes anywhere with high visibility - especially any digital displays you may be working with. This, of course, can be made eons easier with digital signage templates designed for the hospitality industry that make it easy to plug in your QR codes and get them ready for display.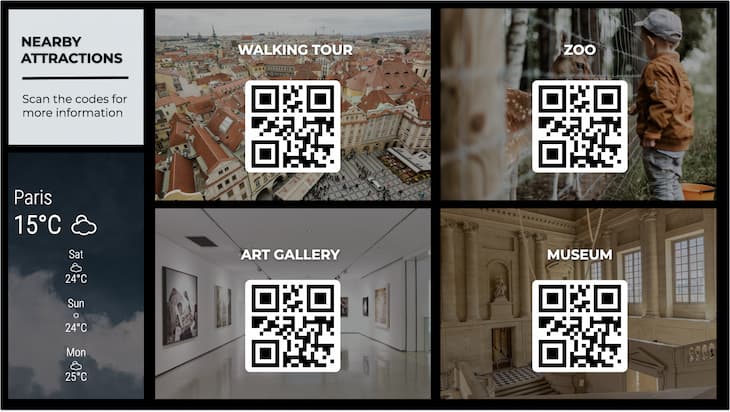 This can also mean adding your QR codes to business cards, pamphlets, posters, welcome packets, or even menus. If, for instance, you're really wanting to add your newly minted QR codes to your digital displays, we have an easy-to-follow guide on how to easily do that with Fugo in a matter of minutes.
Creating your QR codes, linking them to their proper destinations, and creating a game plan for where and how you'll display them is the first part of the journey. Now, QR codes can be useful throughout your customer's stay - starting with the welcome experience.
Welcome your guests properly
How do you treat your guests the moment they step foot in your lobby? How do you make them feel like they aren't just another guest on your list? One of the most telling parts of your guest service experience is how any one customer is received at the beginning of their stay.
One thing customers hate having to deal with when they're staying somewhere new? The stark lack of initial information that always seems to be a problem in the guest service industry in some form or another.
This is where a QR code strategy can easily eliminate that issue. Picture this: A family of 5 steps into your lobby, heavy bags in tow. They're hangry (hungry + angry) from the long drive and all they want to do is find some sense of relief, rest, and some air conditioning would be nice too.
They take their smartphone and scan the QR code they spot on your big welcome screen that sends them a personalized message along with clear directions on what to do once they arrive.
Wow. How different is that from having to ask around and fumble through the arrival process? Properly welcoming your guests by embracing them with a personalized message as well as clear check-in directions is a surefire way to delight and retain both new and old customers.
In fact, 68% of customers say they'll pay more for businesses that are known for a good customer service experience. Better customer service can start with small changes like pairing visible signage with clearly displayed QR codes. This is especially true for an increasingly tech savvy customer base.
Help guests check in faster
QR codes can save you both time and money by shortening - or in some cases altogether skipping - the check-in process.
With a scannable QR code, guests don't have to wait their turn forever at the check-in desk. They can get ahead by simply scanning a code linked to the check-in page. From there, they can enter their information and be ready to go. No need for the drudgery of old-fashioned waits for the receptionist.
Showcase the best of what you have to offer
Wouldn't it be great if you could provide a butler to every room you booked? They'd show your guests around, teach them how to use the bidet correctly, help them figure out the coffee machine, and tell them about all the amenities you have to offer.
Except, that's really expensive to do. But QR codes can act as your stand-in "butler" by digitizing the experience of passing on crucial information to your guests efficiently. Are there any loyalty programs, events, social media pages, or upsells you wish your customers were more aware of after they've initially settled in?
Letting them know about any special offers you may have can be as easy as allowing them to scan a QR code that sends them to a page where the best of your complimentary offers is on full display. Anyone interested in making extra purchases can easily access the checkout process through your strategically linked page.
From there, take it a step further. Pair your QR code efforts with smart digital signage that uses AI, and you can be clued in on what draws in your customers' eye. What information they crave or what deals that are most appealing to them.
Make ordering meals an easy process
Did you know that you can create QR code menus? The world changes fast. Global events like the pandemic have shown us how valuable it can be to provide touch-free experiences whenever possible.
Revamping how your hotel or guest service handles menus can be a step in the right direction. With QR codes, you no longer have to print out and maintain greasy paper menus. Better yet you eliminate the extra paper expense completely. Customers can approach your display screen or sign, scan the corresponding QR code, and get instant access to every food choice on the menu.
This can happen while customers are out and about in your facilities, but it's also a great way to streamline the room service process.
Make it easy to gather feedback
At this point, your guests were properly welcomed, they checked in, they stayed, they ordered room service when they got hungry, and are now on their way out. How happy were they throughout the duration of their stay? Unfortunately, it's not as easy as reading their minds. Though if there's technology for that, we'll be sure to keep you posted.
In short, customers have to tell you how they feel. What better way for customers to give feedback than through the ease of scanning a QR code, being sent to a feedback survey page, and answering a few brief questions?
You can easily execute this through signs or welcome packets in individual rooms. Or, you can also display QR codes in hotel rooms or lobbies on screen asking for feedback as they make their way out.
If there's one thing customers love is giving their opinion (and being heard.) Feedback is one of the best ways to improve your services. Make it easy for customers to give it.
Beyond QR code marketing
The science is in. Implementing new tech - like QR codes and digital signage - can result in a reduction of guest complaints by as much as 71% and a 19% increase in customer service ratings.
QR codes enhance your services by connecting your customer's stay with a digital experience you get to control. Digital signage can be an integral part of your QR strategy once you know what areas of your customer experience you want to enhance.
As a digital signage solution that thrives on being easy and accessible - to the tune of being as easy as posting a picture on Facebook - Fugo can help make your QR code marketing plans happen without the hassle as far as pairing them with digital signage is concerned. Here's where you can find out exactly how that happens.
Better yet, book a personalized demo so we can help you through the QR display process. On us.