Improving warehouse efficiency isn't just a thing you do for fun. These days, it's a necessity - especially if you're trying to make the most of your space. Quick shipments that are packed and sent out with speed and accuracy ultimately end up meaning one thing: an increase in satisfied and happy customers.
If you take it back to basics, there are a few things you can do to improve your operations, including incorporating digital signage as part of both your communication and safety strategy. Below, we walk through 4 practical ways you can improve your warehouse operations without missing a beat.
Make the most of your space

Making the most of your space takes thinking a bit outside the box. Sometimes it isn't necessary to simply buy more square footage. New York couldn't find space to grow horizontally so, instead, it looked upwards for additional space. It's the same with your warehouse space.
Invest in taller shelving and storage units that can give you that much-needed extra space. If you're able to establish a better delivery schedule with providers, making the most out of your space may mean getting smaller amounts of items delivered more frequently.
Besides building storage shelves upwards, you want to think about organization, and the importance it plays in your daily warehouse process. This means you'll want to invest time in creating and refining an order fulfillment operation to process your orders quickly with minimal errors.
Making the most of your space can also involve incorporating digital signage in common areas including the cafeteria and break room. You can program your screens to showcase more general announcements in common areas while saving the more detailed safety precautions and work announcements to the screens in the warehouse floor.
Incorporate better technology

Incorporating better technology can mean a lot of things, but it often means going digital. It's not surprising that there's an uptick in warehouses adopting better technology, including robotics to help them get more done. Incorporating digital signage is a great way to communicate with deskless workers who work shifts and that might not be part of your internal communications process.
What exactly does this look like? Well, for starters, you can easily make warehouse-wide announcements once you implement digital displays. Are there stocking schedule changes your employees need to be aware of? Upcoming holiday changes they need to keep in mind? Or daily reminders of cautions they need to take that need to be highly visible?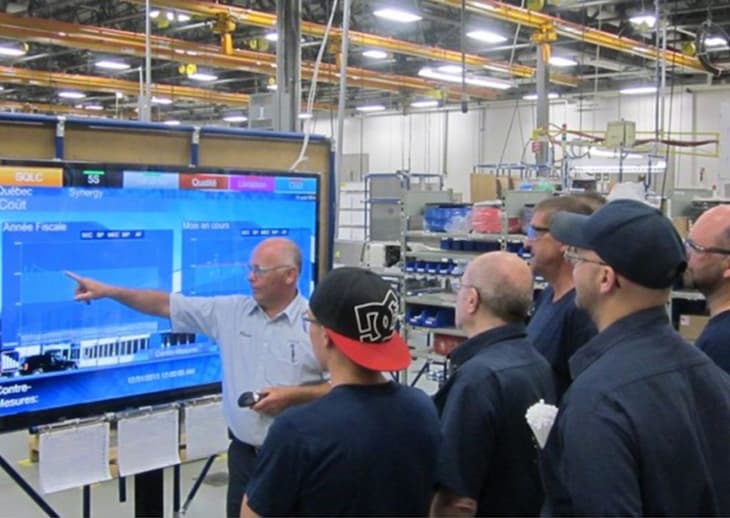 Digital signage is quickly becoming an integral part of how businesses across industries run their operations. And for good reason. It's extremely easy to manage, there's no need to print anything, and you can display just about anything imaginable. They make it easy for employees to become more aware of key warehouse information - including last minute updates or changes in your workflow.
Prioritize safety

Though there are a lot of things you can do to improve your warehouse technology, that still leaves you with a lot of safety hazards that need to be addressed. The average warehouse deals with 4.9 injuries for every 100 employees.
How safe your warehouse is hinges a lot on the type of equipment you use and the proper usage of that equipment. One of the culprits responsible for some of the most common warehouse injuries? Forklifts. Thousands of workers get injured because of them each year, and a good number of this happens because of forklifts overturning.

As a warehouse manager, that leaves you with an important task at hand, which is ensuring that your warehouse operations aren't only as efficient as they can be but also just as safe. Prioritizing safety can start with the basics. Are all your employees up to speed on all their compliance training?
Do you have signs up that clearly explain the correct way to operate machinery or relay your standard operating procedures? Digital signage can play an important role in reminding your employees about safety precautions.

For instance, you can program a schedule of digital slides that showcase reminders, infographics, do's and don'ts, or even short videos. Once it's set up on your warehouse screens, you can have announcements displaying when and how you want them. If you design your digital displays with a tool like Fugo, you don't even have to use a third-party app to design your safety reminders, you can do it with its built-in Design Studio tool for easier signage management.
Increase labor efficiency through communication

There are a lot of components that can go into improving your overall labor efficiency. It involves increasing employee retention, actively ensuring employee safety, and easing communication between management and floor employees. A lot of this can be managed - or at the very least made better - with automation.
With the automation that digital signage offers, you can enable real-time communication and collaboration with deskless employees. Besides making sure your employees know about changes in schedules or warehouse-wide announcements, you can also display warehouse KPIs or metrics on TV dashboards that'll encourage productivity and keep employees on track and on pace with orders.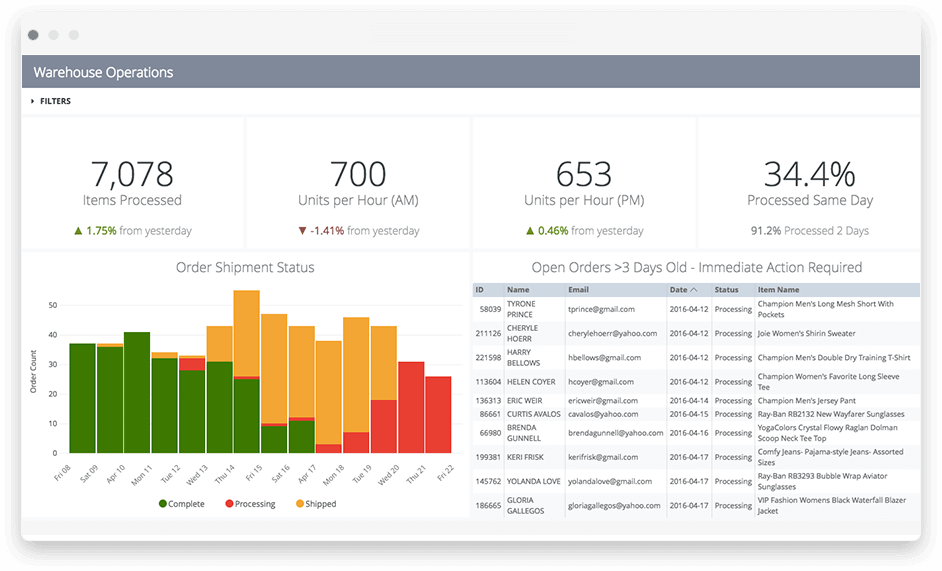 Running a successful warehouse means taking good care of your employees. If there are any warehouse initiatives worth knowing about you'll want to include those in your screen rotations too - as a way to increase and maintain employee morale. Providing employees with more than one resource for information can help your efforts to keep them in the loop. Moreover, constantly communicating your messaging through your digital efforts leads to consistency - an important factor in retaining your employees and creating a safe working environment.
Deploying digital signage for growth

Taking advantage of all the perks digital signage offers - including flexibility and a streamlined increase in communication - can help you step up your game as you look to increase the efficiency of your warehouse operations.
With a tool like Fugo, deploying digital signage in your warehouse - no matter the size or the industry you serve - can be an easy and hassle-free task. Once you implement a warehouse-wide signage display, you can be sure to keep your employees engaged, informed, and more aware of safety measures.
Check out our free demo to learn more about how easy it is to start using Fugo as a key part of your warehouse efficiency strategy.