The words "restaurant" and "digital signage" aren't words that you often see paired together. Yet, in a tech-driven world, digital signage in restaurants is becoming the norm—print outs and large posters be damned.
It doesn't matter if you're considering a digital display for your restaurant or you've already established one— sometimes it's nice to be in-the-know on digital signage ideas that can liven up your eatery, help you make sales, and keep you current.
The challenge is finding ideas worth trying. So we gathered some of the best ones here that bear reviewing. Bookmark this guide for the next time you're planning your digital display content to make sure you're making the most of it.
Let's dive in.
QR codes
QR codes aren't only for the cool kids. You can use them in your restaurant too, in more ways than one. You can use them to direct your customers to special offer pages, your menus, or even your social media pages.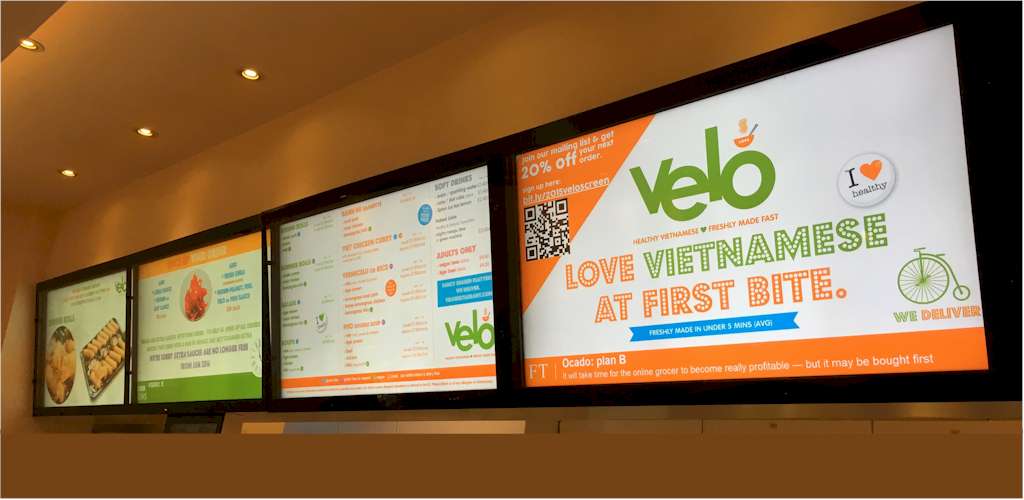 Using QR codes is easy once you have the right tools in place. With a digital signage tool like Fugo, you can add QR codes to your digital displays in seconds. You can start from a template, or create your own slides. In fact, it's such a useful tool in our CMS we have a whole guide on it.
A digital-first approach to the spread of information is one of the fastest ways to let people know about your offers, special deals, or restaurant changes.
Encourage restaurant reviews
Restaurant reviews are a solid way to ensure you keep customers coming back while gaining new ones. When you pair it with a bit of digital display strategy, you ensure you get restaurant reviews you wouldn't get otherwise.
Offer a possible incentive on-screen for higher participation rates. Use bright imagery to let people know how they can review you (as well as what's in it for them). Let customers know they can review you on Yelp or any other major review apps in your area.
With Fugo, you can schedule your review displays to show up at a certain time. If there's a high traffic time your restaurant experiences throughout the week, schedule your review displays to match that.
Digital bulletin board / community board
Forget paper bulletin boards. Engage your restaurant audiences with a digital board that promotes your partnerships, local events and initiatives, or even charities your restaurant is involved with.
As a restaurant, you want to create rapport with your customers. With a digital bulletin board, you can keep your regulars informed on what's happening in your restaurant as well as the surrounding community.
Got any career opportunities at your restaurant? Make sure to announce that in your digital bulletin board too. You never know if your next employee of the month is watching.
This is the power of digital signage - as well as why we love helping you create it. It's so versatile there are a ton of different ways you can leverage it to increase your revenue, stay relevant, and enrich your dining experience.
Create a brand personality
If I tell you to "EAT MOR CHIKIN '' chances are visuals of cows holding signs come up in your mind. In other words, Chick-fil-A has done a great job of creating a brand personality you can easily recognize.
Yet, you don't have to let them have all the fun. Whether you're a franchise restaurant or more of a mom and pop stop, you want to show your customers you have some personality!
How?
Show the behind-the-scenes of your restaurant.
Share facts about the owners or the people that have worked with you for a long time
Share digital displays filled with fun facts about how certain dishes came to be
Create and announce restaurant contests people can passively participate in (guess the number of spaghetti noodles in this jar, etc).
The best part is that - especially if you're pressed for time - you don't have to do all of this from scratch. At Fugo, we have a growing library of digital display templates that are plug and play and that works for all your digital signage displays. They're professionally designed and ready for you to just add your brand colors, add your content, and hit publish to add it to your display schedule.
Back of house signage for staff
We all love our customers, but we can't forget about the people that make it all happen. Ever thought about implementing back-of-house signage for your staff?
Listen, your people work hard. You want to give them as many advantages as you can.
With a digital signage system in the back, you can:
Implement and streamline better ordering systems
Display shift schedules (even with QR codes)
Easily share and spread general announcements
Shine a spotlight on star employees
Introduce new employees
Lots of digital signage software can be implemented with POS systems and can be configured with some solution to keep kitchen staff on track with orders. Chipotle, the restaurant that makes your favorite taco bowls, recently did this.
The results? They boosted order fulfillment speed, order accuracy, and overall customer satisfaction. At the risk of sounding like a bad infomercial, you too can do the same (even if you aren't technical at all). Fugo can help with the process.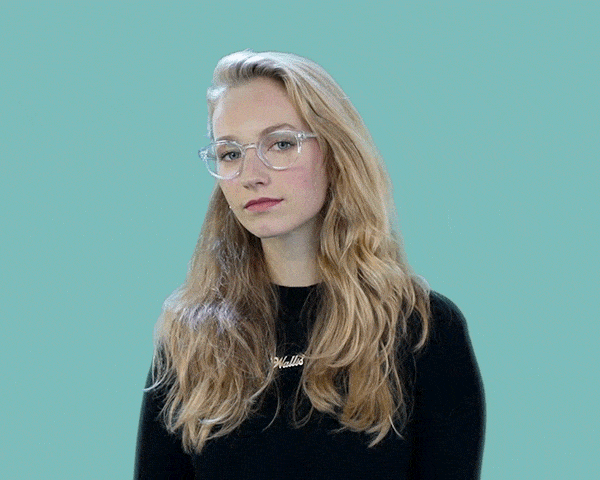 Show off loyalty programs
Loyalty programs keep people coming back. But only if you let them know they exist.
What better way than letting them know with a dynamic, shiny screen that they can join your loyalty program or digital punch card efforts?
You can add incentives, QR codes, or animations to encourage them to participate. Point being: You want to make it as easy as possible for people to participate so they can keep coming back for more.
With digital signage, you can announce it, and announce it often.
Order queue systems
Most digital signage software can integrate with queue management tools. This way, customers and delivery drivers can see which orders are in progress and which are ready on screen.
Establishing order queue systems can be invaluable to your back-of-restaurant workflow. Fugo makes it easy to manage it all from one system with plenty of integrations and digital signage tools.
This can also be a great way to help with the influx of people, whether they're customers, delivery drivers, or back-of-restaurant employees. With digital signage, you can lessen the back and forth that a less visible system would cause.
Promote restaurant app downloads
Does your restaurant have an app? You can easily use digital signage to gain more downloads. The more you promote your restaurant app download, the more eyeballs can see that you have one.
With the help of QR codes, you can make it a breeze for customers to download your app while they wait for their food. Better yet, with Fugo's restaurant templates you can design an appealing display and insert a QR code faster than you can say "Im hungry!"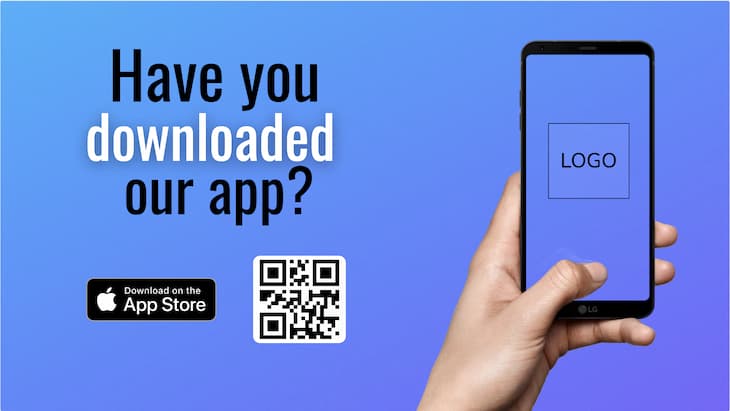 Menus aren't the only thing you can display on your screens. With a bit of creativity, some restaurant-specific templates, and a few minutes you can start marketing your restaurant in plenty of clever ways.
Entertainment
If anyone tells you they don't like being entertained, especially when they're eating, well, they're probably lying to you. As customers come in and wait for orders, a digital signage display can help with customer satisfaction.
You can stream YouTube, Vimeo, or even any gaming or entertainment apps you're subscribed to.
For more ideas, check out apps like:
Extend your restaurant's social media marketing
These days, you can't survive without restaurant marketing - yes, we're talking about restaurant social media efforts specifically. It's one of the best ways to create a restaurant marketing strategy.
With digital signage, you can make it easy to grow your social pages as well as your reach as more people follow you. Encourage customers to follow you on social platforms by displaying your social pages.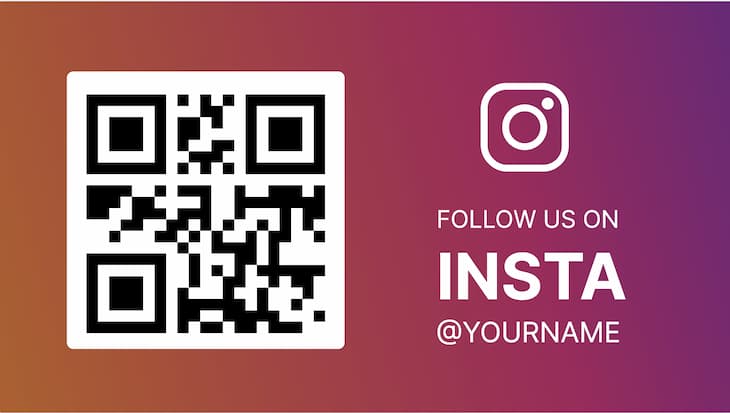 You can use QR codes to make it easier to gain followers and widen your reach. If you use Fugo to manage your digital display schedule, you can use its drag-and-drop social ads feature to easily create social displays.
Step up your restaurant digital signage game
Listen, we get it. You're a restaurateur with too many orders (is there such a thing?) coming in and not enough of you to go around. Still, the ROI of taking a minute to step back and upgrade to digital display strategy that brings in growth is apparent.
With Fugo, it can be an easy process of setting it up, and creating all your display slides and features within the system with our Design Studio.
All you have to do is give it a try or book a demo and have the rest, as they say, be history.