Looking to display your BI dashboards on office screens?
This guide covers everything you need to know about the nine best BI dashboards for office screens. After we explain what each platform does and list off their features and benefits, we put their prices on display so you can make more informed decisions for your budget.
Just want to get started with a display? You can hop to the bottom of the guide to learn how you can put your BI dashboards on display with Fugo.
Now, let's dive in.
How Do The 9 Best BI Dashboards For TV Displays Measure Up?
Just looking for the Sparknotes?
Here's how the nine best BI dashboards for office screens line up side by side:
The 9 Best BI Dashboards For Office TV Displays: Prices, Features, And Integrations
You're bursting at the seams to share data with your team.
We're bursting at the seams to show how you can make it happen.
Let's dive into the nine best BI dashboards for your office TV displays, starting with one of the most popular: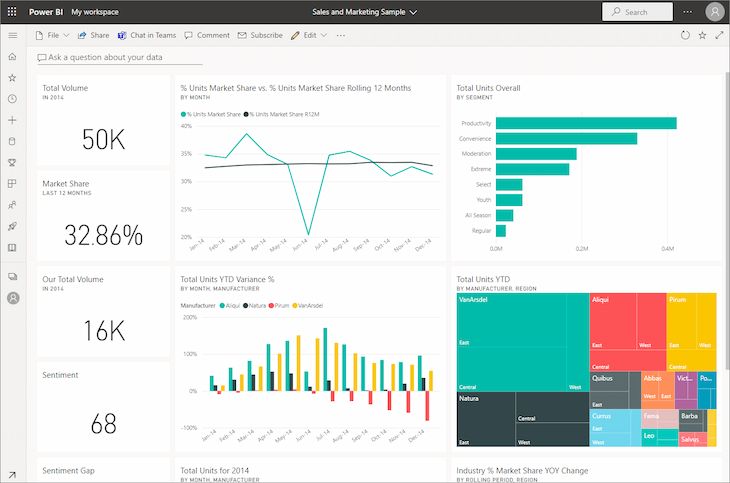 Power BI is the quintessential BI tool for growing brands and enterprises. Developed by Microsoft in 2011, it remains a powerful force in the business intelligence sector.
Thousands of brands from all industries rely on Power BI to tell data-driven stories. However, you should know that displaying Power BI dashboards requires you to pay extra for user licenses.
Luckily, that's where Fugo can help.
Feel free to read our full guide to displaying Power BI dashboards on TV screens.
Power BI prices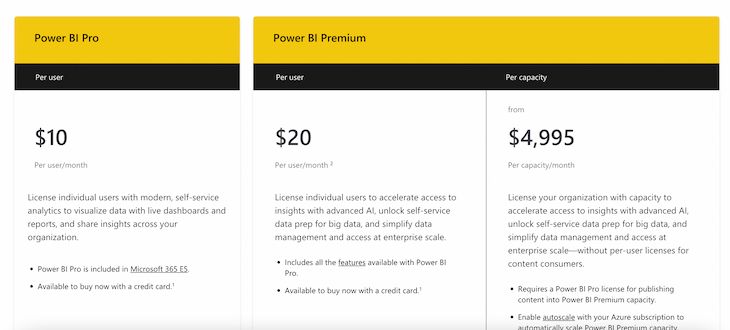 Power BI Pro: $10 per user per month for dashboard viewing access
Power BI Premium: $20 per user per month for editing dashboards
Power BI Premium Per Capacity: $4,995 per capacity per month for self-service data prep
Power BI features
Don't want just a TV display? You can easily share your Power BI dashboards through Notion, Teams, and Fugo's Embeddable Channels.
You can connect your Power BI license to other Microsoft tools, including Office 365.
Power BI offers AI-based visualizations you can easily display on your TV, including decomposition trees, key influencers, and Q&A visualizations.
Power BI limitations
There's no way to natively share reports from a Power BI Report Server within Power BI
You need a Power BI Pro license to view and share your dashboards.
Power BI doesn't have any native tools for displaying dashboards on a TV. Thankfully, that's something Fugo can fix.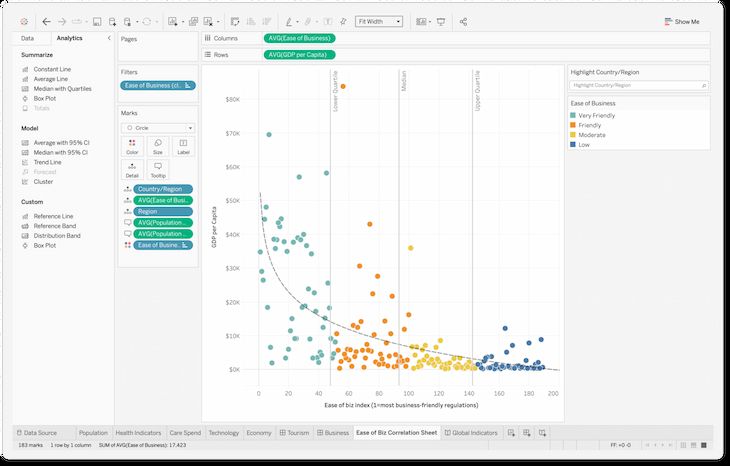 Tableau is a business intelligence platform designed to create, manage, and display unique visualizations. You can enter raw data, use preexisting templates, then share graphs and charts with the rest of your team.
You can view Tableau dashboards on TV screens, computers, or online servers. This can help frontline workers (and other members of your team) make better decisions throughout the day.
The catch? Guest licenses — and if you don't have the right billing structure, you can't display Tableau dashboards without paying extra.
If you want to display Tableau the easy way, check out our guide to sharing Tableau dashboards on your office TV screen.
How To Share a Tableau Dashboard To Workplace TV Screens
Tableau prices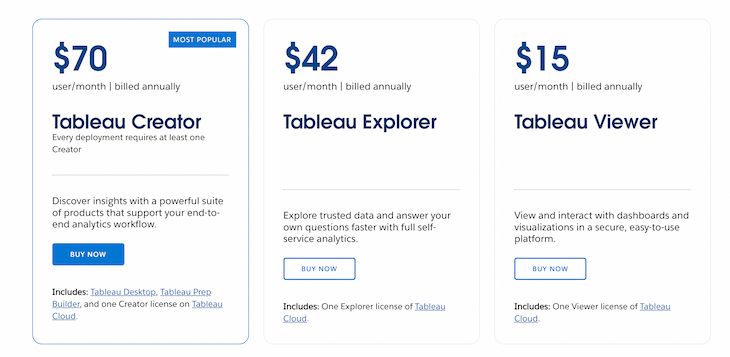 Tableau Viewer: $15 per user per month to view dashboards (for office screen displays)
Tableau Explorer: $42 per user per month to edit and view dashboards
Tableau Creator: $70 per user per month to create, edit, and view dashboards
Tableau features
You can loop multiple dashboards on a TV from your Chrome browser.
Looping displays can keep everyone in the office on the same page.
Tableau can be updated automatically with real-time information, which means your team can track progress (or regression) at a glance.
Tableau limitations
Tableau EULA's prevents you from displaying multiple dashboards on a TV without a Core based license. This means you can't display dashboards that multiple people can see without a more expensive plan with guest licenses.
Through Tableau's native sharing methods, you must use a Chrome browser to display your dashboards on office screens (but you can get around this with Fugo).
You need to download an additional browser extension, Chrome Revolver, to display your Tableay dashboards on TV. Otherwise, you need to use the Tableau JavaScript API — not ideal for those unfamiliar with coding. This is also something you can get around with Fugo.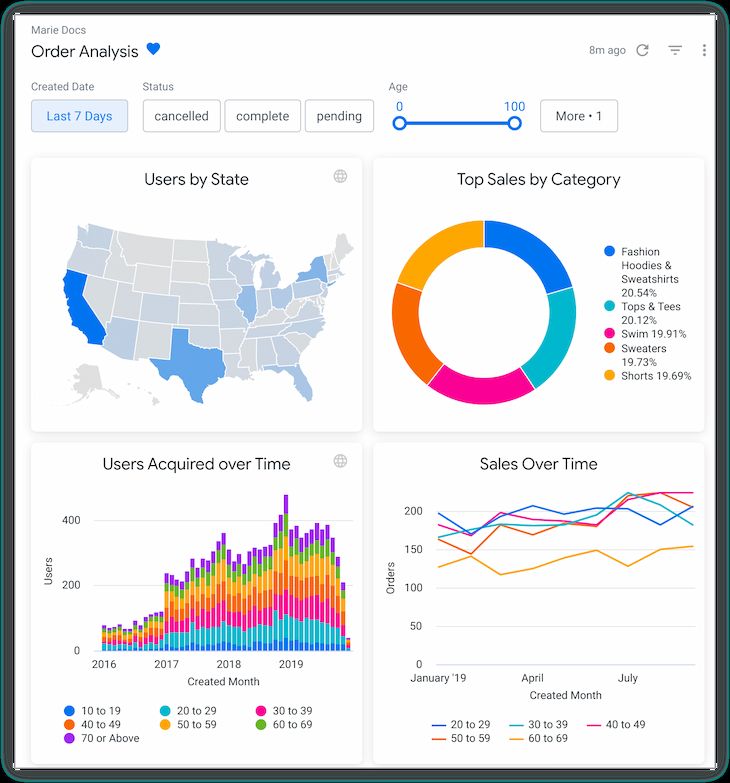 Looker is Google's flagship BI tool tasked with transforming your data into easy-to-use dashboards. Since you can include images, links, and even video libraries in your dashboards, you can set up effective knowledge bases for teams of any size.
The best part about using Looker? The ability to connect with existing Google data. Just keep in mind this platform may not be as robust as other BI tools.
If you're ready to display a Looker dashboard on your TV, feel free to use this quick start guide from Fugo.
Looker prices


Looker has two different pricing considerations: per-user pricing, and per-platform pricing.
First, you need to pay for the Looker platform itself. This requires a custom quote from the Google team.
Second, you need to pay for users to access your Looker platform. This costs:
Viewer User: $30 per user per month
Standard User: $60 per user per month
Developer User: $125 per user per month
Looker features
You can customize Looker with white-label colors, themes, and fonts.
Looker integrates with other components of the Google Cloud.
You can use Looker's REST API to build a data monitoring solution of your own.
Looker limitations
According to some user reviews, Looker isn't the most robust BI platform on the market. If you want more complex dashboard tools, you're better off using an alternative.
Looker is more expensive than some of the other BI tools on this list.
It can be complicated to show off your Looker dashboards without coding knowledge. Thankfully, you can use Fugo to display them on your TV in 15 minutes or less.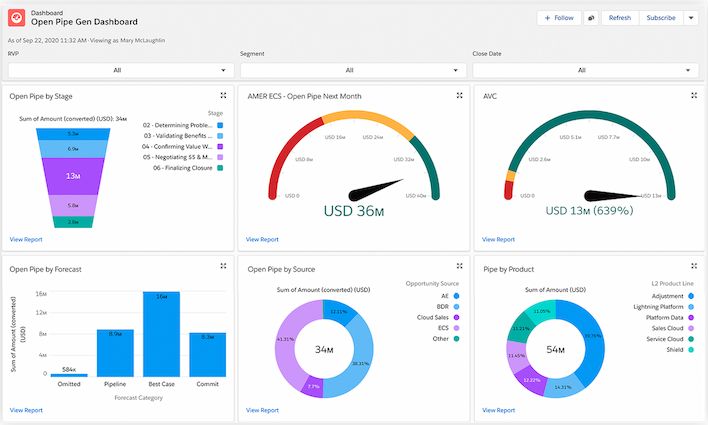 Salesforce is a cloud-based CRM platform that works as a one-stop shop for all your customer management needs. From sales and customer service to marketing and beyond, you can rely on Salesforce to help you build data dashboards at scale.
You should know Salesforce dashboards are only available in certain editions, including:
Essentials
Group (View Only)
Professional
Enterprise
Performance
Unlimited
Developer Editions
That said, Salesforce can still be a great investment for the business looking to create multiple dashboard types.
Champing at the bit? Check out our step-by-step article to connecting a Salesforce dashboard with your office TV screen.
Salesforce prices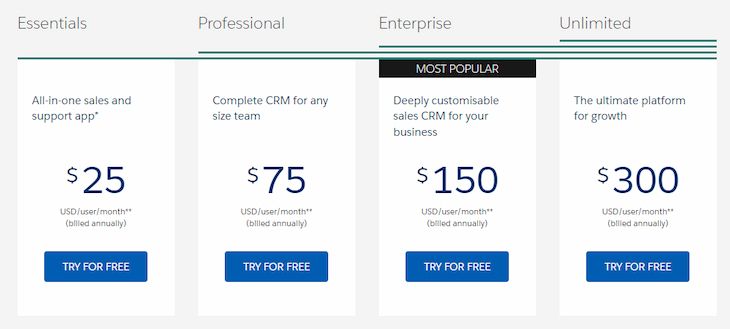 Salesforce offers a lot of different products, so it's no surprise there are a lot of price tags to see.
For this article, we're focusing on Salesforce Cloud, which is an all-in-one solution that's popular among growing business owners.
Prices include:
Essentials: $25 per user per month
Professional: $75 per user per month
Enterprise: $150 per user per month
Unlimited: $300 per user per month
Data dashboards are available on each of these plans.
Salesforce features
Need to display your Salesforce dashboards online? You can use their native tools to send dashboards through Slack, or rely on Fugo to create an embeddable channel.
Salesforce dashboards come with drag-and-drop functionality so you can create the perfect dashboard in minutes.
Since there are so many different capabilities in Salesforce, you can keep the platform around for years to come as your go-to data dashboard.
Salesforce limitations
Salesforce's dashboard refresh times are based on available resources. Your real-time dashboards may take longer to process during peak times when more organizations process data.
Salesforce dashboards don't support localization, which means they can't be customized to match different languages or regional differences.
Most of Salesforce's best features are locked behind the second plan, which means you may end up paying more than you bargained for.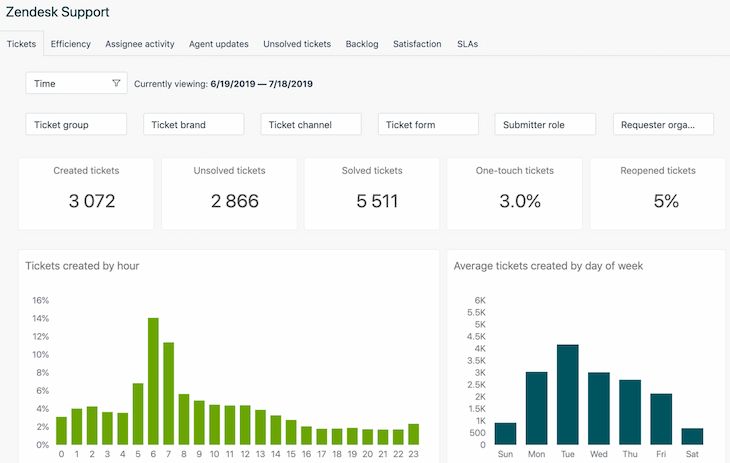 Zendesk is a multipurpose SaaS built for both service and sales teams. If you're already using their streamlined system to manage IT questions and sales requests, you can easily pull and display pre-built dashboards to keep an eye on your team's performance.
You may love Zendesk if:
You have a big team to manage
You primarily focus on sales or services
You have a (mostly) in-person workforce
Just keep in mind Zendesk does require pricing upgrades to share and update dashboards.
You can check out this article for more information about how to share a Zendesk dashboard to your digital signage screen.
More of a visual learner? Just start with this video from Fugo:
How To Share a Zendesk Dashboard To Workplace TV Screens
Zendesk prices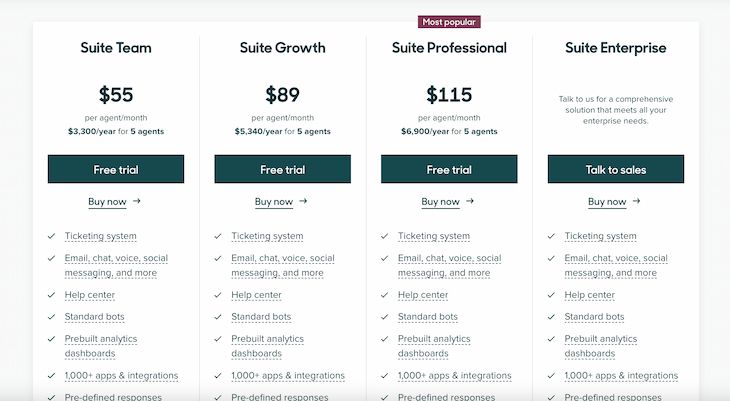 For sales teams, you pay:
Sell Team: $19 per user per month for pre-built dashboards and a 24-hour refresh rate
Sell Growth: $49 per user per month for pre-builts, custom reports, and a one-hour refresh rate
Sell Professional: $99 per user per month for dashboard sharing among Zendesk users and end users
Sell Enterprise: $150 per user per month for all of the above (plus extra goodies outside of data dashboards)
For service teams, you'll pay:
Suite Team: $49 per user per month for prebuilt analytics dashboards
Suite Growth: $79 per user per month for custom data exploration
Suite Professional: $99 per user per month for dashboard sharing
Suite Enterprise: Custom quote for dashboard delivery and sharing outside of Zendesk
Zendesk features
Zendesk comes with pre-built dashboards so you don't need to tinker with the display yourself.
If you're already using Zendesk for work, this is an easy way to capture and display data.
You don't need to pay extra for displaying your dashboards.
Zendesk limitations
If you're not a service or sales team, using Zendesk probably doesn't make sense.
Plus, if you're not already using Zendesk, migration could get expensive fast.
Displaying Zendesk dashboards through third-party providers isn't always secure — but with Fugo, you can store encrypted details on a private cloud server so nothing falls through the cracks.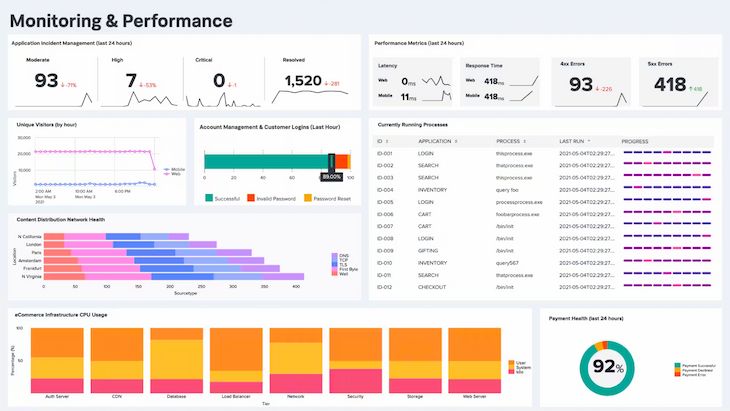 Splunk is a tool designed to help you search, organize, and display IT data. Once you sign up for an account and connect your systems, you can create beautiful TV dashboards to:
Detect advanced threats
Keep an eye on the cloud
Investigate incidents with forensics
Isolate cloud native problems
Modernize your IT systems
Facilitate SOC automation and orchestration
You can display Splunk dashboards on TV to keep an eye on IT data and build a more resilient enterprise. However, using Splunk's native dashboard display tool (Splunk TV) can be difficult and potentially risky.
Thankfully, you can use Fugo instead!
Here's an article on how to get Splunk dashboards to display on your workplace TVs.
Splunk prices
Splunk offers several pricing plans to accommodate your team. You can opt for:
Workload pricing
Ingest pricing
Entity pricing
Activity-based pricing
No matter which you choose, you have to contact the company directly for a quote.
You can also opt for Splunk Free, which is the no-cost version of the platform. Just keep in mind you get what you pay for — there's not much offered on this tier.
Splunk features
Beautiful custom dashboards you can share amongst your team.
There is a free version of Splunk available. Hooray!
You can use a native display app (Splunk TV) to push content to a screen.
Splunk limitations
Splunk TV reached end-of-life on May 17, 2023, which means it no longer receives support or regular updates.
The free version of Splunk doesn't provide many of the internal data features you may need for your dashboard.
Splunk may be cost-prohibitive for growing brands or enterprises looking for a simple BI dashboard for TV screens.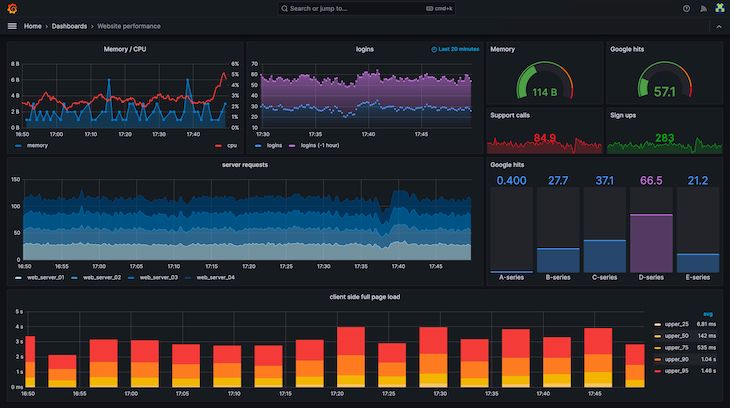 Grafana is a BI platform designed for observability, which is essentially the foremost monitoring goal for IT and cloud computing teams. You can keep an eye on your entire system from a single displayable dashboard, especially for metrics like system memory, website signups, per server requests per hour.
The bad news? Grafana requires a lot of money and bandwidth to keep afloat.
The good news? There's a free tier.
Here's the official Fugo guide to connecting Grafana dashboards to your workplace TV.
Grafana prices
Cloud Free: $0 per user per month and 10,000 metrics
Cloud Pro: $20 per user per month (plus usage) for 20,000 metrics
Cloud Advanced: $299 per user per month (plus usage) for 20,000 metrics plus 24/7 support
Grafana features
Grafana can help you collect data from all kinds of sources and collate them into a single TV display.
Grafana offers a free tier. What's not to love?
Grafana comes with loads of open source tools so you can get started as quickly as possible.
Grafana limitations
The paid plans of Grafana are expensive — especially for growing brands.
Grafana's dashboard organization, design, and types don't offer much flexibility. You may not be able to build the system (or look) you want every time.
Get ready for a steep learning curve! Thankfully, the sharing part is easy with Fugo.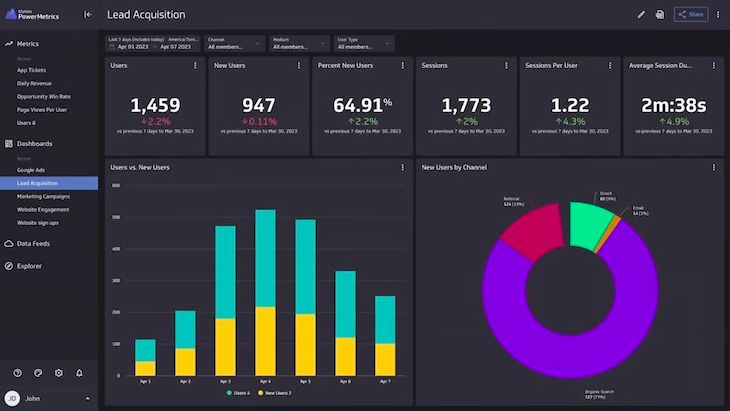 Klipfolio is a BI platform predominately known for its business dashboard and analytics software. Once you sign up and connect your disparate data sources, you can quickly create a one-stop shop for all your business intelligence needs.
Klipfolio does offer its own TV dashboard feature for corporate office screens. However, it's extremely limited when you get into the weeds (and comes with a learning curve you probably don't want).
You can jump into the steps needed to share your Klipfolio dashboard with Fugo here.
Klipfolio prices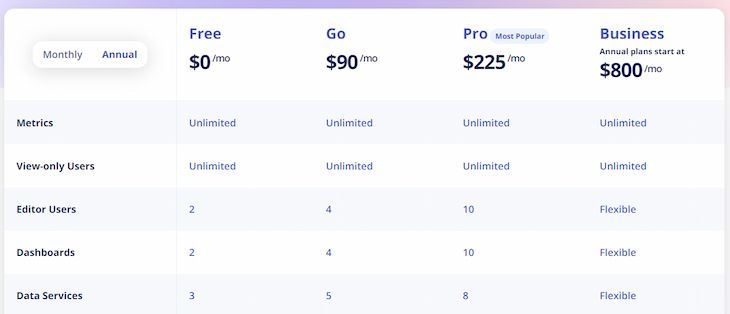 Free: $0 per month for two dashboards and three data services
Go: $90 per month for four dashboards and five data services
Pro: $225 per month for 10 dashboards and eight data services
Business: $800 per month for flexible dashboards and data services
Klipfolio features
Every Klipfolio plan comes with presentation-ready visualizations and customizable data dashboards for your neds.
Klipfolio also comes with built-in tools for displaying dashboards on your TV.
There's no cost for view-only users, so any number of coworkers (or external consumers) can view TV dashboards without violating agreements.
Klipfolio limitations
You can only have up to two dashboards on the free plan. The only way to get an unlimited number is to upgrade to the highest plan ($800 per month).
Klipfolio's 'Dashboard Background Colours' feature requires you to upgrade. However, you can start with a 30-day trial after signing up.
Klipfolio's native TV display tool doesn't support Smart TV browsers or Raspberry Pi. You also have to connect your personal computer to your TV screen to run a display. Signing up with Fugo allows you to circumvent both of these issues.
Display your BI dashboard on TV screens with help from Fugo
It's clear there are all sorts of BI dashboards compatible with office TV screens. From charts and visualizations to something more creative, you have lots of ways to get the right data to the right people (or screens) at work.
If you're looking to display your favorite data dashboards in even less time, you can use Fugo to effortlessly push content from your BI platform to your TV screen. Our TV dashboard tool is compatible with all nine platforms on this list, which means you can set up an account, integrate with your tool, and set up your dashboard display in 15 minutes flat.
You can think of Fugo like Canva for TV screens — just one that's designed for corporate digital signage. You can quickly link to multiple BI dashboards and display all of them in real-time, or use Embedded Channels to distribute your data around the world.
The best part? You don't have to commit to a Fugo plan until you're confident we have what you're looking for. All you have to do is sign up for a 14-day free trial to set up your first BI dashboard display. Then, you can display your dashboards on any number of TV screens and empower your team to make data-driven decisions.