So you already have a conference room TV, but you want some ideas for making it useful. If that's you, you're in the right place — we've rounded up a list of five things you can display that aren't video meetings or ugly screensavers.
Not sure where to get started with the technical specs of your display? We also explain how you can use Fugo for all five use cases.
Now, let's dive into unique display ideas for your conference room TV.
Make The Most Of Your Conference Room TV With These 4 Suggestions
It's time to turn that boring conference room TV into a bustling hub of activity.
Let's get started with one of the most practical ideas:
1. Share BI Reports & Dashboards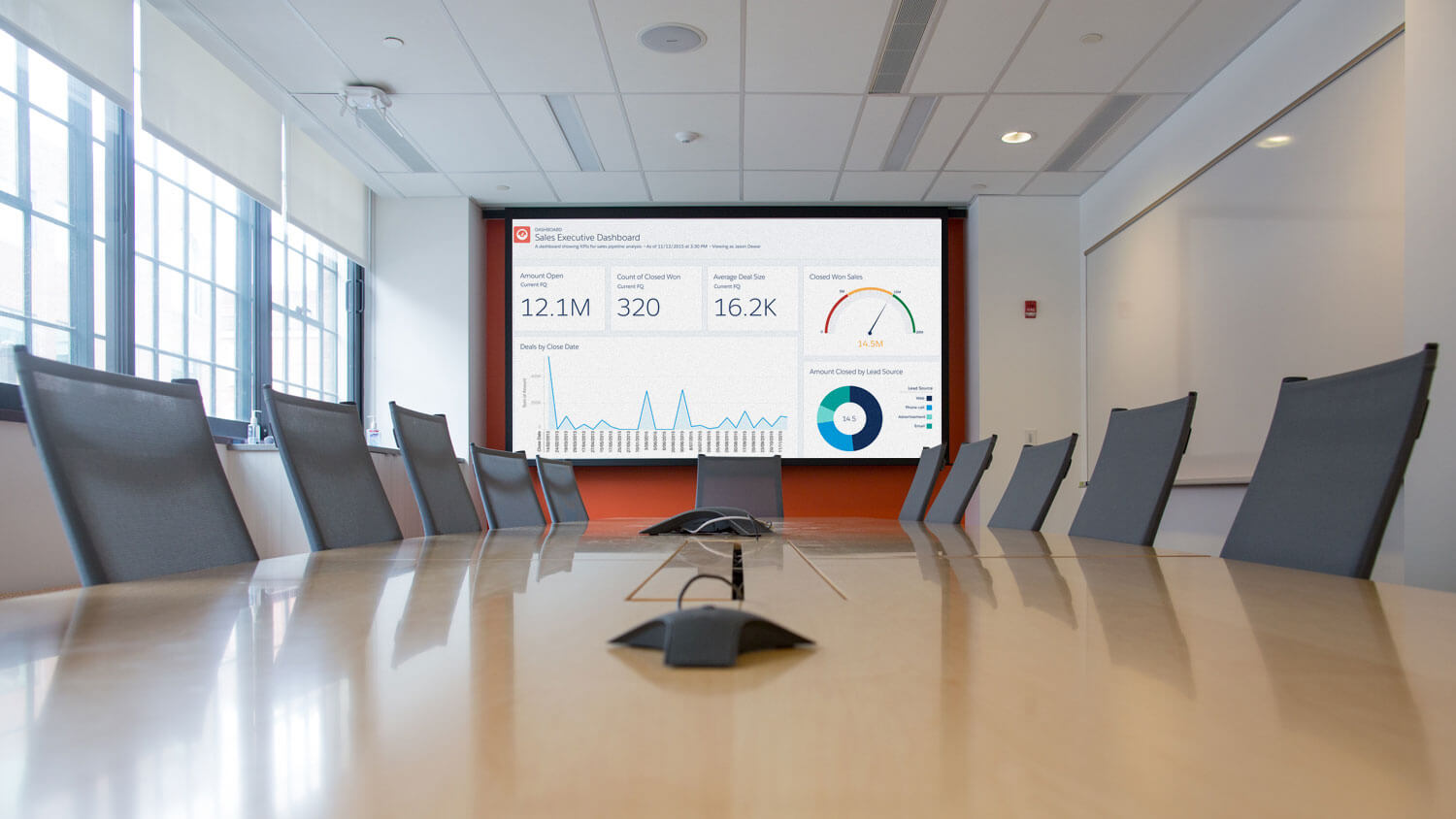 There's never a bad time to support your team with data, especially in the places where employees need to make data-driven decisions. Displaying dashboards through your existing BI platform is a great way to do this, and with the right tools by your side, you can ensure the data is timely, relevant, and always up-to-date.
You have two options for displaying BI reports: through the BI platform itself, or through a tool like Fugo. Your BI platform may come with licensing restrictions that prevent your team from displaying data affordably. Fugo, however, can sidestep these costs while simultaneously connecting you with simple, secure displays.
You can set up secure TV dashboards by using Fugo to connect to and display data from any platform behind a secure login, including:
All you have to do is pair your screen, capture your dashboard, and push it to your conference room TV. Getting a TV glow-up really is that simple!
2. Make Displays Interactive
Is displaying unique content not enough for your brand? Why not take things a step further with an interactive display? As long as your conference room TV comes with touch screen technology, you can set up an interactional presentation to use from any conference room.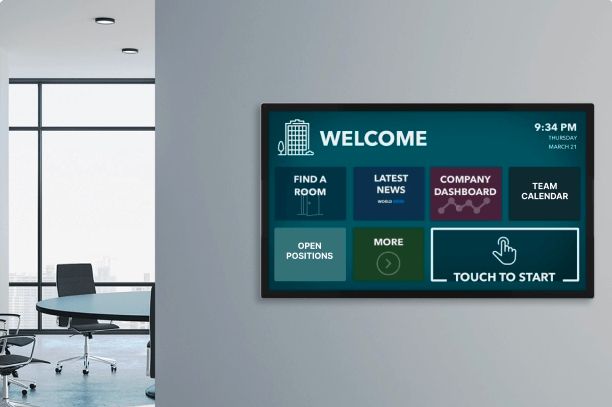 Fugo's out-of-the-box tools for interactive presentations support a wide variety of displays and presentation types. For example, you can:
Create wayfinding directories
Set up employee information portals
Enable data dashboard carousels
Loop important safety videos
Embed a corporate calendar
Don't see your use case on the list? Feel free to get in touch with Fugo to inquire about our customized interactive displays.
3. Create An Internal Marketing & News Hub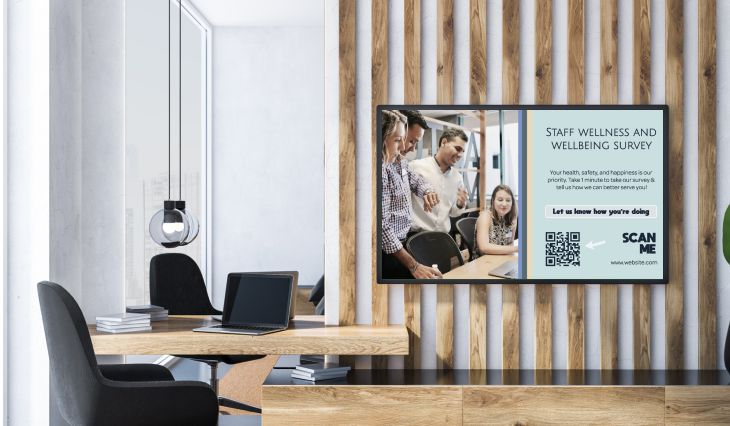 If you're a growing business with lots of conference rooms and employees, you can set up a unique internal marketing strategy designed to keep everyone in the loop.
Just think of the number of announcements going unnoticed by your team. Nobody offered to bring drinks to the upcoming office party, and only a few people remembered the name of your newest hire.
Setting up an internal communications channel is a great way to ensure more people in the office have a chance to read your announcements. They also provide a unique way to engage with employees directly from your conference room TVs, especially with additional value-adds like QR codes for quizzes and forms.
Don't want to design the whole display yourself? Good news: you don't have to! You can rely on the templates provided by Fugo (and add just a few customizations) so everything feels unique and on-brand.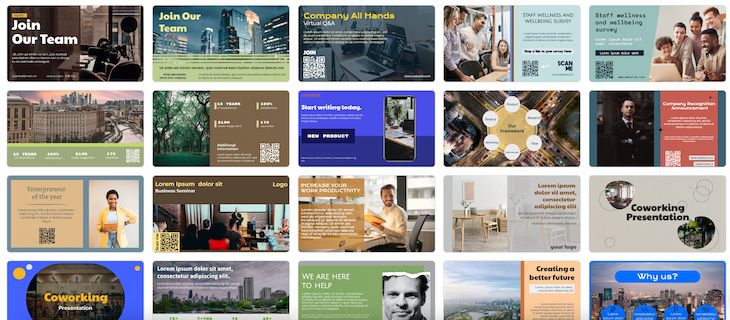 4. Monitor Your Brand With Social Media Walls
You can do a lot of things with a conference room TV, but you certainly can't keep tabs on what people are saying about your brand — until now. Social media walls enable you to engage both employees and customers by displaying relevant conversations with the right mentions or hashtags.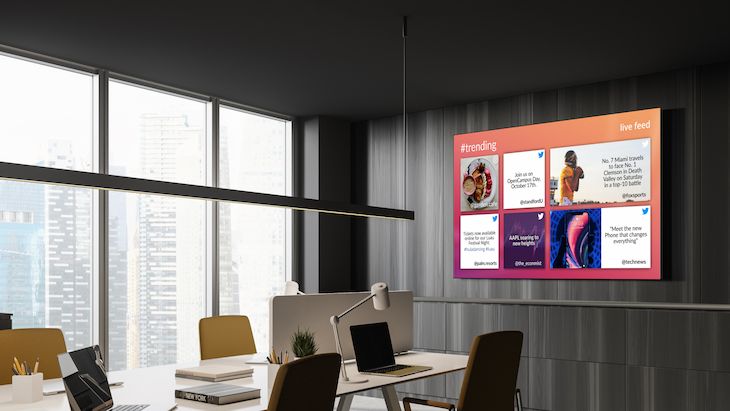 Just think about all the things you can do with social media walls for your conference room TVs. You can:
Help sales teams or marketers get a more cohesive idea of brand image
Track hashtag campaigns through all your social media touchpoints
Create an ambient background during scheduled stakeholder meetings
Keep in mind you don't need to display your social media wall all the time. Using Fugo's wireless screen mirroring tool, you can instantly connect and disconnect your screen without needing clunky cords or dongles. It's multipurpose function at its finest!
Bonus - Create a Company TV Channel

Okay, so this one isn't strictly for conference room screens, but it's a great way to extend the reach of content that you put up on screens.
You can think of your company TV channels like internal communications mixed with employee engagement. They live on shareable URLs & inside coworking tools. It's the cream of the crop for corporate communications, and an innovative option to bolster.
Anything you normally put in your weekly company newsletter can easily convert into company TV channel content. For example, you could:
Sync up the playlists between your conference room TV screen & your Fugo channels to ensure your digital signage content makes it further than your meeting rooms.
If you manage hybrid or remote teams as well as on-site staff, you can also create unique company TV channels to keep employees connected. Fugo supports corporate TV channels for today's most popular browsers, as well as employee portals like Confluence and Notion. This means you can turn your corporate TV channel(s) into the beating heart of your company without alienating off-site employees who can't access your physical conference room.
How?

With your AirServer device
If you're using an AirServer device, you can set your Fugo content as the custom background, to run while your screen isn't in presentation or conferencing mode. Learn how here.
With your Zoom Rooms account
If you use Zoom Rooms to manage your video meetings, you can easily set up Fugo as your default digital signage application to run between live meetings by adding our browser player URL (https://player.fugo.ai/) as the Digital Signage content for your Zoom Room.
Make The Most Of Your Conference Room TV With Fugo
Who said the content on your conference room TV had to be boring? With inspiration, a pinch of design, and a little elbow grease, you can turn any boardroom background into a focal point for meetings. All you need is a tool to help you get there — and for hundreds of brands, that's Fugo.
Fugo is the world's simplest tool for conference room displays. You can think of us like Canva for TV screens: you don't need to be a pro to get started. Once you sign up to try our platform for free, you can connect your TV to our digital signage tools. Then, you can put up displays on your conference room TV whenever and however you want.
If you're ready to see why hundreds of customers trust Fugo for digital signage, you can sign up for a 14-day free trial and take us for a spin. There's no credit card, commitment, or tech degree required — just lots of opportunities for you and your TV!