Black Friday seems to start earlier every year, doesn't it? Not that you'll find us complaining... If there were ever a year we needed to make the holidays last longer than usual it's 2020.
For purveyors of digital signage thinking about snatching up a new screen or media player this year, there are some genuinely great deals going on we think you should know about.
We've scoured the internet for the best Black Friday deals on TV's, media players, and more, so you don't have to, and collected them in one place for your convenience. Enjoy!
Best Black Friday TV Deals

Of course any mention of Black Friday wouldn't be complete without the retail Mecca of tech - Best Buy. They've got great deals going on QLED TVS, 4K Smart TVs, Smart and non-Smart TVs. These are some that caught our eye, starting with the most budget-friendly:
Was $349.99, now $149.99 (save $200)
Was $349.99, now $229.99 (save $129)

Was $499.99, now $249.99 (save $250)
Was $749.99, now $529.99 (save $220)

Lastly, for an amazing steal on a usually high-ticket TV screen...
$2699.99, now $2199.99 (save $500)
Samsung is offering big savings on their QLED 4K TV's this year. Here are some of the deals worth checking out:
Was $1999.99, now $1499.99 (save $500)


If you're looking for something more budget-friendly…
Was $499.99, now $399.99 (save $100)


Amazon is offering up to 15% on select TVs from Sony, Phillips, and LG - these are our picks of the bunch.
Was £599, now £539 (save £60)

Was £449, now £379 (save £70)



If you're looking for something a little flashier…
Was £1439, now £1299 (save £140)

Was £599, now £399 (save £200)

Was £899, now £699 (save £200)
Was £1199, now £699 (save £500)
Best Black Friday Media Player Deals

TVs are far from the only thing worth scouting this weekend. Here's where you can find the best deals on media players.
Amazon Fire TV Stick

The Amazon Fire TV Stick Lite and Fire TV Stick prices are at their lowest ever this weekend. You can find them for $17.99 and $29.99, respectively, at Amazon or Best Buy (down from the usual $29.99 & $49.99)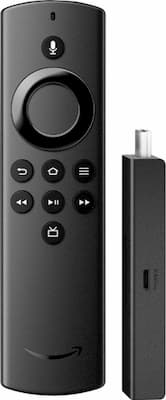 NVIDIA Shield TV (2019)
Black Friday deals are bringing the Shield TV down to $130 (usually $150) at both Amazon and Best Buy.


Extra Deals

TV Wall Mounts

Best Buy is running deals on some great TV wall mounts ranging from $50 - $150. A couple worth noting here are:
Was $99.99, now $49.99 (save $50)
Was $149.99, now $69.99 (save $80)


Was $269.99, now $159.99 (save $110)


Fugo Black Friday Sale

Fugo's getting in on the Black Friday action too!
From now until December 4, you can get 40% off a year's subscription on Fugo. Just sign up for a 14-day free trial here and enter the coupon code BLACKFRIDAY2020 into your billing details to claim the deal.
This is one of the best deals you'll find this year on cloud-based digital signage - seriously, don't miss out.
Stay safe this weekend and enjoy your holiday
If there's an upside to missing out on in-person Thanksgiving dinners and Black Friday deals, it's that I can skip the crowds and early morning lines to shop from the comfort of my couch. Yes please thankyouverymuch.


We want to wish everyone celebrating Thanksgiving a very happy holiday! We hope you stay healthy and bright this weekend ☀️
If you're feeling generous, don't forget to share this article and spread the news about these deals! The more people that can shop online, the safer we all are this holiday season 😎