Our picks of the best digital signage design in 2020.

Well. Here we are - in the homestretch of 2020. And what a century year it's been.
I'll skip the preamble about "this unprecedented year" since by now you surely don't need to be told how unusual it all was.
Yet even amongst the chaos (or before it), businesses found ways to get creative with their screens - to wow us, to make us laugh, to fight the virus and even remind us of the shared human experience of getting through C*VID together.
In this post, we're rounding up some of the coolest digital signage designs, campaigns, and installations from 2020, presented in no particular order.
Digital Signage COVID Edition
Pretty much every business across the globe took a hit when the world caught a virus. But many pulled together some awesome campaigns despite the fact that the screens we interacted with most were the ones in our homes. Here are a few that we still think about:
JCDecaux Innovate // R U OK?
We love a good bit of interactive digital signage. And we love a great cause.
One of the silver linings of the pandemic crisis was the effort to bring mental health issues into sharper focus among the public. Despite the fact that about 13% of the global population (some 971 million people) experience some form of mental illness, many people struggle to know how to discuss mental health with their loved ones.
Suicide prevention charity R U OK Day aimed to show viewers how to have conversations about mental health with a VR digital signage campaign. They partnered with outdoor advertiser JCDecaux Australia to craft a campaign in Sydney, Australia, which asked the critical question, "R U OK?"

Watch the campaign in action:

Grateful Britain
Back in April and May, UK Out of Home (OOH) trade association Outsmart launched a nationwide campaign to thank frontline workers on media space donated by blowUP media, Clear Channel, JCDecaux, Mass Media, Maxx Media, Ocean Outdoor and UKBillboards.
While most digital signage and digital out-of-home (DOOH) campaigns during the pandemic hammered home the messaging of social distancing and washing one's hands, this particular campaign featured clever messaging and light humor to thank healthcare workers, caregivers, food service workers, delivery drivers, etc., who worked through tough, even dangerous, conditions to bring us essential services.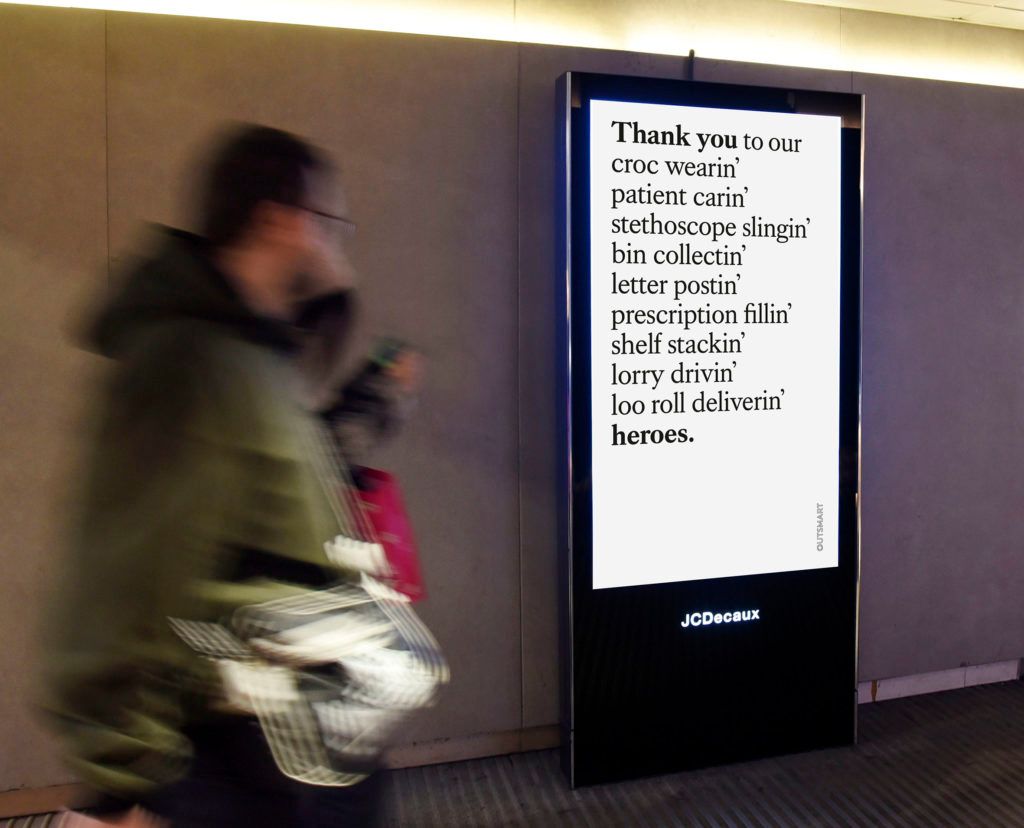 #SendingLove
In a similar vein, OOH (Out of Home) Media buyer Talon Outdoor launched "#SendingLove," a global initiative to display user-generated messages of love and unity across screens in 153 cities. The campaign also used social media amplification to ensure people were seeing the campaigns on the screens they were using most - the ones at home.
"Created by Grand Visual, the campaign encourages participants to send love to those in places they cannot travel to, by getting creative with the heart-hand symbol and uploading their pictures and locations to sendinglove.to. Participants are then invited to donate to the global Covid-19 Solidarity Response Fund before receiving a photo of their picture playing on-screen in their chosen city to share with friends and family across social channels."
https://www.youtube.com/watch?v=fDIHCNrnPp

Emily Snacks
In December 2019, Emily Snacks decided it would launch its first-ever digital OOH campaign. In April. Yeah...
Needless to say, the brand realized their ads weren't going to pan out as planned, so they pivoted to a different approach - a series of tongue-in-cheek ads poking fun at the fact that they were being screened to an audience of 0. They snapped pics of the ads and pushed them to social media where they turned out to be pretty popular (no surprise there.)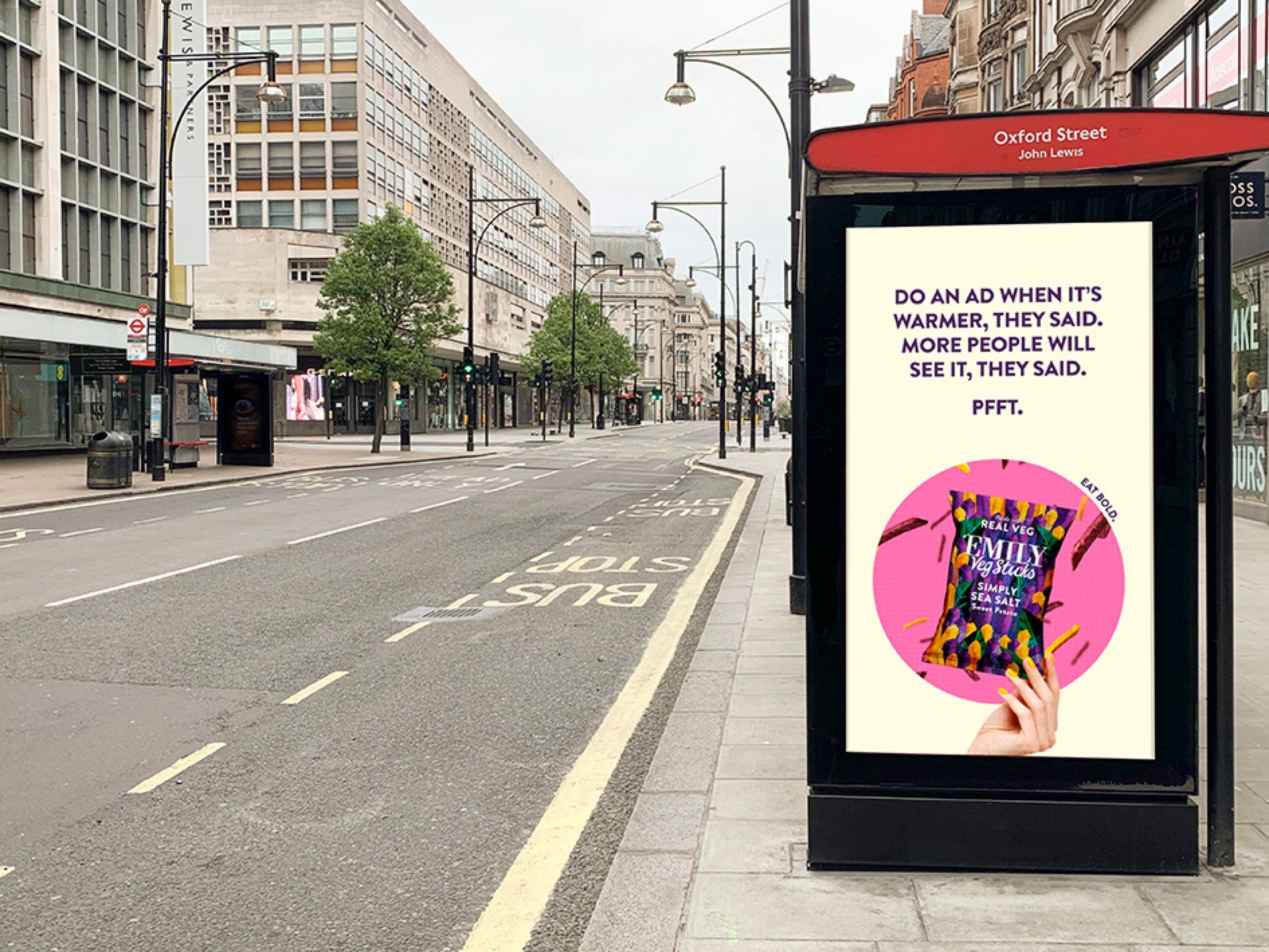 Honorable Mention - Netflix Spoiler Billboard

Ahh, Netflix! Now I've got your attention.
First off, let me clarify - we know this campaign wasn't real. But boy, what a beautifully petty idea to punish quarantine breakers. The intent of the campaign, however, was legit.
It was created by Miami Ad School students Seine Kongruangkit and Matithorn Prachuabmoh Chaimoungkalo with just one goal: to get people to stay the %&#& home during the pandemic. What better way to do that than to threaten to spoil their most beloved series (Dark, anyone??)

Non-Covid Digital Signage We Loved
I know it's hard to remember that COVID wasn't the only thing the world talked about this year, but there was a time both pre and during the pandemic, that businesses managed to come up with some really impressive digital signage installations and campaigns.
New South Wales Fire Service Says "Thanks" To Its Firefighters

Perhaps the biggest story that got lost in the virus' wake was the fires that took over Australia early this year. Nearly 46 million acres burned, thousands of buildings were destroyed, and nearly 3 billion animals were believed to have been affected. And reading this right now you probably find yourself going "oh, yeah, THAT."
Firefighters worked night and day, in unbelievably dangerous conditions, to contain and beat back the fires, and the New South Wales Rural Fire Service decided to thank them with a message blasted on a 70-ft tall screen in Times Square, New York.
O2's "Follow Me" Bubl Campaign
O2 created this super fun interactive billboard to introduce their new mascot "Bubl." The little blue robot walks across the screen, mirroring passers-by, pointing, dancing, waving. It's great.
What's really cool about this is that Bubl is controlled by a person on site using multi-player gaming technology to manipulate him. It's obviously not suitable as a long-term campaign, but it's definitely the kind of thing to grab attention!

Award Winning Installations

Legacy Union: "Unify" by Second Story

This one's impressive.
Experience design studio Second Story created this incredible audio-visual artwork for developer Lincoln Harris, to open their newest marquee building, named "Legacy Union" which boasts the largest interior native 4K LED Display in the World (a whopping 70'W x 36'H)
In their own words, Second Story describes the commission:
"Legacy Union, a 10-acre, mixed-use development is intended to be a community gathering place that pays homage to Charlotte's past while celebrating the promise of its future. "Unify" brings this idea to life on a massive scale in the lobby of the property's inaugural building.
Its ever-changing swirl of colors reflects the vibrancy of a city where all the right elements are coalescing to form something new and beautiful. Driven by a complex algorithm, the behavior of each pixel influences the others around it—color, movement, and sound recombine in a complex and interconnected dance. The algorithm is a metaphor for community: where we are is part of who we are—we affect, and are affected by, the actions of everyone around us."


"Unify" took home the Grand Prix prize at 2020's Digital Signage Awards.
ESI Design - The Statue of Liberty Museum

Alright, I'm a sucker for historical storytelling. And if you haven't gathered from the other items on this list - interactive digital experiences too. So naturally, I nerd out a little over the marriage between history and digital signage technology.
Experience design studio ESI Design created this experiential exhibit for the Statue of Liberty Museum in New York City, to immerse visitors in the cultural story of one of the world's most iconic monuments and its home, Liberty Island.
Necsum Part of Trison - Entertainment & Experience Resort Lagoh

As top winner in the Sports & Entertainment Venues category of the Digital Signage Awards, this project takes digital signage to new levels of innovation.
"Lagoh is the largest center of experiences and leisure in Europe. In this exclusive project, technology is brought to life and shared with visitors through an impressive hologram fountain, where the the spirit of the lake can be seen, for instance, or engaging in interactive, crazy, funny 360o games in a large cylinder. Different elements of digital architecture welcome visitors inside the centre using delicate artistic content pieces with Sevillian influences"

Honorable Mention - Date Mark Billboard

Okay, so this one isn't digital. But I felt like the pluck and audacity demonstrated here merited an honorable mention.
If you've ever spent any time on a dating app (🙋‍♀️) you know the novelty wears off in about, oooooh, 30 seconds. So what's a young single to do? Well, you could follow Mark's lead and throw up a billboard asking people to date you (though obviously we're gonna recommend you use digital signage instead.)

According to his website, over 2000 people have applied for a date, so the billboard approach clearly works. Congrats, Mark.

*Update* - sorry ladies and gents, it looks like Mark is no longer accepting applications. Still, let his success serve as an inspiration to us all.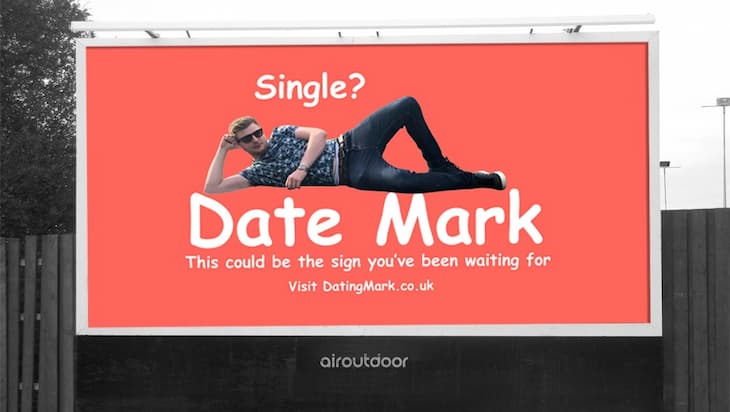 Wrapping Up
2020 wasn't what any of us were expecting, but there was still plenty of great digital signage to celebrate!
Remember, if you're looking for a digital signage software for your project in 2021, Fugo has you covered 😎
In the generous holiday spirit, we're offering 40% off your first year of Fugo if you sign up by January 15! (Just use coupon code NEWYEAR to access the deal.)
Sign up for a 14-day free trial to see how easy we make it to manage your screens and content, and be sure to give us a shout for that special installation you've got planned for the upcoming year!
🎁 Happy Holidays from Team Fugo!