Pair small business and digital signage and you have a pretty powerful combination at play. That is, only if you know how to leverage digital signage features to market your business and create new customers.
That begs the question: How exactly can you do this? For starters, if you're a small business, you're likely operating on a limited budget and you don't have time to manage a complex signage system or the leeway to outsource it to an expert outside of your operation.
Or consider industries, like the electronic or vaping industries, where digital marketing efforts are restricted by governmental regulation.
Yet in an increasingly tech-led world, DIY digital signage is becoming the norm. Marketing your business with digital signage isn't complicated and it doesn't have to be overly expensive either.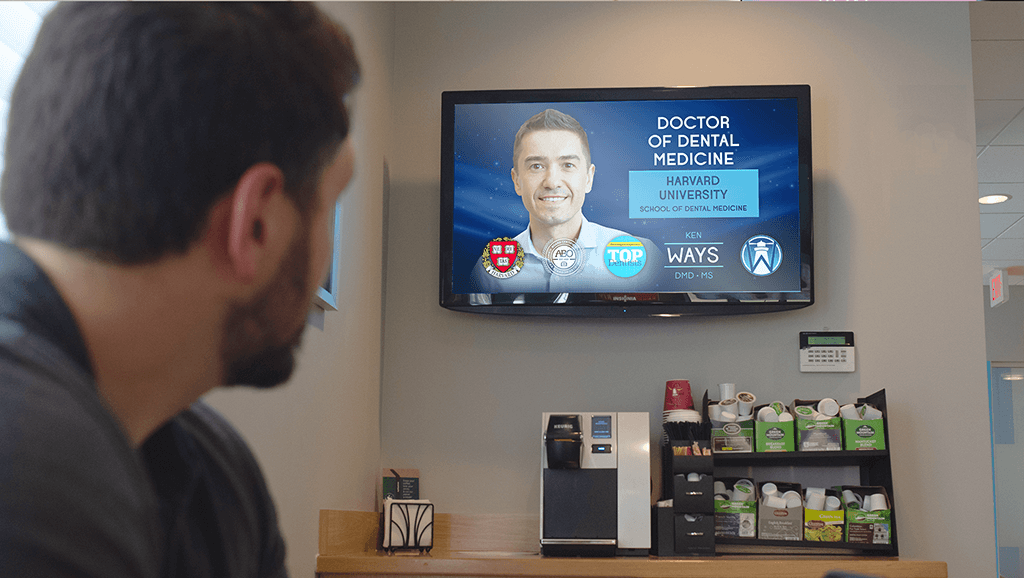 Below, we go through three specific ways you can expertly market your business using TV screens without any overly elaborate marketing plans. The good thing is, none of this takes long to implement either.  Let's go!
Put your business in the best light
The first thing you want to do is brainstorm all the ways you can put your business in the best light possible. Your digital signage display is going to be seen by the majority of people that walk into your space. This means you want to nail the messaging, the branding, and the copy.
Think about how you want them to feel? What emotions are you trying to associate with your business? How can you make sure your customers feel welcome?
The good thing is that you don't have to outsource all of your digital signage management to an expensive marketing agency. You can make it so that you don't have to break a sweat when you're coming up with signage ideas.
For example, when you connect Fugo with your TV screens, you can immediately start designing slides within the app. No need to use a third party application to take care of any branding and design work you might need.
Fugo also makes it easier to schedule all your slides, so you don't have to babysit your TV screens every hour. Now, what exactly can you create that'll help showcase all the goodness your business has to offer?
You can create digital posters for things like:
Community events and donations
Special discounts for veterans or senior citizens
Any special sponsorships the business is a part of
Special deals or discounts of the week
Reminders & promotions for your loyalty or rewards programs
The business mission statement
Quotes and reviews from your best customers
Special holiday promotions or deals
Live social media walls with brand mentions & hashtags
With some creativity, there's no telling what digital signage you can create to showcase your business. The good thing is, with a digital signage app like Fugo, you can create, store, and reuse any slides at any time.
Display your products with a strong CTA
A big part of digital signage is the visual experience. While you can entertain and delight your customers with all kinds of displays you can design in-house, adding a strong call-to-action to your digital displays can be the extra nudge customers need to, well, take action.
You can add call-to-actions to all kinds of displays, whether you're urging your customers to sign up, you want them to follow you on social media, or you want them to ask about a new product offering.
Studies show that strong CTAs for B2C businesses create a sense of urgency, puts your customers at ease, and creates a feeling of exclusivity. Now, it might be hard to do all these things at once within the CTA. This is when you'll want to experiment with CTAs to see what works better with your particular audience.
For B2B settings, for instance, a CTA works better when it's driven by logic and focuses on saving resources, like time or money. Yet, both B2C and B2B businesses can gain from making sure to keep CTAs simple and actionable.
Truly, the digital signage possibilities are endless. All you need is some imagination, a strong CTA, and digital signage templates so you don't have to start from scratch.
One of the best ways to make digital signage content actionable is simpler than you probably realize: good old QR codes. These little boxes became every business' best friend during the days of social distancing, but they're still incredibly effective mechanisms for CTAs. Take Fugo's QR code generator app for example - you drop it into your design, paste a URL, and viola - you've got a great looking digital poster, coupon, flyer… and you didn't even have to spend extra bucks on printing.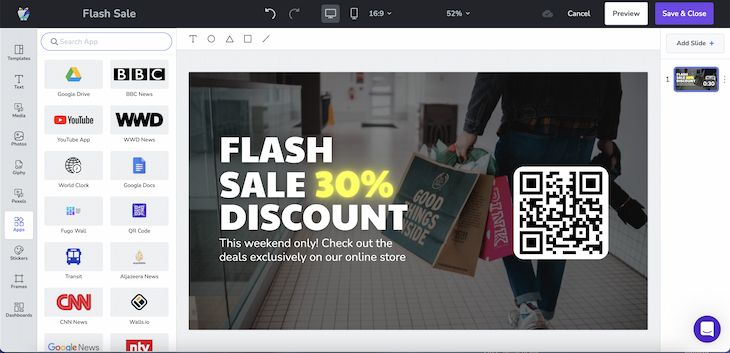 Automate the checkout process
Depending on the industry you operate in, digital signage can help you automate the checkout process. For instance, a restaurant can digitize its menu and be able to change prices and menu items in a matter of minutes.
Not to mention, it's also a great way to showcase images of your best foods as well as many seasonal offerings you may be promoting. This is important when you consider that a big part of making sales in the industry is showing customers what they can get for their money.
With an integrated digital signage system, you can integrate your POS system with your digital signage setup so they work in sync with one another. Yep, it's totally possible to do, and it doesn't take much to set up.
With digital signage as an integral part of the checkout process, customers can have an easier time perusing through their options, and they don't have to handle greasy restaurant menus to make a decision. If you're running special offers or discounts, digital signage makes it a breeze to showcase them and gain additional sales.
Digital signage for small businesses with Fugo
Fugo was created with small businesses in mind as an all-in-one solution that caters to the needs of smaller yet nimble organizations that care about staying updated with tech and driving their business forward.
Templates, a Design Studio, as well as a ridiculously easy set up process all come together in one centralized place so that you're in the driver's seat of your digital signage setup and your small business marketing strategy.
No high learning curve, or having to hire more people is necessary. Fugo's digital signage software can work on any number of screens too, whether you're managing 2 or 200.
Try us out free for 14 days here and test it out for yourself, or book a demo to see how our solution might work for your business.