At Greedy Kings, a quick service restaurant chain based out of the UK, they want -no, command - you to "eat like a king." That involves, of course, a menu fit for a king - something bold, something catchy, something modern that attracts their customers' attention right away and shows them how decadent their meal is about to be. That's a tall order, no doubt.
To bring that vision to reality, they choose Fugo to power their digital menu boards. With a combination of media, animations, bright colors, and an easy-to-update digital menu created in Fugo's Design Studio with our digital menu board app, they've been able to create something truly stunning.
We talked to Greedy Kings Manager Ali about how they use Fugo at their Fullham branch in London.
Tell us a bit about your business
We're originally from East London. Our food is very popular - the Naga Doner, the Smash Burgers - amazing, delicious food. We decided to bring it over to West London so that everybody can enjoy the amazing food that we have to offer.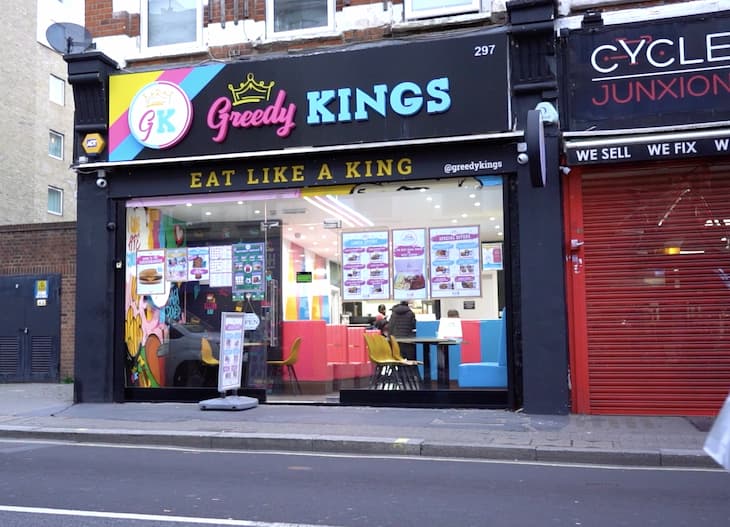 How do you use your screens to help your business?
To help me grow my brand and to promote my delicious menu to my customers, I like to use advanced technology on my screens. So not only do I have still images, I also have rotating images, as well as videos and QR codes & spontaneous pictures that pop up to track my customer's attention.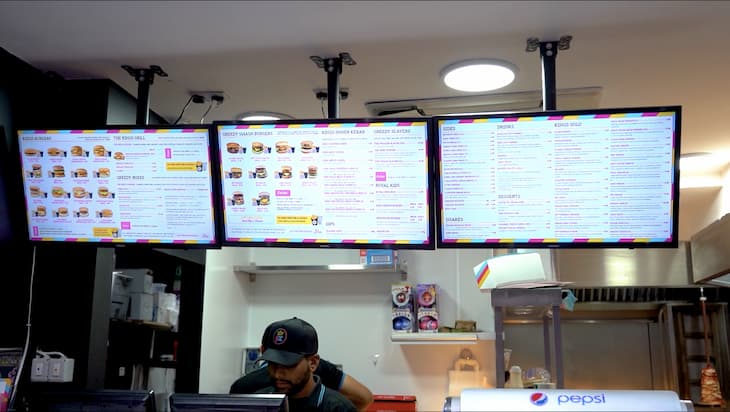 What was your biggest challenge prior to using Fugo?
With my previous technology , I was quite backdated and I only had still images promoting my menu, which was amazing to look at, but it left me quite limited in terms of what I could do with the screens, especially when it came to regular menu changes.
What changed after you started using Fugo?
Now I've moved on to a far better technology. I'm able to use features such as integrating my screens with Instagram and having QR codes. At any given moment, I can update my menu without any additional printing or production costs. With a few types of my keyboard, I can have a new item presented to my customers on the spot. This gives me amazing flexibility when it comes to making changes on a day-to-day basis for promotions, different campaigns, and different events that may pop up during the week in which I could get my customers involved in.
What would you say to someone on the fence about purchasing Fugo?
If you're someone who's quite old fashioned like me, and not yet used to robust systems that are just very simple to use, then I would recommend taking that leap of faith and actually improving your technology. It's quite easy to do and it doesn't take any time or effort whatsoever, especially with a team that's there to support you. Everything is effortless.
What's your favorite thing about Fugo?
My favorite thing I have in regards to using Fugo - along with the technology that they have provided - is the customer care that comes with the support. Having a direct team that I can access at any time through text messages, through WhatsApp, or even emails and having these changes done quite promptly, leave me in a fantastic position to get on with my day to day business without any obstacles or time constraints.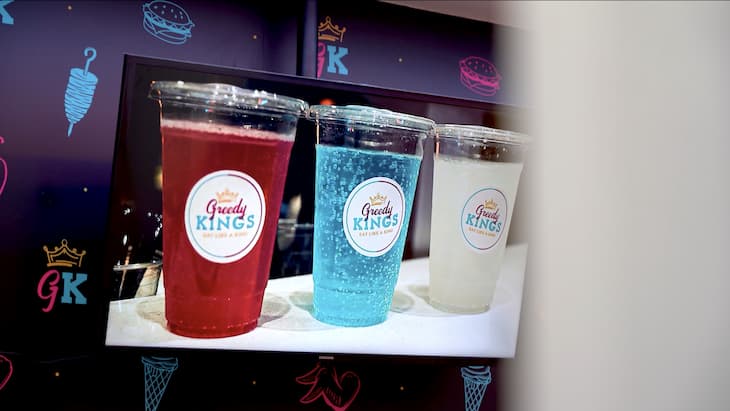 What else do you want people to know about Fugo?
Here at Greedy Kings, we like to be kings. We're a very special brand, bringing a very unique range of food to our customers that they're not quite used to. For me to do that, I need to have full flexibility and control of the technology that I provide on my screens. My screens enable me to, on the spot, put in fantastic pictures that immediately grab your attention when you're walking into my shop.
And not only that - when you approach my counters, the screens are bright, colorful, portrays such a beautiful range of dishes, but it's very hard to say no to.
A Turnkey QSR Menu Board Solution That's Affordable, Easy & Powerful
If you're looking to harness the power of your restaurant's TVs, connect a screen to Fugo and have a go with our design studio & digital menu board app. Start with a content template or even try our brand spankin' new social wall app to show off your restaurant's Insta profile!
Fugo's got everything you need for a total QSR digital menu board solution, starting at only $5 a month per screen. Learn more here.
Start with a free trial or book a demo call with our team - we'd love to show you how Fugo could work for your business!