"Digital signage is hard."
If you haven't heard it said before, chances are you've thought it.
And, all things considered, we don't blame you. It definitely seems hard. There's both software and hardware to take into consideration, the setup, and then, well, what in the world are you supposed to stick on the screen once you get it up and running?
In short, we're here to karate-chop the whole notion of "hard" and "digital signage" being in the same sentence. It's the whole reason we exist. But more on that later.
Let's cover the basics first.
How does digital signage work?
This is the part that stumps a lot of people. You've seen those sleek screens everywhere. Flashing from display to display, and showing off the best of the businesses that use it.
But how does all that work exactly? You can sum it up in two words:
As far as hardware goes you'll need a media player (think something like an Amazon Fire TV Stick) or a built in media player to get your content on a TV screen. Speaking of TVs, you'll also need one (or several of those) too.
TV screens have gotten a lot smarter since the concept of digital signage first saw the light of day in the 1990's. And the process of getting your system up & running is much easier than it used to be too. Whereas a business used to have to lock into lengthy contracts with both hardware & software providers and receive training on cumbersome management platforms that only their IT admin could master, the advent of cloud-based digital signage software platforms has given back the flexibility and control over screen content to business owners themselves.
All-in-one software like Fugo helps you manage all of your digital signage needs from one place. Once you connect the software to a screen with a special code, you'll be able to get your displays up and on screen in a few moments. It's scary fast.
How much does digital signage cost?
Good question. The answer? It depends. We know. It isn't what you want to hear. But it really does depend. Expect to pay more if you want your screens to operate 24/7, face a window to outdoor foot traffic, or play ultra high quality 4K UHD content.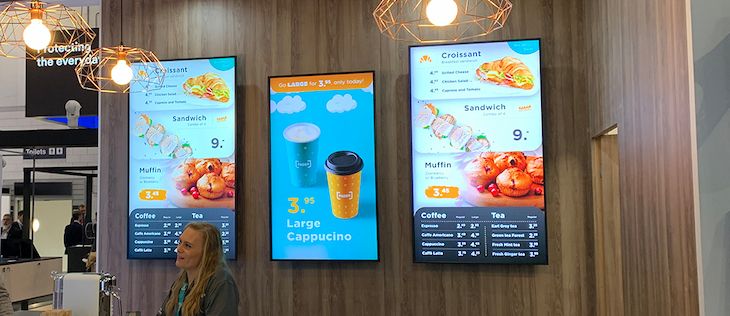 Besides the prices of the hardware itself, if your DIY-ing it, you'll also be paying for a digital signage content management software too. Before landing on a figure, you need to take stock of what you need or want out of digital signage.
We can tell you this though: Fugo only costs $24 per screen. This includes access to all our main features (as well as any useful updates in the pipeline!)
8 reasons digital signage is hard debunked
Now let's jump into some reasons why digital signage has a reputation for being "hard" or "complicated" and why that's simply not true.
1. "Setting up digital signage is too technical"
Technical? Sure. But too technical? We beg to differ.
No doubt you're going to need hardware to run your digital set up. But our suspicions are that when you hear "digital signage" you think of a bunch of interconnected computers bigger than your head working off in a corner to power your screens.
But that couldn't be further from the truth. For instance, say you want to connect your Android-based device to Fugo. It's as simple as finding our app in the Google Play store and entering the PIN on your display screen to connect to our CMS.
Fugo can be set up to run on almost any consumer or professional grade device out there. You'll find helpful guides for getting started in our hardware help center.
2. "Digital signage is too high maintenance"
With Fugo as your digital signage software of choice, you can leave high maintenance to celebrities. A cloud-based digital signage tool makes it easy to send your content to where you want seamlessly, while keeping you up to date on your display schedule.
Fugo does all that and more. Regardless of what industry you operate in.
This includes (but most definitely isn't limited to):
In short, Fugo delivers a low maintenance high impact experience. If low maintenance is what you're looking for, that is.
3. "Digital signage will cost me too much money"
With the best setups, digital signage looks expensive - but it most definitely doesn't have to be. Every digital signage solution charges differently, and differs even more if you decide to have it installed & managed by an AV or IT service provider.
For those going the self-managed route,  you'll most likely be looking at paying upfront costs for the hardware & installation + a monthly or annual fee for a cloud-based digital signage software. Again, the packages & billing models are different from tool to tool. What we can say is that at Fugo, we keep our pricing simple & charge by the screen. The more screens you use, you pay a flat rate for that screen.
But keep in mind that you get access to all our built-in signage tools so you don't have to go looking for paid integrations and spend more money. In other words, efficiency always equals savings long-term. At Fugo, efficiency is our middle name (and a top priority!)
4. "You need super design skills to make great looking digital signage content"
Wrong again. You can successfully manage digital signage with zero design skills when Fugo provides you with tons of premade templates for almost all occasions imaginable.
Need digital signage content for restaurants? Fugo has templates for that. Do you need signage templates for university bulletin boards? Fugo has those too.
Our Design Studio lets you personalize everything from fonts, to background colors, images, animations, and even stickers. You can even add a handy QR code to any slide you want and link it to any page you want.
5. "Managing digital signage is time consuming"
We just mentioned templates but that's not the only way Fugo helps you make the digital signage a breeze (and a fast one at that). Once you have your screens connected, it can be a bit of a set it and forget it process.
For instance, Fugo comes with built-in apps that let you instantly connect to things like:
Digital signage is only time consuming when you have to figure out how to get all those things on screen (and make them look good in the process).
Fugo has packaged it all together for you, so you don't have to worry about connecting third-party apps. Though if you really want to, our process for doing that is also quick and simple.
6. "You have to update digital signage constantly"
Not with a schedule you can preload ages before you have so you don't. The beauty of digital signage is that a lot of it can be automated. A lot of it can also be templated.
So when you do need to go ahead and update screens with fresh content you don't have to start from scratch. Just choose your theme, grab a template, and go from there.
You're able to whip something up in minutes, and use it as much as you want with Fugo's scheduling features. You can also create as many different display schedules as your digital heart desires.
7. "Digital signage software is hard to use"
It isn't when you use an easy all-in-one tool that provides you with everything you need within a few clicks. You don't have to be highly technical or have IT department experience to get your screens up and running.
A lot of the digital signage setup, for example, can be managed through a simple Wi-Fi connection. It's safe to assume you have that on hand 😉
8. "Digital signage is completely confusing"
Look, digital signage might seem intimidating. It looks a lot fancier than it really is (in the best way possible). Believe us, we build this stuff.
What's confusing is digital signage software that slows you down instead of helps you. Depending on what you're using, you could have a lot of trouble setting up slides, creating display schedules, configuring your screen layout, or connecting to your work systems.
To avoid any potential confusion, you need to invest in a robust tool that'll help you get the job done. Fugo is an all-in-one option that's cost effective and designed to help you do everything - and we mean everything - that has to do with managing your digital signage from one tool. Design your content, schedule it, and monitor it all without ever having to leave for another 3rd party tool.
Ultimately, the choice is yours. We recommend you take the time to shop around and compare features to make sure you get the most bang for your buck. Interested to know what Fugo's features are? Check them out here.
Digital signage solutions that work
Whew. That was a lot of "untruth" to work through. Hopefully, it helped you see digital signage in a new light. More and more businesses are taking a digital-first approach to how they manage their business.
This includes digital signage displays to help engage and inform customers. With digital signage like Fugo, you can be up and running in no time regardless of the number of screens you're managing.
It gives you access to display scheduling for all your screens, useful signage apps you can set up and display in seconds. One of our absolute favorite features would have to be the Design Studio.
With it, you can ditch the need to use third-party software to create an infinite number of slides with plenty of design features including animations and stickers. You can add your brand colors, and choose any number of images from the built-in free image library.
But don't just take it from us. Try us out for free. To make sure you like us first (which, of course you will) sign up for a fun demo here.