It's true. If you haven't heard, you don't need to be a graphic design genius to create digital signage content that looks professional and that doesn't bore your audience.
You don't even have to shell out a ton of money to create signage you can proudly display. To start, all you need is some motivation and a little imagination.
Here's a look at all the best ways to create digital display content without breaking the bank (or pulling your hair out in frustration).
The easiest way to create digital signage content
Let's rewind for a minute. Now, unless you have a whole in-house design team backing you, the most challenging parts of creating digital content for your screen displays are both:
Learning the software to design the content and making it look good
Figuring out how to get your newly designed content onto your display screens without issue
There are a ton of tools - both free and paid - that you can use to create your content (it's what we get into below). The issue though, is still two-fold: each design tool might not have the features you need that are relevant to creating digital signage content and you're still dealing with the issue of sizing your content correctly while finding a way to get it on display.
The good news is, you can skip that painful process with a streamlined digital signage tool like Fugo. Its built-in Design Studio, created specifically for businesses to be able to easily create professional digital content right inside the platform, solves all your signage design problems in one go.  
With Fugo, it can be as easy as using one of its many premade templates sorted by industry, opening Design Studio on your dashboard, designing your content then and there. Once you're finished and polished everything - whether that's video display, images, or an integrated display of your social media pages, it's as easy as clicking publish and making all your digital signage dreams come true.
Okay, maybe not like that. But you get the idea.
The best part? You don't have to pay an arm and a leg to get access to Fugo's feature-rich digital signage software. You can get started with access to every content design feature for as low as $20 per screen.
But don't take our word for it, try out a free demo first.
However, we promised we'd tell you about 15 different third-party design tools you can try and use to create digital signage content. To help you navigate each option, they're sorted below by content type.
Image creation and editing tools

Canva
You've probably heard of Canva as an easier alternative to Photoshop for your design needs. All things considered, Canva is a great way to create content quickly once you get over the initial learning curve.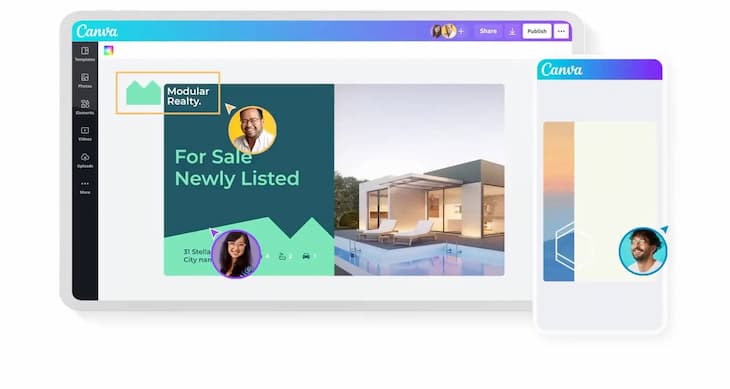 However, if you use Canva for your digital signage needs, keep in mind that the free version does come with its limits. For instance, you can't automatically resize your file to custom dimensions. You're also limited on the type of file you can download, whether that's in PNG or other formats. Either way, it's a solid option for image creation and some image editing. For more advanced image editing features, you'll want to look into its paid plans.
Pricing: Free
PosterMyWall
Sometimes you want to display infographics to inform and engage your audience. Thankfully, there's software like PosterMyWall that can help you make this a reality. And even more handily, it's already natively integrated with Fugo to make publishing your designs super quick & easy.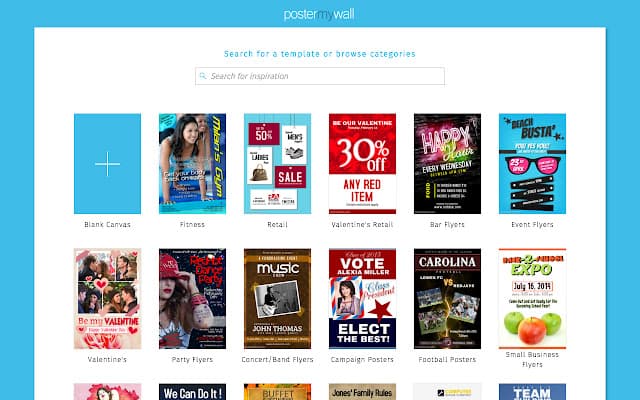 It's primarily designed for marketers and businesses that want to create digital posters and infographics about anything they'd like to promote on social media. The free plan comes with unlimited downloads of social media images, digital menu boards, a free clipart library, and thousands of digital signage templates to choose from.
Pricing: Free
Crello
Crello is free graphic design software that lets you start creating unique spreads with templates and an integrated media library. It's helpful if you're trying to design for print or advertising material and comes with handy features like an image background removal tool.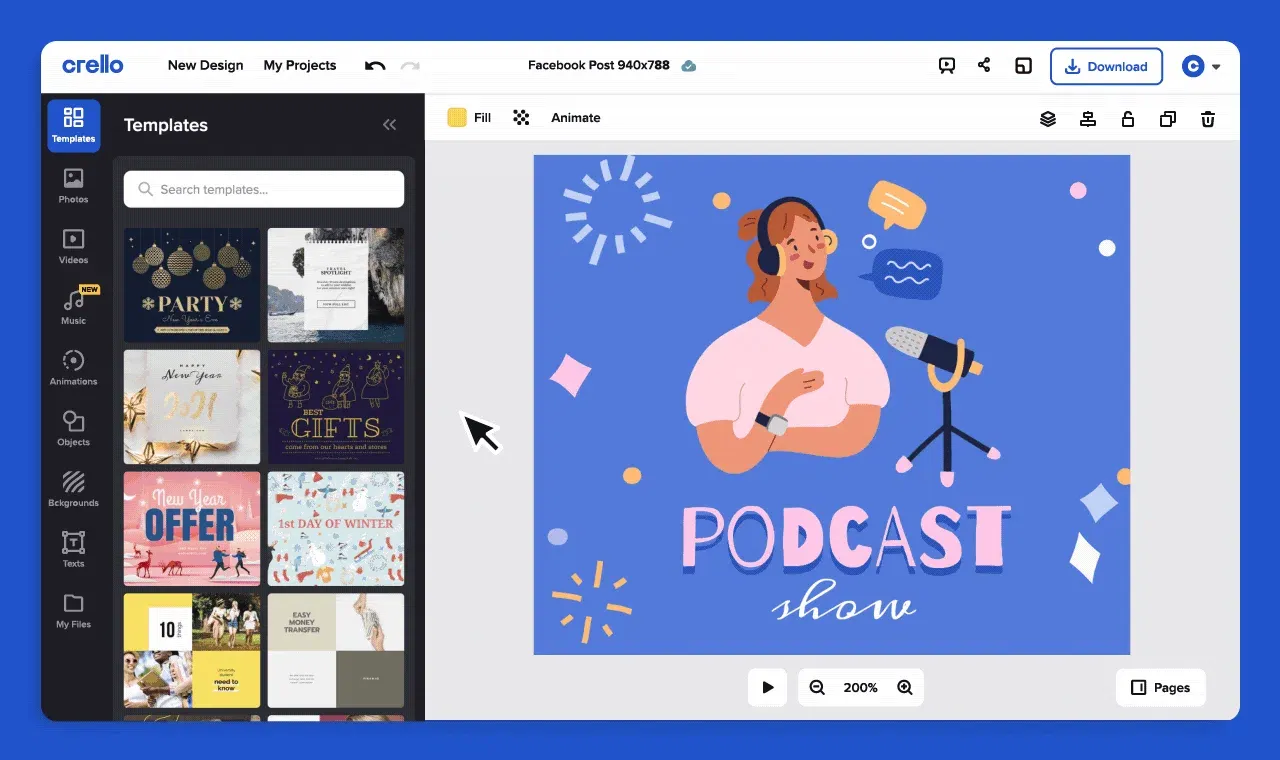 Though it's also great for creating social media material. It's free to start, but if you want access to its more advanced features you're looking at a starting price point of $7.99 a month.
Pricing: Free
PicMonkey
Much like Canva, PicMonkey puts the design wheel in your hands as a powerful photo editor and design tool. Though it isn't free, it comes with plenty of tools that can come in handy when it comes to digital signage design.
This means access to thousands of graphics and textures, plenty of fonts, and even stock photos and video. Once you're done creating your slides, the download process is easy too. Plus, it comes with stunning templates so you don't have to worry about running out of digital signage ideas.
Pricing: Paid
Pixlr
Pixlr can cover you as far as photo editing needs are concerned. It's built to help you create stunning photo collages and helps you edit dull photos into brighter images.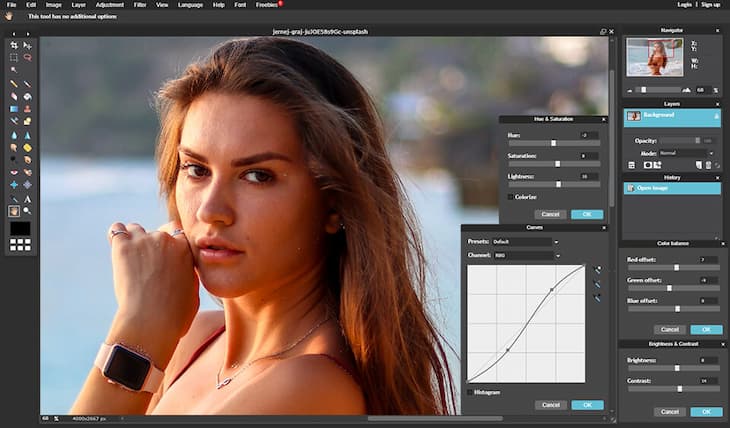 It's also useful that it can work with just about any file format. You can upload and download anything from PNG, PSD, JPEG, SVG, and more. You can also add filters and remove your image backgrounds. If you're wanting to get more advanced with how your images display, Pixlr can be the tool that helps you do that easily for free.
Pricing: Free
Artboard Studio
Looking to create mockups? That's exactly what Artboard Studio was made for. While it's a bit of a more advanced design tool, you can use it to paste your branding and company logos on objects like coffee mugs or bags.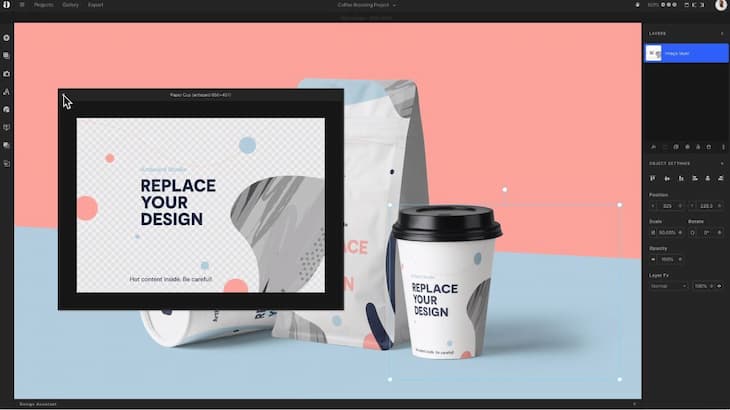 This can be great if you're looking for more advanced design features that showcase your branding and add a realistic flair of creativity to your signage display. However, if you're looking for simplicity, you're better off going with a more straightforward app like Canva or PicMonkey (or hey, our built-in Design Studio can work wonders too).
Pricing: Free
Video creation and editing tools

Adobe Creative Cloud Express
Adobe CC Express is great for creating videos and animations that'll engage your audience. It doesn't matter if you're a small team or you're flying solo, you can use Adobe to take care of your design needs with relative ease. With the free account, you get access to free templates, images, and icons.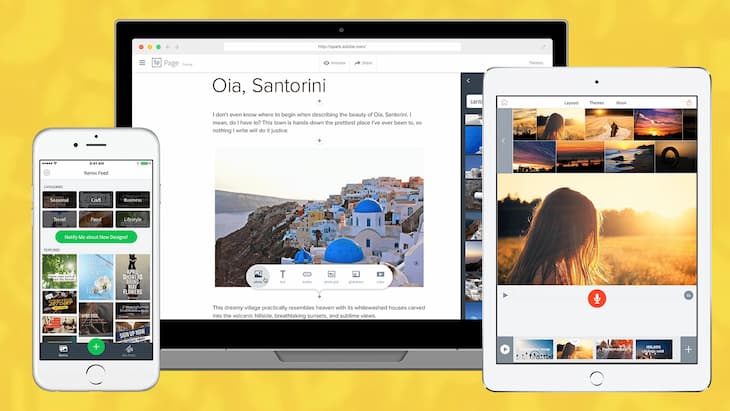 However, once you start veering into wanting to create signage with your logo and brand colors, you'll have to opt for one of its paid plans to have access to more features.
Pricing: Free
Biteable
You can think of Biteable like the fun little sidekick that helps you create engaging video bites you can string together to create a more inviting signage experience. Once you learn how to use its creative dashboard, you can bring together its set of animations, stock footage, and photos for studio quality videos.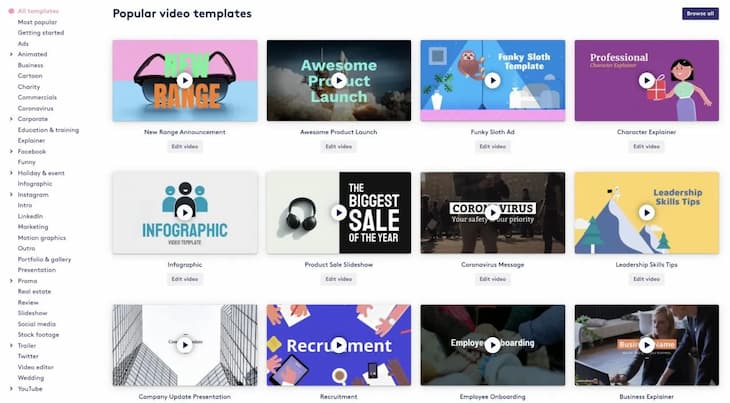 You can start using Biteable for free, but there's a catch. Though you can export an unlimited amount of videos you get to design, they'll come stamped with the Biteable watermark. Unless of course you opt for one of its paid plans, which allows for more features sans the watermark.
Pricing: Free
WeVideo
If you want access to more advanced video making tools like green screen capabilities, then you should pay closer attention to WeVideo. It easily lets you choose from multiple formats so your videos are ready to display on just about any type of screen.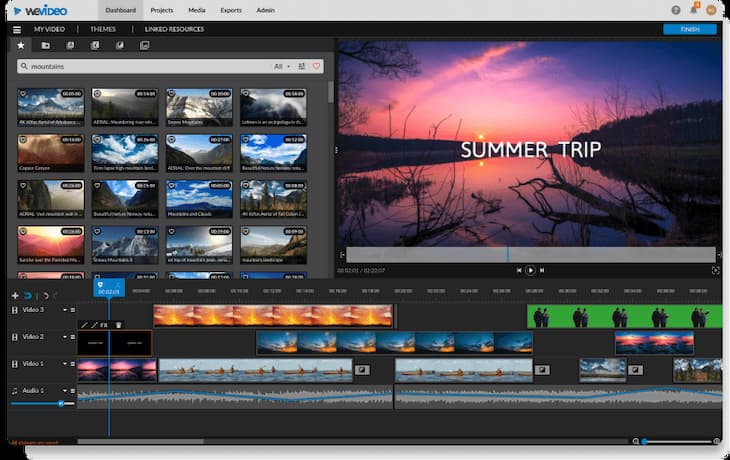 Not only that, it also comes with tons of commercially-licensed video clips, images, and music you can use to your liking. Once you store your footage in the cloud, you can access and edit your videos from anywhere on any device.
Pricing: Paid
InVideo
InVideo is another good option for an online video editor. With InVideo, you get integrated stock media and 5000+ pre-designed templates that empower you to make professional quality videos with simple drag-and-drop editing. You can use pre-designed animations, transitions, stickers, and text boxes. Choose trending music based on mood from a vast library of stock music or add your own and make beautiful marketing videos that engage your audience.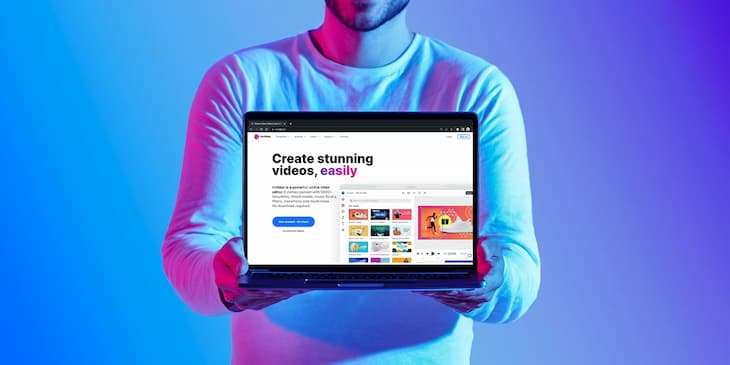 Pricing: Freemium
Presentation creation tools

Google Slides
What if you want to create a presentation-style display for your office screens or lounge area? It's pretty easy to do with Google Slides. Especially because it's one of the apps that integrates with Fugo.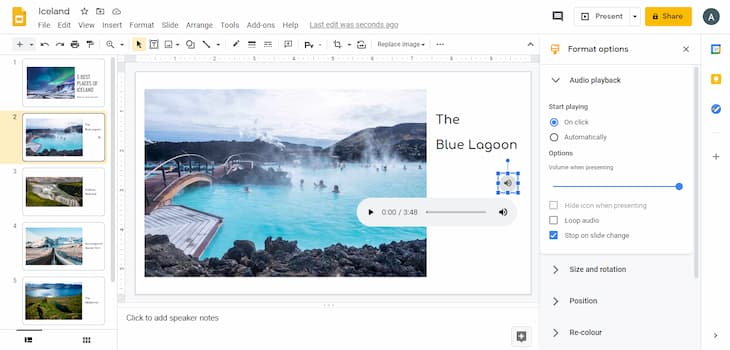 You can think of Google Slides like a beefed up version of PowerPoint. It also comes with templates, so you don't have to start your digital signage creations from scratch. You can even download the app and configure your presentations offline. If you already have a Google account, it's a matter of logging in and getting started.
Pricing: Free
Prezi
If you've used Prezi before, you know how easy it makes it to create engaging presentations. The problem is, it isn't exactly built for creating digital signage displays. So if you're wanting to create a set-it-and-forget it digital display, Prezi might not be the optimal solution for you.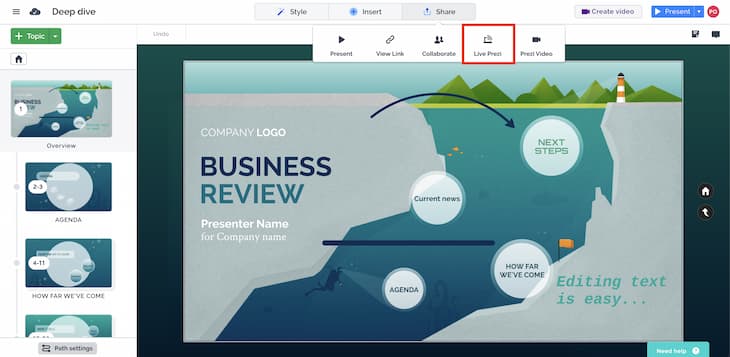 Unlike Fugo's Design Studio, even if you do figure out how to onboard your newly minted presentation onto your signage hardware and get it up and running, there's no guarantee you'll be able to fully configure when and how it shows up. Keep in mind that Prezi is designed to be an interactive presentation tool for team presentations.
Still, you can start using it for free with its Basic plan and create up to 5 different presentations.
Pricing: Free
Piktochart
Presentations and visual reports are where Piktochart shines. If your digital signage tends to be text heavy, Piktochart can help you make it more engaging by enabling you to design spreads with pre-made templates and brand customization tools.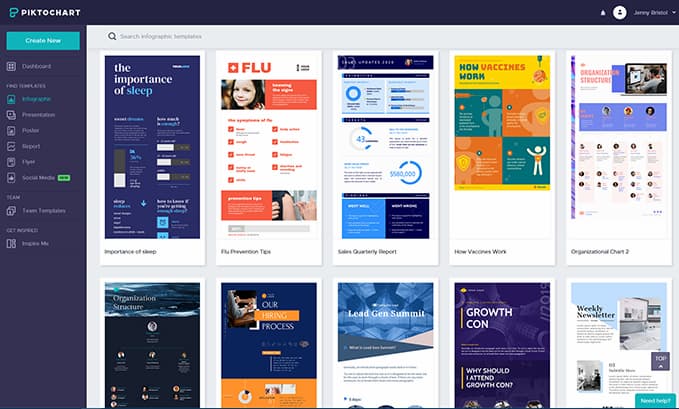 It's perfect if you're trying to visualize content like financial reports, marketing materials, or if you're trying to design a timeline that's more than just a wall of text. As far as digital signage design goes, features like these can definitely come in handy if you're outsourcing your design needs.
Pricing: Free
Visme
Visme is a bit of a jack of all trades. With it, you're able to create infographics, presentations, image designs, and videos. This makes it a great tool for both seasoned designers and novices that want to be able to create professional looking graphics for just about any vertical imaginable.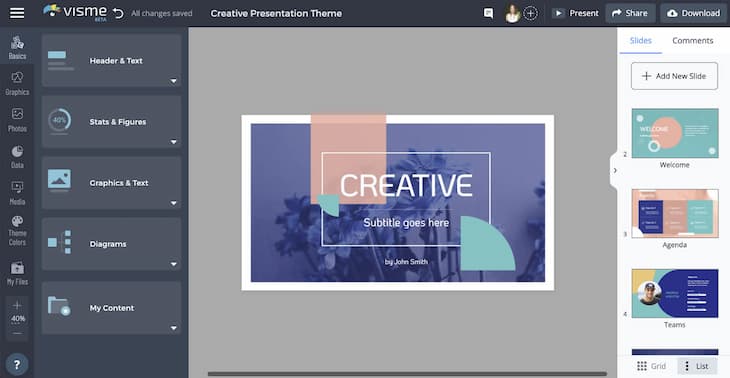 Its dashboard is incredibly easy to use and mirrors the likes of design tools like Canva and PicMonkey. You can easily start using Visme for free for up to 5 projects and a limited number of templates.
Pricing: Free
Infographic creation tools
Venngage
Venngage is a professional infographic maker that comes with over 10,000 templates to choose from. It helps you illustrate and bring dull information to life with its many spreads, pie charts, timeline views, and report layouts.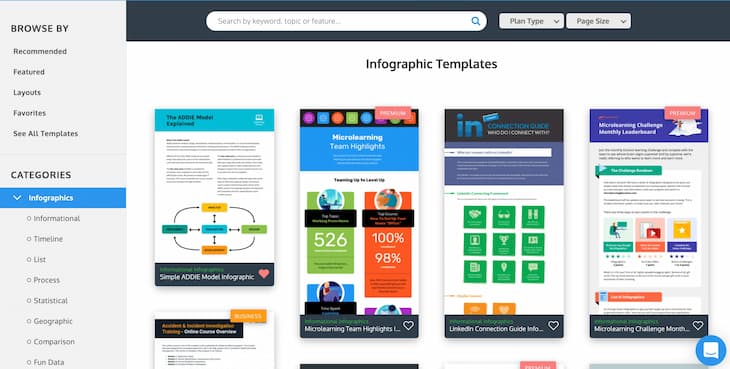 Venngage also makes it easy to collaborate with others on a project. Once you're done tweaking your infographic, you can share a link with fellow team members for more design input.
Pricing: Free
Snappa
Snappa is for the non-designer that still wants to create stunning infographics without taking forever. It lets you easily change the dimensions of an image and lets you use pre-made templates so that you can design infographics faster.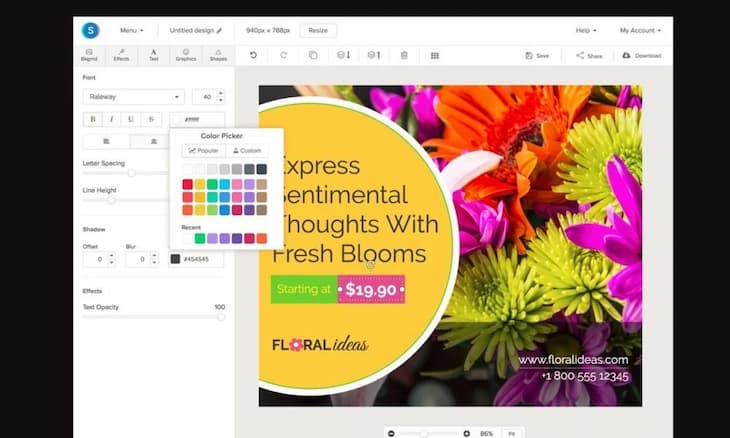 Like most other design tools worth using, it comes with image background removal tools, the ability to add texts and graphics as well as stock photos. Best of all, it's free to use for one user and up to 3 downloads per month.
Pricing: Free
Make digital signage design easy

Granted, there are a ton of content creation tools out there. And while some are free, that doesn't mean they're necessarily the best choice for your digital signage content needs.
It's the main reason why we took the time out of our busy schedules to create  and incorporate our Design Studio right into Fugo. Call it a digital poster maker, a sign board designer, or anything else you'd like. But one thing rings true: It makes the process of designing and configuring stunning signage displays a breeze. No graphic design degree or complex technical know-how necessary.
Try us out for free here and let us know how you like the easy digital signage life.