Employee recognition is a lot like exercise — doing it one or twice a year isn't going to make a difference.
Sure, you may feel great about it in the moment, but you're not going to get any lasting results.
Birthday cards? Nice, but predictable.
Gift cards? They do in a pinch.
But the new gold standard is digital signage for recognition — and not just because you can do it all year round.
Is digital signage really that effective for employee recognition? And how can you use it to delight your team?
We're answering all these questions and more in our comprehensive guide.
But First: Why Digital Signage?
You don't need any reminder about how important employee recognition is. A little goes a long way, and the numbers don't lie:
A whopping 44% of people leaving their jobs say it's because of poor recognition.
But 69% of employee say they'd stay with their employer if they received more recognition.
Employee recognition is responsible for a 14% increase in workplace performance, engagement, and productivity.
You can use just about any medium for employee recognition, including gift certificates, birthday cards, and awkward call-outs during meetings. But the real secret sauce of meaningful recognition is digital signage that everyone can see.
Why?
Digital signage is public. Everyone on your team can engage in recognition together, which fosters genuine relationships in the workplace.
Digital signage is flexible. You can display what you want, when you want, without locking yourself into single-use recognition efforts like plagues or trophies.
Digital signage boosts information uptake. Because content can be looped, employees are more likely to see and digest your message than they would be from a one-off email or Slack message.
Digital signage is cost-effective. You don't have to print paper certificates or buy physical cards (although you can do that too!). All you need is a TV screen (and sometimes a bit of extra kit) to get started.
Best of all, an easy digital signage software, when done right, doesn't require a degree in IT or years of experience working with screens. All you need is a great idea — and we've got eight of them for you below.
8 Ideas To Engage Your Employees With An Employee Recognition Wall
It's time to take your employee recognition efforts to a whole new level.
With Fugo, you can build awesome campaigns for employee recognition using dozens of customizable templates for any employee, occasion, or color palette. We've collected a few of our favorites below so you can pick and choose ideas that work best for you.
Let's take a look at eight unique ways to recognize team members with digital signage — starting with one of our favorites.
1. Make A Wall of Fame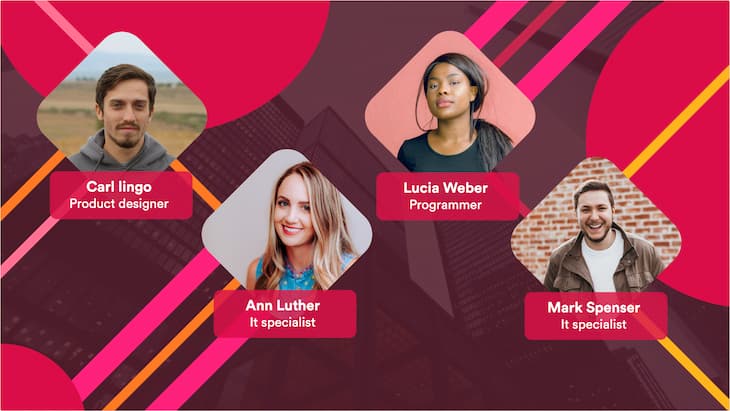 What's better than recognizing one awesome employee? Recognizing all of them!

An employee wall of fame lets you say 'thank you' to all the folks who make your team special. From the C-suite to interns to junior associates, you can create beautiful digital displays calling out your team's many contributions.
Need some ideas for what to put on your employee appreciation wall? You can:
Call out significant sales deals or contract wins over the history of your business
Track your top performers on their road to reaching their goals
Celebrate employees with the highest number of positive customer reviews
Bring attention to associates with the longest tenure in your company
You can check out our team template here.
2. Offer Employee Rewards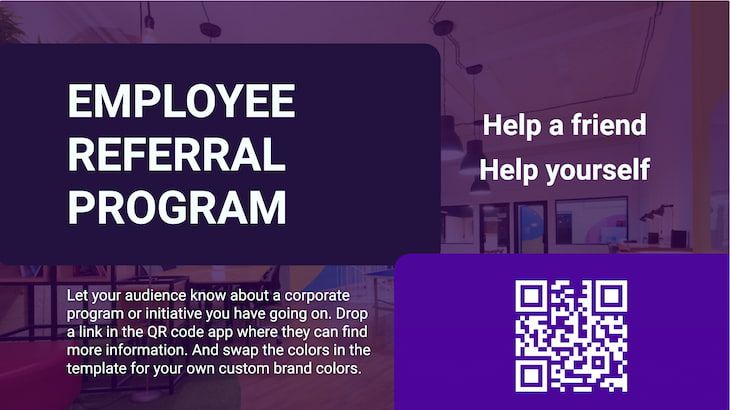 Did you know employee recognition and rewards go hand-in-hand? It's true! A whopping 79% of employees say they work harder when recognized at work, while 78% say they become more productive after getting rewarded.
You can use digital signage to display employee reward systems for everyone in your company. Maybe that looks like a referral program, or a points-based system like Bonusly or Motivosity. Either way, a digital sign is a great way to bring your reward system to the attention of employees who may not be aware of it.
Want to start with something simple? You can take a peek at our Workplace Initiative template and customize it to attract attention to your organization's program or employee initiative.
3. Call Out Employees of the Month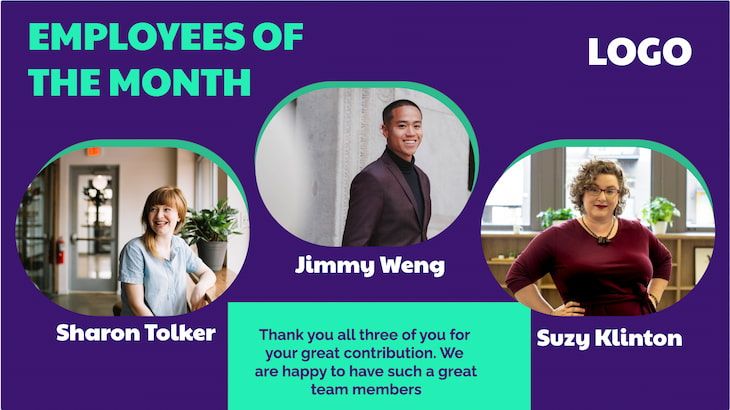 Everyone loves a little friendly competition, especially when it comes with a side of employee recognition. An employee of the month board is a great way to do this, especially for teams looking to foster connections at work.
You'll be happy to know this is easy to do. Like, really easy. Using digital signage, you can establish a repeatable template that's simple to edit and display each month. You don't need to spend hours crafting a poster, and you don't have to settle for a boring monthly email.
You can start by editing our employee of the month template to match your employee recognition program.
4. Build An Accomplishments Board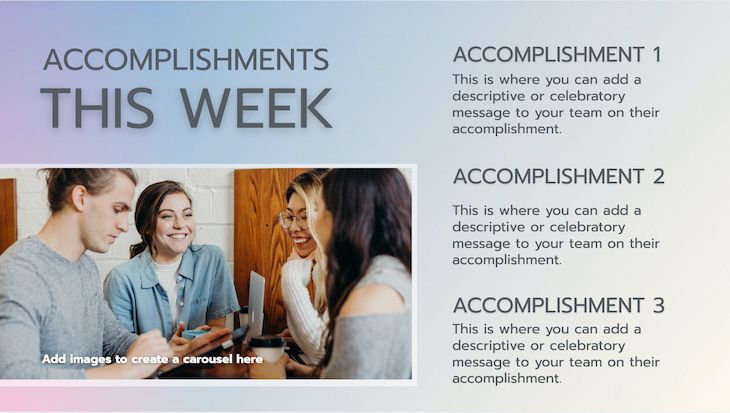 Maybe you're less interested in calling out individual employees and more interested in highlighting group accomplishments. All good! You can set up something like an accomplishment board to keep big achievements top of mind.
Depending on the size and industry you're in, these call-out accomplishments can be pretty much anything. You can highlight major sales deals, point out happy customers, or celebrate deadlines reached per week or per month.
You can make your own edits to our employee accomplishment board here.
5. Say Congrats Outside Of Work
Some of the biggest accomplishments that happen around the workplace don't happen in the office at all. Employees get married, have kids, and get retired, and it's only natural that your team should celebrate with them too.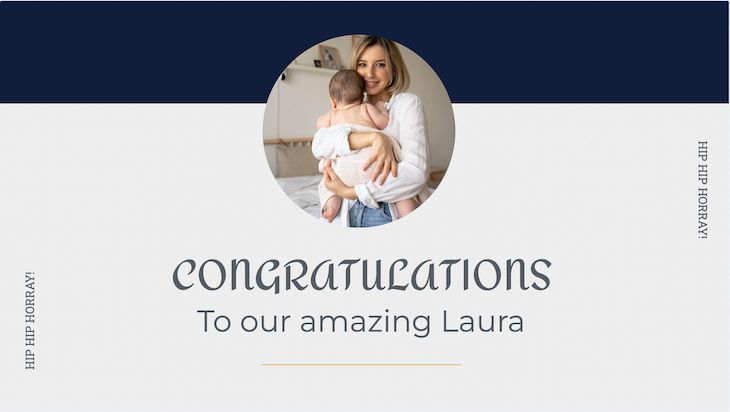 Be sure to keep tabs on any non-work happenings so you can call them out accordingly in your digital signage. For example, keep an eye out for:
Employees graduating with their Masters or PhDs
New people and pets getting added to the family
Publications, interviews, industry awards, house purchases, and more
Feel free to check out one of our favorite congratulation templates and make it your own.
6. Welcome New Team Members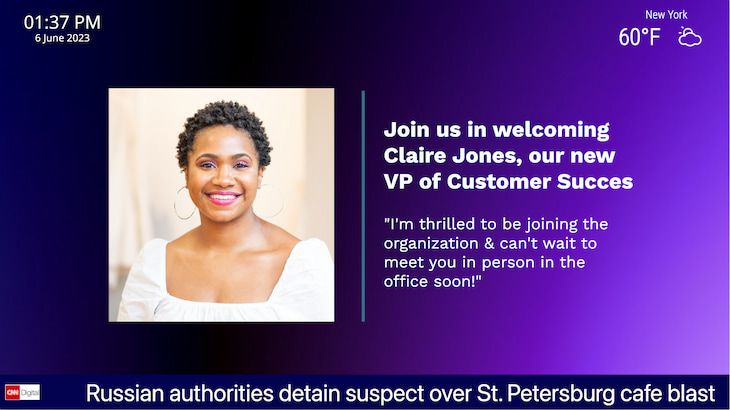 We've all been the new kid at some point or another, so we all know what it feels like to step into a new space. With digital signage, you can easily recognize your newest employees so everyone on your team can give a hearty 'hello.'
Want to get some brownie points? Try listing more than just the new employee's name or position. Instead, you can:
Set the background image to their favorite color so they know how much you care.
Include fun facts or unique information as supplied by your new employee.
Highlight favorite gifts (like chocolate or plants) so current employees know how to say 'hi' in style.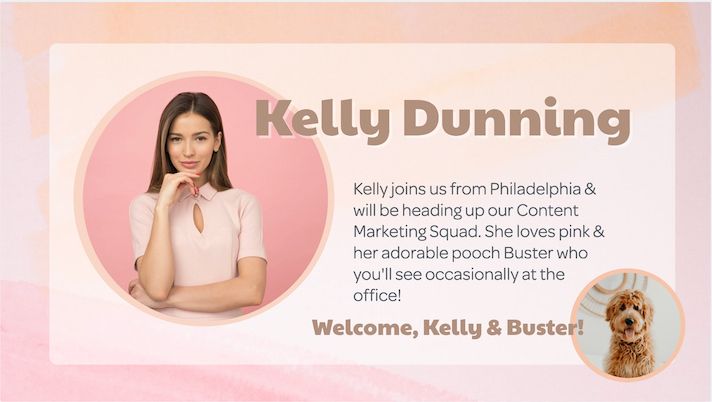 You can use this Meet the New Team template to build an eye-catching design for your newest employees and latest company news.
7. Share Customer Or Client Feedback
Employee recognition isn't just about calling out the positives you see. It's also about incorporating customer feedback so everyone on your team can feel the love.
For example, this testimonial template lets you display customer reviews with specific references to teams, departments, or employees. Unaffiliated employees just walking by can get a little boost of confidence, while everyone else who's directly involved can bask in some feel-good recognition.
What to use a slightly different customer feedback template? Check out this variation that could be a better fit.
8. Have A Little Fun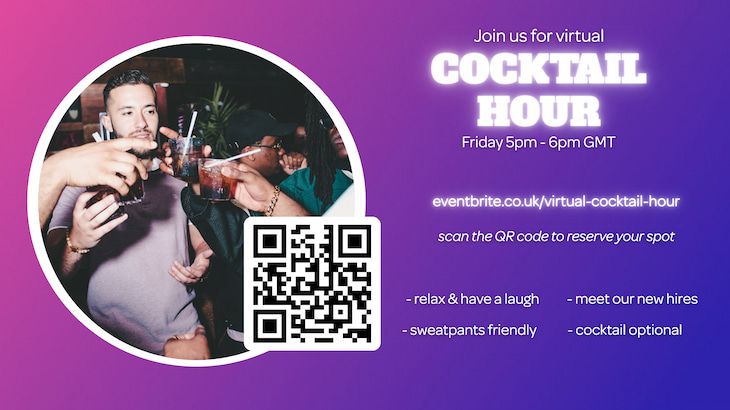 Employee recognition doesn't (and shouldn't) have to be boring. If you're willing to get a little creative and try something new, you can build some innovative and interesting ways to build engagement for your team.
For example, you can:
List weekly questions for team members to answer (like 'what superpower would you want?'). You can display the best answers on the board for people to see at the end of the week.
Show off sales metrics or other numbers to establish friendly competition. Ever seen Monsters Inc.? Something like that.
Create fun and useful surveys or polls for your employees to respond to
Invite them to join Discord, Reddit, or Slack communities to chat with people in their field of work, industry, hobby or city
Set up special events for your team members to join. You can use this digital template to advertise a virtual cocktail hour for your team.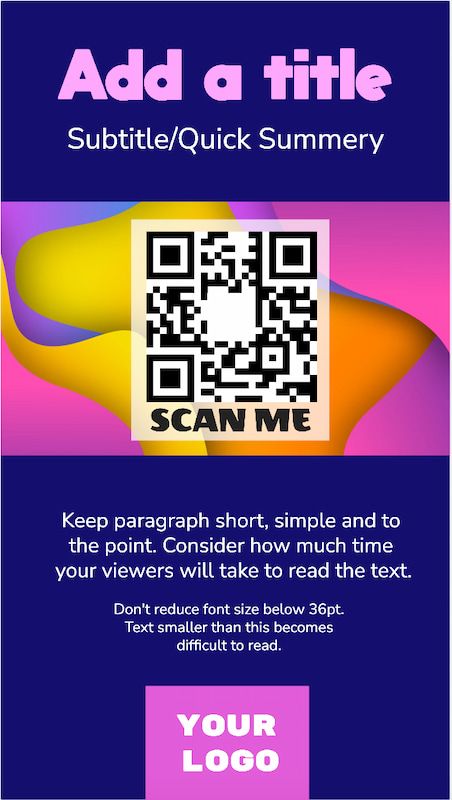 By the way — if you don't see a template you like here (or anywhere else in the roundup for that matter), feel free to use our Suggest a Template form to request something new.
Build Your First Employee Recognition Wall With Fugo!

Recognizing your employees with digital signage doesn't have to be complicated. Just like exercise, it can be quick, simple, and easy to do with the right foundation in place.
It's easy to use Fugo as the foundation for your digital signage program. It's like Canva for TV screens — anyone on your team can use it — and you don't have to navigate a maze of support docs to do so.
With Fugo, you don't have to put a minimum number of screens on your account or buy special hardware to display your creations. You can pick the plan that works best for you, then simply grow as you go. This means you can upgrade whenever you want bigger or better features.
Ready to build your first employee recognition board with Fugo? Why not treat yourself to our 14-day free trial? You can use your favorite employee recognition template above and make the changes you want in just a few clicks.