Nordward - with its coalition of 4 companies in Sweden, Denmark & Norway - provides the leading restaurants, stores and wholesalers in Scandinavia with the best fresh & frozen fish products available on the market.
They have big ambitions to become the region's leading service partner in regards to sustainability, product development and customer relations - something you can't do without a streamlined workforce that's on top of their delivery and performance.
To reach that goal, they needed a tool to help them drive adoption of their critical numbers - from the sales department to the cutting and packing floor, where each employee can track their progress. Digital signage enabled them to better disseminate company-wide messaging, which has impacted metrics across the board and given their employees ownership over their work.
We spoke with the Nordward team about how important it was for digital signage to improve their organization's internal communication.

The Challenge
Nordward has portions of its workforce either driving or working in a warehouse, in addition to sitting at desks. With daily data updates, announcements, and changing protocols, it was vital that everyone in the company stayed informed and on the same page.
The Nordward team had been exploring ways to enhance the scope and effectiveness of their communication channels, since paper orders and daily in-person meetings weren't cutting it. It was too hard to track what needed to be done that day and even harder to measure progress against their targets.
"We used papers before for every order and we needed to have a lot of quick meetings with all the staff so they knew what they were supposed to package and cut. Now with Fugo, they can see it live all the time so you don't need anyone to tell to them what they need to do and it makes our whole work flow a lot better."

Chris Dassa
Operations Manager
In addition to bottlenecks on the work floor, they had another problem - they had made a significant investment in their data platform, but their data needed wings, a solution to make sure that it was actually being delivered to the people who relied on it for their daily work.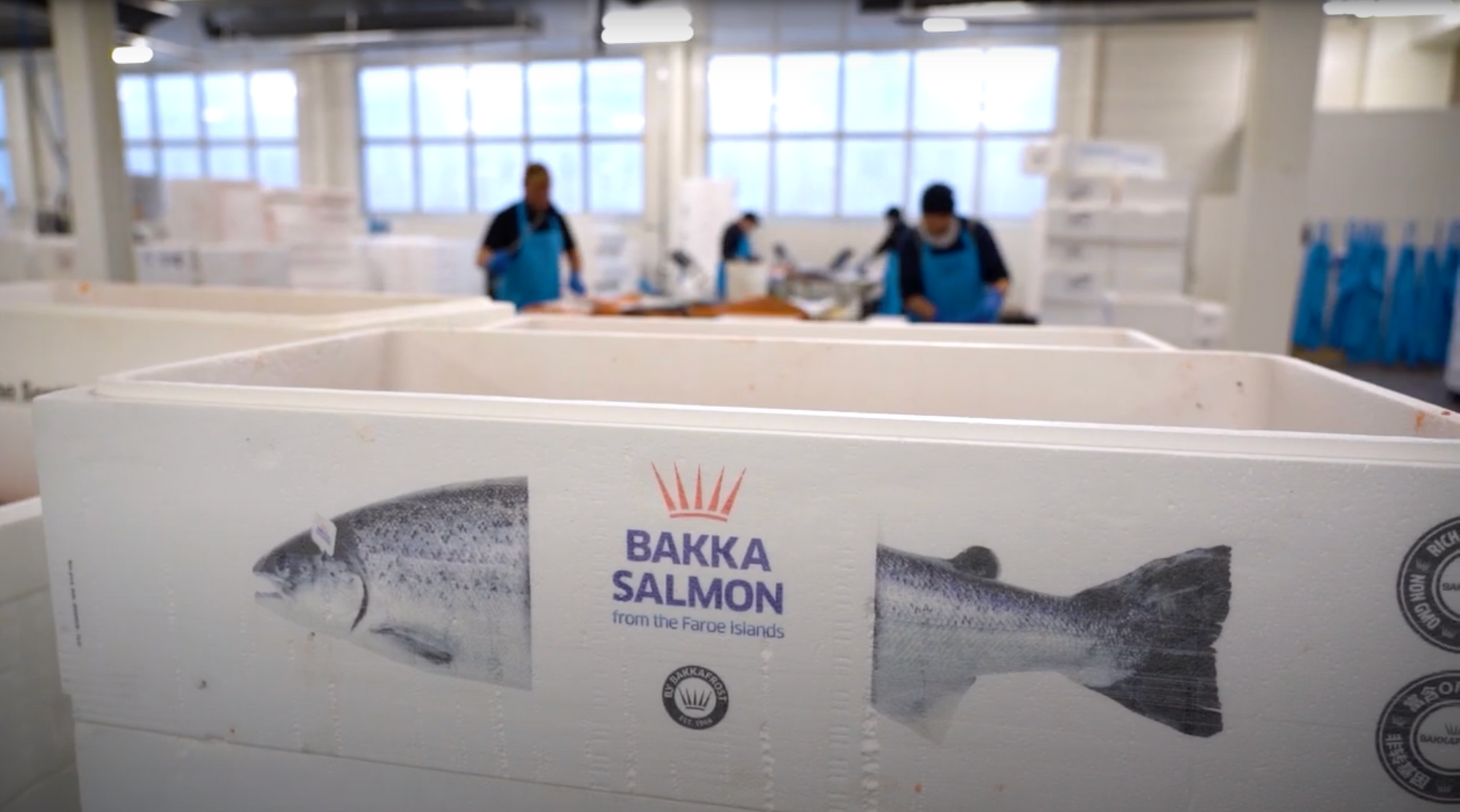 Christian Ahlin, CIO, realized a pressing need to increase the reach and impact of their data visualization:
"Data & Insights are important, but the drawbacks with digital tools are that they disappear when you close a laptop or fight over limited screen real estate. So I consider it a crucial component to use the physical space to create and enable positive culture. And digital signage solutions are actually a way to achieve this, and is so much more than a digital whiteboard or a sales dashboard."
The Solution
When the IT team found Fugo, they were interested in its customizable messaging, scheduling, and - most critically - its deep integration with Looker and support for Chrome OS.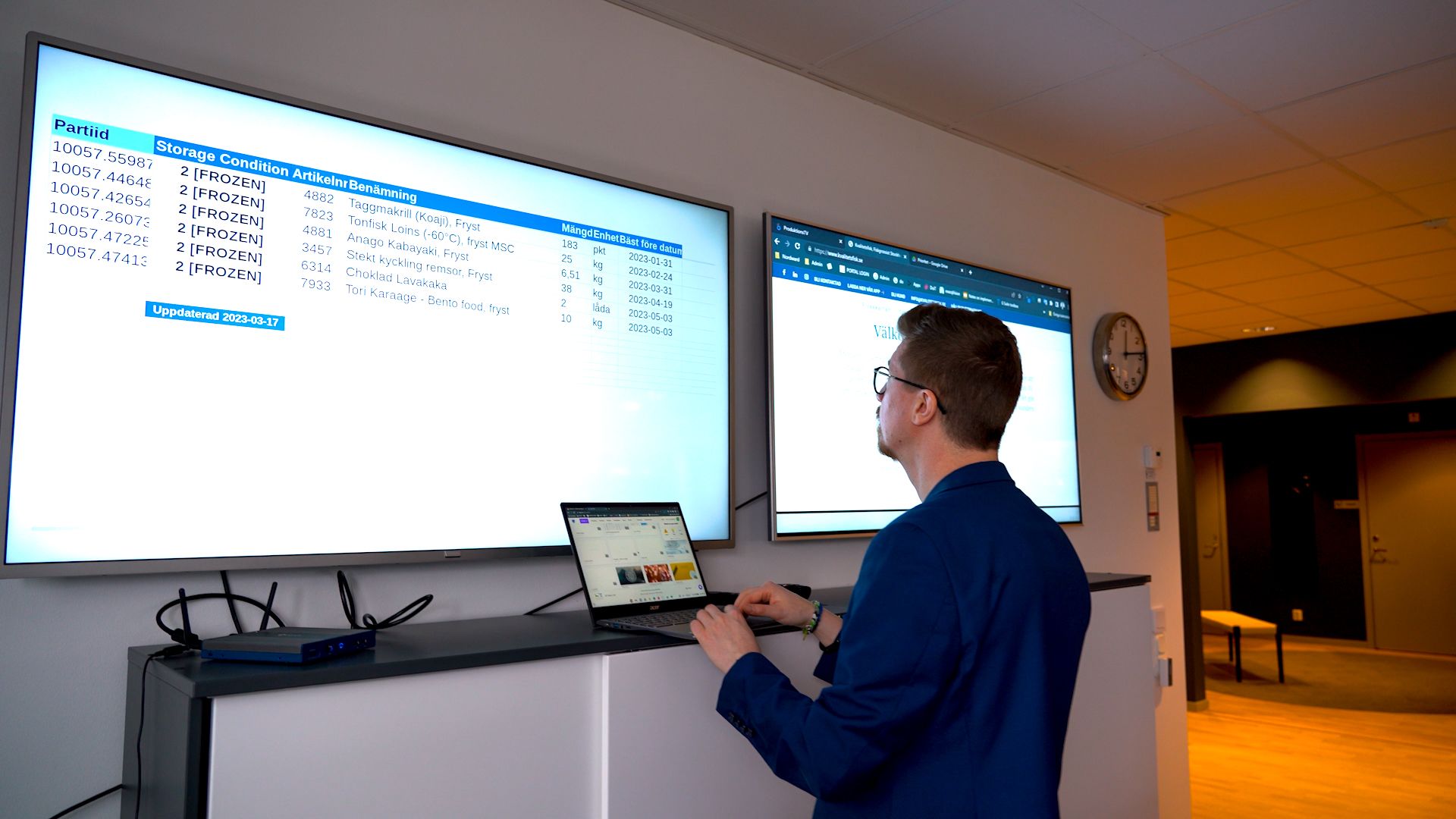 "We are a Google company, so we have everything based in the Google workspace and the Google Cloud platform. The data platform we use is Looker - we have a big query backend and for that Fugo has been the best setup to actually display our real-time data on our screens live in our company."

Christian Ahlin
IT Manager, CIO
Their sales team felt the impact almost immediately:
"Our screens help us to look at our numbers each day; and each sale person can see the numbers to follow them so that they take the lead over their own numbers."

Jennie Nieminen
In-House Sales Manager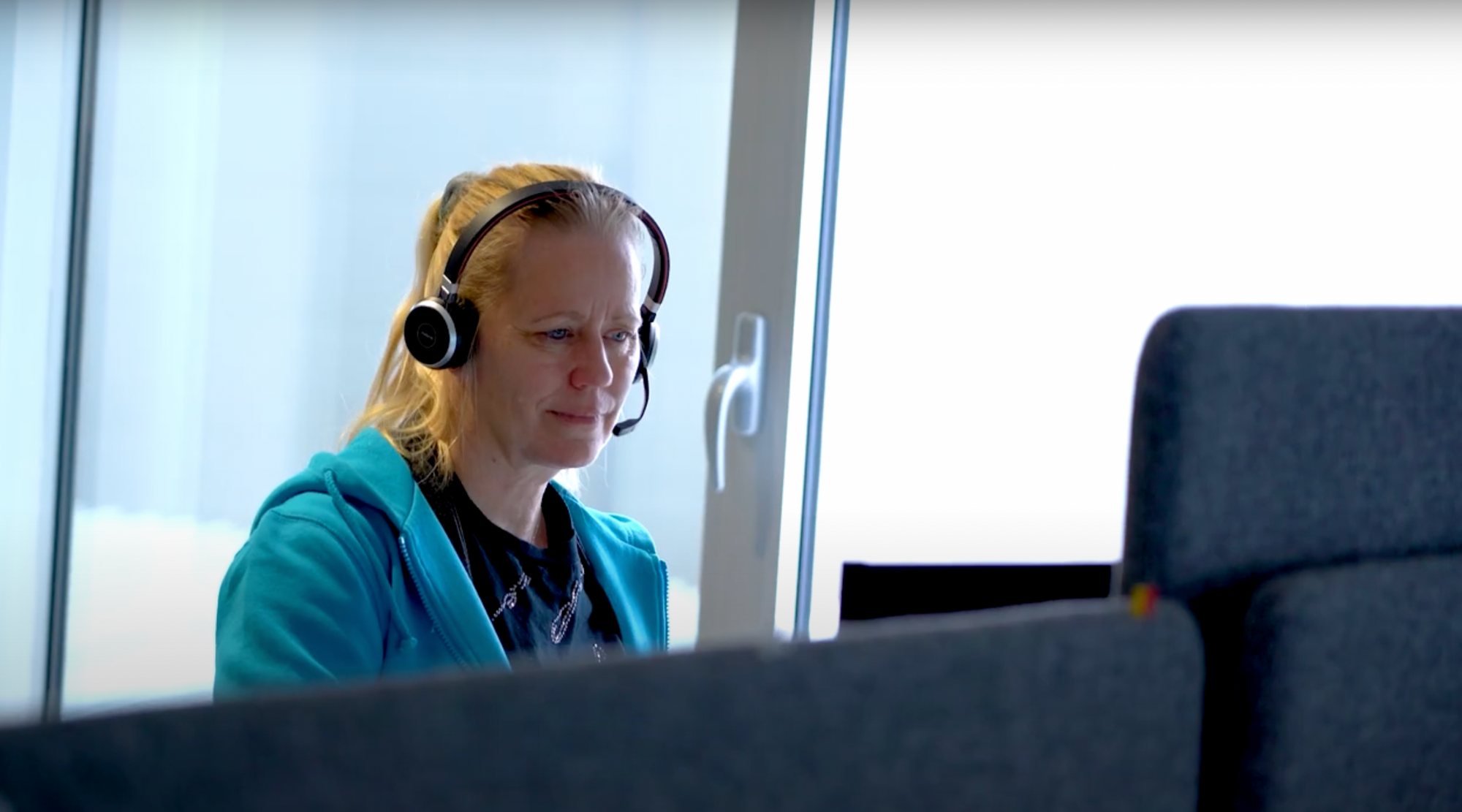 It wasn't just the sales staff that needed data. Employees on the cutting and packing floor were just as eager for concrete data, though the majority are not equipped with a company laptop or phone and are often on the move. Fugo gave management a way to engage this cohort of employees so that it fit conveniently into their workflow but also didn't require them having to be trained on any new and unfamiliar technology.
Turns out, it's reaped major rewards across the company:
Metric wise, we have improved all over the place - our sales are getting better, our production is faster. Is it directly correlated to Fugo? We're not sure, but we can say for sure is that as soon as the screen goes down, everybody notices it directly. So in the rare cases when that happens, it shows me how important getting live data is for all our employees.

Christian Ahlin
IT Manager, CIO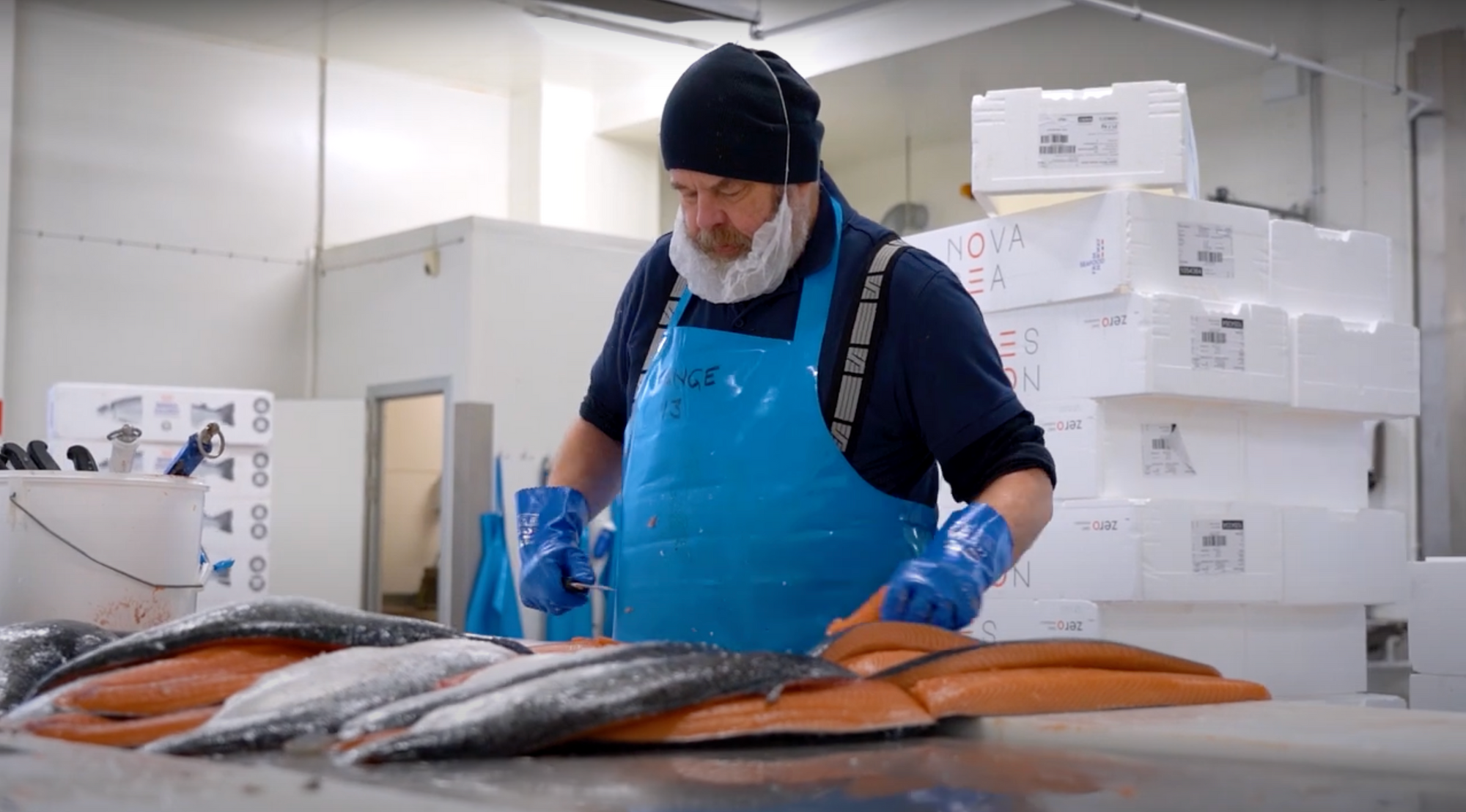 Key Fugo Benefits
Digital signage has helped Nordward keep its staff informed and create a better employee experience where each person on staff feels equipped to succeed. This has led to an environment of easier and more eager collaboration between teams to reach their goals.
Their team had a lot to say about the benefits Fugo offers their organization.
Ease of Use & Adoption

The thing that impressed us most about Fugo is the ease of use and how easy it is to learn everything. You don't need any 15-20 minute long video - you will get the hang of it really fast.

Chris Dassa
Operation Manager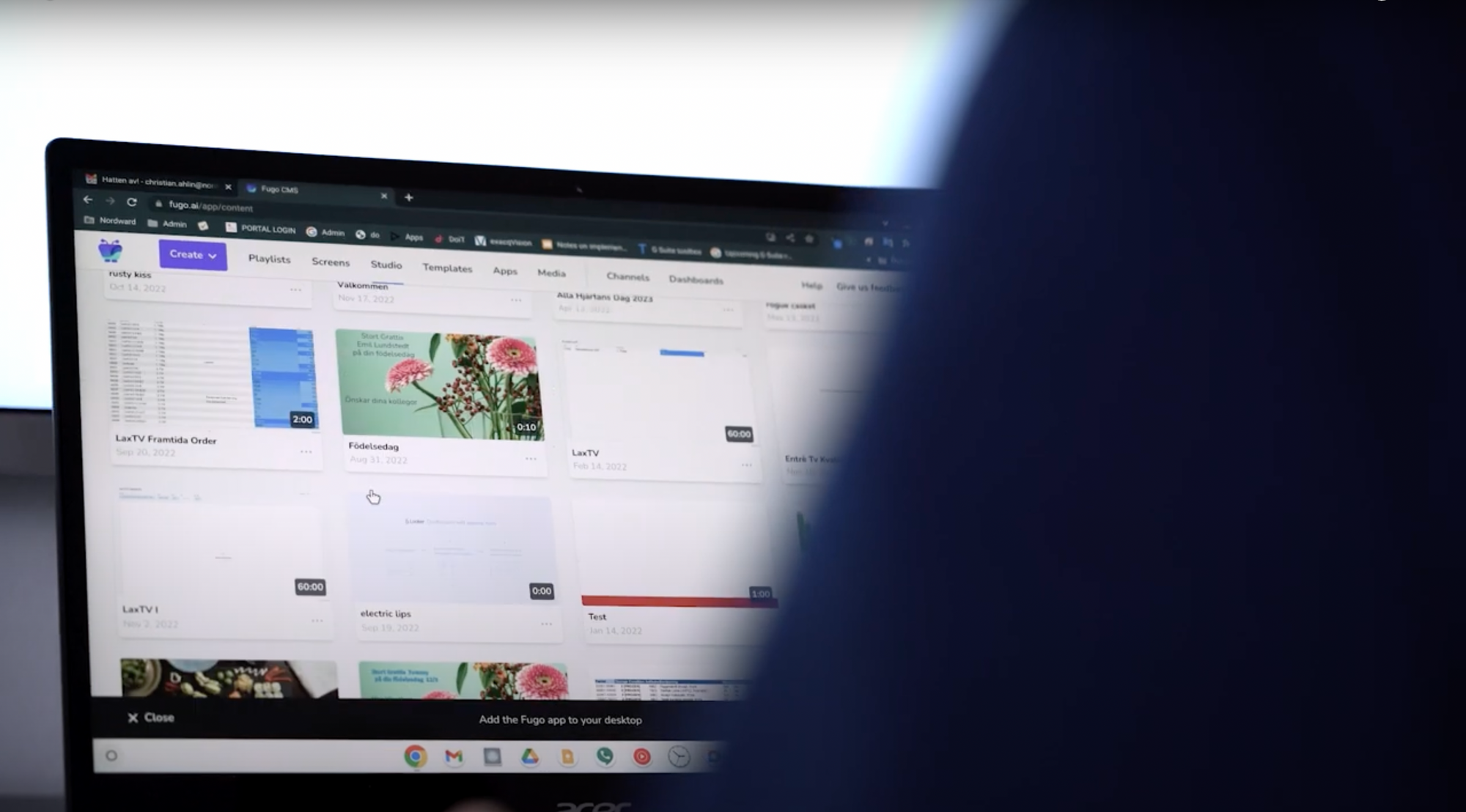 The Fugo platform felt familiar to their team, like using Google Slides or Canva. Imagine the relief of everyone on staff when they realized they didn't need to orchestrate and sit through time consuming training sessions.
The Fugo interface is friendly and simple to get the hang of. And the medium itself - the TV screens - isn't new to anyone on staff. There's virtually nothing for them to adopt, except for the data itself, which is clear and comes to them at the right time and place.
Deep Chrome & Google Integrations

What stood out about Fugo compared to other solutions was both the support for Chrome OS and the simplicity of use both for me and my end users.

Christian Ahlin
IT Manager, CIO
Their IT department and outsourced contractors are trained to install & troubleshoot different devices and software with Google technology. As an entirely Google-based team, Fugo fit right into their current IT workflows and processes.
Solid Customer Support

It was so easy to interact with the Fugo good team - they were really supportive. And the technical setup has been easy too - actually getting content on the screens.

Christian Ahlin
IT Manager, CIO
Implementing their digital signage system was not an overnight success. Nordward needed to procure compatible hardware for their digital signage, and configure them within their network, then set to the harder task of connecting their screens to their internal systems & planning the when, where, & how of getting the content on screens.
But once set up and piloted, Fugo has been a successful and cost-effective investment for the company. And they've received support from the Fugo team every step of the way from the initial project planning to deployment and troubleshooting of any issues.
Overall, Fugo has made life easier on their screen admins as they can now manage their screen network and content easily from one central location and update messages in a click; to make sure their employees are always up-to-date.

Elevate Your Company's Internal Communications with Fugo
If you're seeking an efficient and secure method to communicate across multiple locations, then digital signage is the way to go. The use of digital signage has been proven to be highly effective and this is why Fugo is the preferred provider for businesses in 60+ countries.
Fugo is highly versatile and caters to businesses with both employee-facing and customer-facing screens in industries like retail, hospitality, education, and more.
If you're curious whether digital signage might a good fit for your organization, you don't need to spend any major resources finding out. Take advantage of our 14-day free trial - simply sign up with a company email and take it for a test drive on a spare TV screen or in your Chrome browser.
Additionally, you can schedule a demo with our team to learn how Fugo can help you:
Manage multiple screens across multiple locations
Create attractive content fit for your displays & use case
Reach your deskless employees with existing and familiar technology
Display important business intelligence data from tools like Looker, Power BI, Salesforce, Tableau & more
Connect screens to your internal systems to manage work processes
Measure the ROI of digital signage for your organization
Your TV screens have the potential to make a real & measurable impact on your business - our team is standing by to help you harness that potential!