The Bendac Group is an LED display solutions provider, distinctly recognized in its home market of the UK, but with engineered installations in over 20 countries. They've partnered with Fugo to power their innovate approach to creating hands-on, complex LED projects for clients whose custom content wishlists can't be met by cookie-cutter digital signage software tools.
The Bendac Group champions what they call "innovation in visual technology" -AKA, their industry-leading manufacturing capability, which makes them able to offer the highest quality product, support and aftercare.
With clients like the Kennedy Space Center, Chelsea FC, and AFC Wimbledon under their belt, you can be sure they deliver high standards of creativity & reliability when tackling complex projects.
We spoke with Managing Director Ben DaCosta about why they trust Fugo as a strategic partner in meeting the needs of their digital signage customers.
Tell us a bit about your business and how you use Fugo?
We are the UK's leading supplier of full LED turnkey solutions. Here at the Bendac Group, we have a number of demo screens on show, and a number of these have got lots of different pixel densities.
This means that pixel-to-pixel, canvas sizing, and resolution is really important for us. This is something that the Fugo software allows us to do really easily. And it means that we can run 1.2 millimeter displays up to 10 millimeter displays without having any issues regarding sizing or asset ratio.
We use Fugo to provide our customers with a full turnkey end-to-end solution.
What's your favorite thing about Fugo?
There's a lot of great things about Fugo! One of the great things about it is the personalization - our displays are not just standard 16x9 resolutions or aspect ratios. A lot of the time, they're bespoke sizes or custom shapes and Fugo is great at being able to have a custom canvas size.
One of the other great things about Fugo is the fact that it's really easy to use. Just at the click of a few buttons, content can be fully changed from feeling like it's a complete change of environment just within a matter of seconds.
What impressed you most about Fugo?
Probably one of the most impressive things about the software is the quality of the video playback. The compression on them is really low, allowing the quality to shine through.
This is great because you might see in a lot of other video playback softwares that the video gets compressed quite highly, which means that actually the video doesn't look as clear or as bright & bold as the designer intended.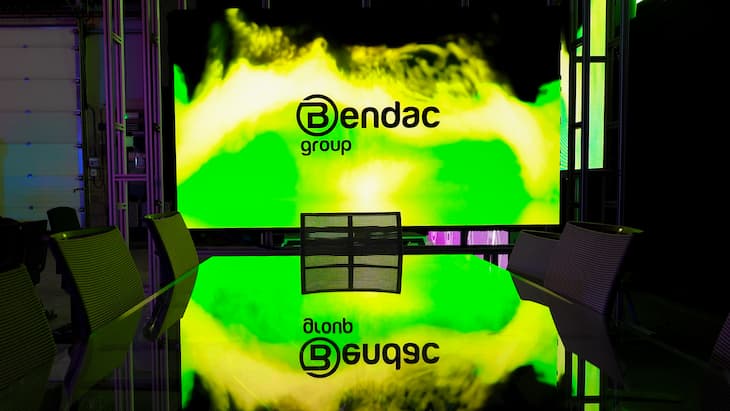 What is your favourite bonus or perk you've noticed since using Fugo?
One of the key features of the Fugo platform is the ability to screencast. I've used a lot of screen-casting tools before and there isn't one that's quite as easy as Fugo. It doesn't really matter which platform or device you're using, the screen casting works really well,  so I'd recommend that to any users that have used any screen-casting tools previously.
Since using Fugo, probably one of the key selling points is their customer service. Our team have really enjoyed working with the entire team from the setup process through to actual usability across not just our site, but client sites as well. There's always been someone at the end of the phone, always on hand to make sure that we get the support we need.
What stands out with Fugo versus other solutions?
Basically it's all about the bespoke nature of the canvas sizes and shapes. As opposed to a lot of other content management providers that only support standard 16x9 displays, Fugo lets you have those custom sizes and custom aspect ratios. That's a real key user selling point for our own customers.
For a lot of the work we do where it's not just standard rectangular LED screens it really helps to make sure that the customer is getting the right content management solution.
What else do you want people to know about Fugo & the Bendac Group?
What's great to know is we've got people on hand to support every type of project - small project or large projects. Both the Bendac & Fugo teams provide great customer support and a solution that's tailored for your display. So whether that's something for a sports stadium through to retail & corporate, the Fugo-Bendac solution is right on hand to meet all of your needs.
Give your screens a boost
To find out how digital signage can help grow your revenue, boost employee engagement or improve internal communications within your business, book a free Fugo demo or sign up for a 14-day free trial.