Digital signage is like an investment account: the more you add to it, the more you get in return. But unless you know what this return actually is, you may underestimate (or undercontribute!) and miss out on serious growth.
Hundreds of business face this conundrum in the earliest stages of their digital signage program. Your decision-makers have heard the success stories of digital signage, but they're not going to budge in your favor unless you're proving its ROI for the business — which there's a 7% chance you're not doing.
We totally get the stress of crunching numbers for something that seems so hard to quantify. However, we also know how essential it is to put a price tag on your program (and how easy it is to do with the right direction). That's why we wrote this comprehensive guide: to help you successfully measure your digital signage ROI.
Here, we explain everything you should know about calculating the return on investment for your digital signage programs. Not only do we thoroughly explain the 'why' behind it all, but we also walk through the step-by-step process of deciphering your ROI — without a single math degree needed.
Let's jump in.
What is Digital Signage ROI?
As you may know, digital signage ROI is a quantitative measurement of the return in investment from your signage screens. This is usually represented as a dollar value or percent based on the value a program adds to your business.
What is this 'value' exactly? Well, it largely depends on your business. Most people measure ROI in terms of dollars and cents, but others crunch their numbers using something more unique (think engagement time, viewers, or touchscreen users).
Calculating ROI can take a lot of time, and to be candid, it's not going to be laugh-out-loud fun. However, it's an absolutely essential task if you want a successful digital signage program.
Let's look at the reasons why.
Why Bother Calculating Your Digital Signage ROI?
The real question is, why not?
If you don't know your numbers, you don't know your business — and your digital signage ROI is no exception. Plus, knowing what's working for your business versus what isn't making the cut can help you save time, spend less, and make better decisions over time.
The numbers don't lie:
Marketers who calculate their ROIs get budgets 1.6 times higher than marketers who don't.
Nearly half of all marketers (48.8%) say ROI is the most prized metric for key decision makers — which means a low ROI means a diminished or cut program.
The average marketing ROI is roughly two times your initial investment, which means you may be doubling your signage's value without even knowing it.
In other words: calculating ROI for your digital signage is worth every second of irritation.
If you've been putting off calculating your signage ROI because you're worried about slipping up, never fear! We walk through the process of calculating ROI below so you can confidently attach a value to your digital signage program.
How to Calculate Your Digital Signage ROI
Calculating digital signage ROI is all about following a process.
Once you determine your business's 'estimated impact' (aka how much value you think you've gained from your campaign), you can subtract and divide by the estimated costs and multiply by 100 to get your ROI.
The formula looks like this:
(Value - Cost / Costs) x 100 = ROI
Let's say your restaurant's digital signage program generated $10,000 over the course of a year. To get there, you used Fugo's Essential plan ($20 per screen per month) on 20 screens around your restaurant. If you subtract the cost of your plan ($2,400) from your estimated value ($10,000), you get $7,600 — or roughly 317% ROI.
But what if you don't have hard numbers for estimated value? Or if you're using another metric (like employee engagement) to calculate value?
No worries! You can still find an ROI, provided you follow the right steps.
Here are some tips for running the numbers (and getting an answer for your boss).
Decide On Your Objectives
Before you sit down to calculate your ROI, ask yourself: what am I setting out to accomplish? Knowing what the finish line looks like for your business can help you set reachable objectives in the midst of a larger goal.
Just remember that all your signage objectives should be SMART whenever possible. This means they need to be:
Specific: Listing exact ways you want to improve your business
Measurable: Defining numbers, values, or KPIs to measure success (more on this later)
Achievable: Setting an objective you can feasibly reach within the timeline
Relevant: Establishing a goal just for your digital signage program
Timely: Specifying a deadline or cutoff date for the objective
Remember: The sooner you know what success means for your digital signage program, the sooner you can start measuring its ROI.
Choose Your Key Performance Indicators (KPIs)
You can think of your key performance indicators as the pieces of a puzzle. Putting them together helps you see a bigger picture, including how successful your actions are.
As mentioned earlier, there's no such thing as a 'one size fits all' set of KPIs. You need to figure out what's best for your business and work on building out a strategy from there.
Still struggling to know what should go on your shortlist? Try looking into options like:
Average dwell time (ADT)
Conversion rates
Screen traffic
Session counts
Click-through rates
Of course, KPIs alone aren't enough to measure your digital signage's ROI. For best results, you also need to. . .
Track Your Data
If you want to measure ROI as accurately as possible, you need to keep close tabs on the data feeding your KPIs. Tracking all activity associated with your digital signage can help you report more reliable numbers, leading to happier C-suites.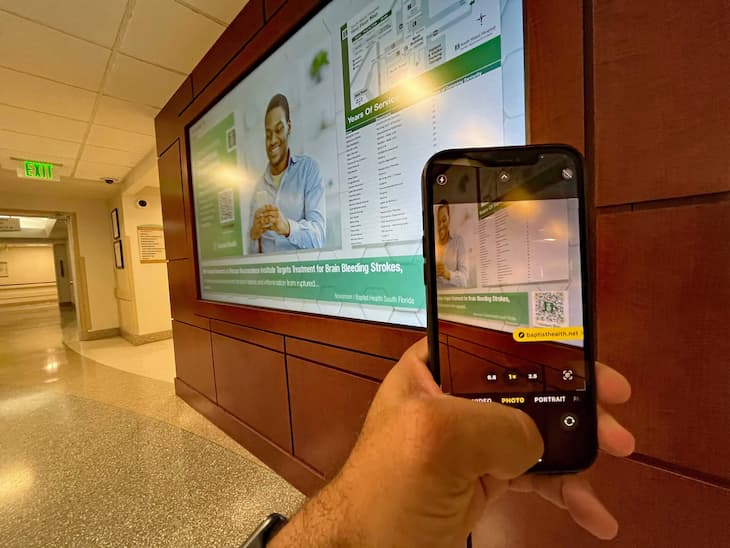 The easiest way of doing this? Just pull up a handy Excel sheet. You can enter all expenses and associated income to present rough numbers at the end of the year.
A few examples of your digital signage expenses may include:
Cloud-based digital signage software (that's us!)
Physical hardware for screens
Taxes, labor, and electricity
Income-creating activities are usually specific to your business, although we've seen some companies track:
If you're looking for qualitative data instead of quantitative numbers, you can always interview your audience and gather anecdotal evidence. You can also install cameras around your signage to better understand how customers interact with your displays. Depending on the goals of your digital signage display, tracking consumer WiFi activity may be a possibility.
Pick Your Success Ruler
With so many ways of calculating value, it can be overwhelming to choose the right metric for your digital signage program. That's why picking a single 'ruler' to use can help you avoid analysis paralysis while establishing a precedent.
Some of the most common 'rulers' companies use for digital signage are:
Net revenue: How much extra money has digital signage created for us?
View time: How much longer are audiences viewing our branded imagery?
Engagement: How often are audiences engaging with our signage?
So how do you pick the right one?
First, open up your 'toolbox' and consider your options. Then, pick your favorite (or most accessible) option and crunch the numbers. You can use the formula mentioned above, or just subtract your 'costs' from your 'value' to get a rough number.
Remember: there's no such thing as perfection in ROI. Only averages, estimates, and approximations. Whew!
Digital Signage ROI Case Studies: How Customers Tracked The Success of Their Campaigns
You probably didn't click this article just to measure the success of your campaign — you also want to know how successful digital signage has been for other companies.
So how much ROI can you expect from your digital signage?
The short answer: it depends.
The longer answer: according to other companies, you could save hundreds of hours, dollars, and headaches.
Let's look at three different case studies below.
Pearl Lemon
ROI Metric: Reduced customer issue ticket numbers by 15%
Pearl Lemon's marketing agency wanted to display data dashboards in multiple countries. But as you know, data dashboard displays can be tough to distribute without costly user licenses and expensive API processes.
Fugo partnered with Pearl Lemon to help get the right data in front of the right people. With the ability to launch TV dashboards on screens across the country, the company reduced customer complaints by 15% — a likely six-figure return on investment.
Clean House
ROI Metric: Grew their Instagram following by 15,800 new accounts
Home goods store Clean House had more than 200 different screens in three international locations. They needed a digital signage solution that wasn't just cloud-based, but also easy to use for various internal teams.
With Fugo, Clean House developed a unique communication channel for stores across multiple locations. They cut their time spent developing campaigns in half, then added nearly 16,000 new accounts to their social media channels. This put hundreds of new eyes on their products and spurred massive word-of-mouth gains with current shoppers.
Leroy Merlin
ROI Metric: Saved 2x the time by using a simpler digital content publishing tool
Time is money for Leroy Merlin, a French-based home improvement store with 290 stores in 12 countries. Similar to Clean House, the company required a multi-country solution for digital signage and better automation so teams could focus on other tasks.
Using Fugo as their digital signage provider, Leroy Merlin was able to cut time spent developing campaigns in half. This freed employees to focus on other tasks — such as creating an internal marketing program for more engagement and interest.
Maximize Your Digital Signage ROI With Fugo
As you can see, calculating your digital signage ROI is a great way to estimate the true value of your program. It's also a great way to maximize your signage so you can meet and exceed all your stakeholders' expectations.
At Fugo, we specialize in digital signage programs built for growing teams and enterprises. We knew there was a better way to manage, track, and improve digital signage, so we've been bettering our platform ever since.
We don't mean to brag, but we've worked with a lot of companies over the years — and we've been delighted to boost their ROI, too. Deployed on 5,000+ screens in more than 60 countries, we're proud to be one of the highest-rated digital signage providers on TrustRadius, GetApp, and G2.
Want to give us a spin? Let's get you onboarded for free. Our 14-day free trial comes with everything you need to start displaying, tracking, and measuring your digital signage ROI.