Love digital signage? We do too. But we're going to guess not everyone in your business shares the same sentiment.
You're more than ready to adopt a new tool. But the rest of your team? Maybe not so much.
So the real question is, how can you convince your IT teams and stakeholders to buy into digital signage?
Spoiler: it's not going to happen overnight. It might not even happen in the first few weeks. But if you can get the conversation started, you can build a good case for adopting a new tool.
Below, we're diving into the details for getting team buy-in for a digital signage program. After we walk through some different strategies and ideas, we explain how you can get a free trial with Fugo and prove your point with a hands-on demo. Who doesn't love free stuff?
Let's jump straight in.
Getting Your Team On-Board With Digital Signage
Scoping out a vendor for digital signage is one thing, but getting buy-in for it? That's another thing entirely.
See, buy-in means playing the long game rather than the short haul. You don't have to get a unanimous 'yes!' overnight, but you do need to prove why a new tool would save time and money as your business grows.
Stumped about where to start? Don't worry — we've got some ideas.
Let's start with the most powerful tool in your kit:
1. Make It (Actually) Engaging
Adopting a new tool can be, well, boring. Businesses add and discard new platforms all the time, and some team members may feel out of the loop or disengaged when you add yet another tool to the tech stack.
That said, we know employee engagement leads to truly incredible results. In fact, having fun actually boosts engagement and memory, especially when it comes to something new.
So it stands to reason that if you make digital signage fun, you might wind up with more buy-in than you can handle.
You may want to try:
A launch party with popcorn and hotdogs so teams can enjoy the 'premiere' of your digital signage tool
Gamify the adoption experience with a lighthearted competition (like 'who can create the best on screen message of the week?')
Creating an idea book for digital signage so anyone on your team can contribute to the solution
The bottom line? Making digital signage fun is a great way to boost buy-in. It's also a great way to boost employee engagement. This is a win-win for everyone!
2. Reinforce The ROI
While this isn't quite as fun as a screening party, it's equally important for getting buy-in from your team. Because like any other great technological advancement in history, you can't get people on-board until you show the proof in the pudding.
Sure, digital signage sounds cool, but how is it going to benefit the business? This is a huge question for C-suite executives who need to be 110% sure they're making the right decisions.
Thankfully, nothing screams 'buy-in' like a list of KPIs proving how digital signage knocks the socks off traditional signage.
Here are a few numbers to get you started:
80% of brands record higher profits with digital signage (up to 33%!)
Digital signage has a 83% recall rate, which is more than double traditional signage
Digital signage is up to 22 times less expensive than traditional signage
Want more numbers about the power of digital signage? Check out our full round-up here.
3. Haul Out The Case Studies
Numbers are a great way to reach the left-brained members of your audience. But what about those right-brained creative types?
It's time to haul those case studies out of the closet and show members of your team some real-life examples!
As you know, case studies are the perfect marriage of hard numbers and human emotion. Not only do you get an amazing list of KPIs, but you also get the social proof to back it up.
And we haven't even talked about the power of pull quotes yet!
Let's look at a few of our favorites:
"Metric wise, we have improved all over the place - our sales are getting better, our production is faster. As soon as the screen goes down, everybody notices it directly. So in the rare cases when that happens, it shows me how important getting live data is for all our employees."

— Christian Ahlin, IT Manager, CIO of Nordward
"We've accomplished what we set out to do, which was to provide information. I get great feedback on the announcements we post on the screen, which lets me know our screens are doing what they're supposed to."
— Reymy Gomez, Systems Administrator at Poppin
"[With digital signage,] I'm able to use features such as integrating my screens with Instagram and having QR codes. At any given moment, I can update my menu without any additional printing or production costs. With a few types of my keyboard, I can have a new item presented to my customers on the spot. This gives me amazing flexibility when it comes to making changes on a day-to-day basis."

— Ali, Manager of Greedy Kings
Psst — you can read even more of our digital signage case studies (and share your favorites) in our collection of user stories.
4. Be Real About Security Issues
The top priority of any IT team is to protect your business from threats. This means the digital signage tool you introduce has to be airtight — or risks a swift dismissal.
But you don't have to be an infosec pro to get your team to adopt a new tool. Addressing security issues head-on can do you a world of favors, especially if you're proactively sharing details about your specific vendor's security features.
We recommend covering:
The more honest and open you are with IT, the more confident and comfortable they'll feel about adopting screens into the company's digital framework.
5. Go For Relatability
It's hard to care about something if you don't know what it does. A digital signage solution could be a cool tool for your business, but if you're not tying it to ideas or potential campaigns, you're not making it easy for stakeholders to make the connection.
That's why use cases are such incredibly powerful tools for buy-in. Not only are you helping stakeholders see the bigger picture, but you're also getting their creative juices flowing and (hopefully) soliciting ideas from them, too.
Let's say you work for a restaurant chain and want to use digital signage to boost your bottom line. You might whip up a nifty PowerPoint and introduce your stakeholders to use cases like:
Using digital signage with QR codes to get customers involved with coupons and deals
Installing social media walls to encourage customer feedback and build in-house social proof for your business
Displaying TV dashboards in the back of the house to help decision-makers look at traffic, order volume, and rush hours
Building custom screens for employees of the month so you can build engagement for staff members
Creating an interconnected network of digital signage so you can update all location signage with a single click
Integrating touchscreen content with the rest of your displays and measuring the audience response with custom analytics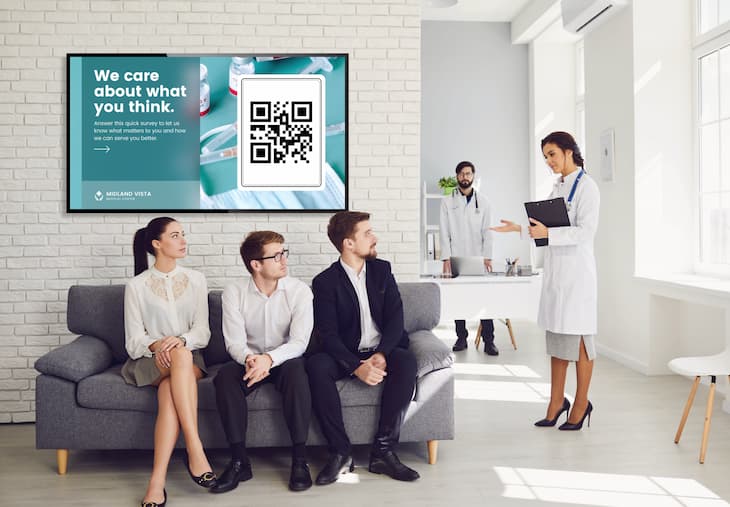 For even more ideas regarding digital signage use cases, check out our full list of Fugo features by industry.
6. Have The App Conversation
Today's businesses can't afford to keep their tools in a silo. Any digital signage platform worth its salt should be able to connect your stack with as little fuss as possible. If you can prove to your team that digital signage works with — and not against — your existing tools, you'll be one step closer to getting the green light.
Good news! With Fugo, you can connect your digital signage pieces to more than 37 third-party apps. This means you can build dozens of integrated content pieces without resorting to workarounds like Zapier workflows.
Want some ideas? Just check out some of our users' favorite apps:
Check out all our apps for digital signage here.
7. Highlight The Partnership
Although you might feel like you're fighting for buy-in amidst a sea of disinterested detractors, the truth is that everyone on your team genuinely wants the same thing: to grow the business. They don't want to settle for any old tool or a bare-bones platform with basic functionality. Instead, they want to see how a digital signage tool could grow, scale, and do more with less.
At Fugo, we've made it our mission to grow alongside our customers and build a robust product roadmap to accommodate changing needs. We've also made it easy to make integration and feature requests, then vote for your favorites so we can prioritize what matters most to you.
Just take a peek at some things we have in the pipeline:
Native support for Sharepoint Online
Integration with Google Earth
Screen mirroring to multiple displays at once
Microsoft Teams integration
Our customers believe we're one of the best solutions for scalable digital signage. No need to take us at face value, though. Just read through a few of our recent reviews.
8. Take Fear Out Of The Equation
Did you know the same part of the brain that produces fear also processes change? That's probably one of the reasons why 70% of digital transformations fail — humans have a huge sense of fear about doing something new.
Encouraging your team to adopt digital signage, then, requires you to look at the bigger picture of buy-in psychology. What can you highlight, point out, or put on display to help team members feel safe about change?
You have a couple options:
Highlight the availability of support teams. If something goes wrong with your digital signage, they can get in touch with the help desk immediately.
Review live tutorials, guides, and other available support content. You can browse the Fugo help center at any time or send a chat through our website for more guidance.
Examine the performance and uptime of your preferred digital signage platform. You get 99.99% uptime with Fugo's service level agreement, which is available on every plan starting at $20 per screen per month.
Remember: the more comfortable your team feels about digital signage, the more buy-in they'll have moving forward.
9. Walk Your Team Through A Demo
Your team has lots of questions. You have (a couple) answers. Rather than subjecting yourself to what might be a merciless grilling, why not schedule a demo with your digital signage platform of choice?
Fugo makes it easy to schedule a demo on a date or time that works for you. In our full 30 minutes of product touring and demo-ing, we answer pressing questions like:
What do you want from your digital signage?
What kind of hardware (screens and players) do you already have in place?
What are the different types of content you want to display?
If your team likes what they see from this initial demo, or if they're eager to test it out themselves, there's just one buy-in strategy left to try…
10. Make It Hands-On
Let's be honest: learning by doing is way easier than learning by seeing. You could preach about digital signage all day long (we do!), but the best way to get someone's buy-in for a new platform is to let them try it out.
Luckily, that's where we come in. Testing digital signage with Fugo is simple, easy, and most importantly, free. The best part? It's 14 days of uninhibited access so you can try before you buy.
Turning To Fugo For Scalable Digital Signage
Not all heroes wear capes — but you most certainly do. You've seen the power of digital signage and are doing everything you can to make adoption a reality (even if others on your team can't see it yet).
As you champion new ideas and encourage your team to think in new ways, don't forget to neglect the most powerful strategy of all: a free trial! Everyone on your team can take your tool for a spin and see just how good digital signage can be.
At Fugo, you get 14 days to test our platform with no strings attached and zero hidden fees. Once you trial the tool and test our features with your team, you can pick the plan that's right for you. We don't do minimum screens or users around here — just choose a tier and start displaying your signage.
You can sign up for a free trial today and put up your first display in 15 minutes or less.