Author: Meagan Shelley
And they said the QR code was dead.
In case you haven't heard, these cute little squares are starting to make a serious comeback in the marketing world. From B2Bs to little corner shops, the rise of the QR code is upon us once again.
What brought QR back into the limelight? Take a guess.
The start of COVID-19 pushed more and more people to start looking for contactless services. More than that, businesses needed to communicate with clients who were miles away (and locked inside their homes.) So it's no big surprise that QR codes became the tech that saved the day.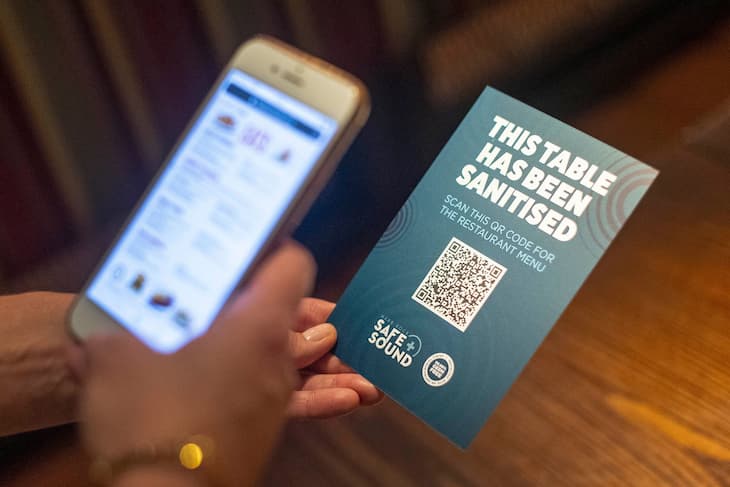 Lots of industries have chosen to hop on the QR train, from phone plans and car manufacturers to makeup companies. However, the real victors of the QR craze have been food services, food trucks, and restaurants.
The truth is, QR codes are a way for restaurants to further engage customers and integrate with their online presence. And digital signage is a huge part of QR strategy success. How do we get from here to there? With some creative planning, of course!
This article will cover some of the more interesting ways to use QR codes, and take a holistic approach to the topic by exploring:
Understanding The QR Code
How To Use QR Codes
QR Code Marketing
Restaurant Social Media (And How QR Can Help)
Understanding QR Codes For Restaurants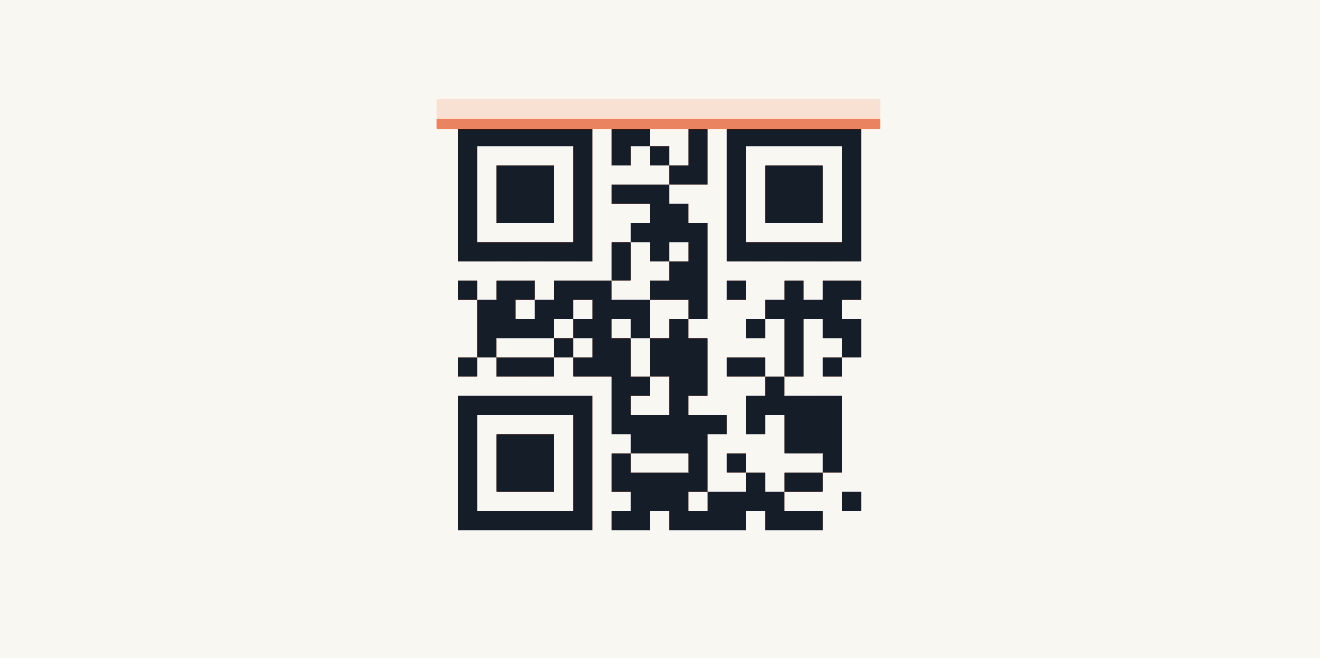 The best way to explain a QR code is that it's a tiny box storing lots of data. All QR codes are a little bit different, and connect customers with interesting CTAs. A client will hold their device's camera over the code, then immediately be linked to an inbound page from the maker (that's your restaurant.) The goal of QR is to help customers take the next step in the buyer's journey without too much hassle.
But what exactly does QR code stand for? Glad you asked.
QR is an acronym meaning 'Quick Response.' In other words, it's a type of technology that allows customers to make rapid decisions at the touch of a button. By lowering the time and risk thresholds associated with taking action, QR codes make it easier than ever to keep your customers engaged.
9 Ways To Use QR Code Marketing To Engage Customers

Even in the restaurant industry, the use of QR codes knows no bounds. See what they could do for your restaurant by referring to their list of uses below:
1. Beef Up Digital Menu Boards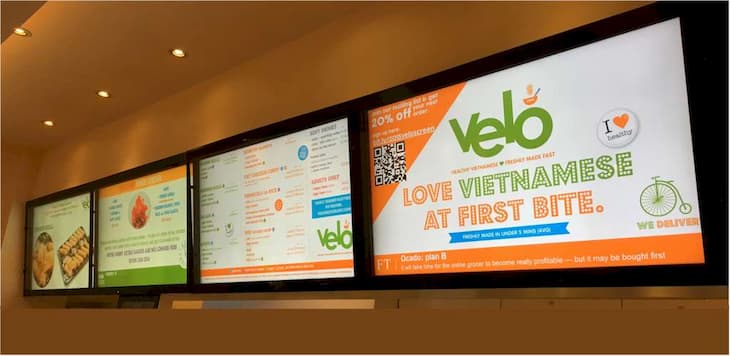 Once you know the basics of how to use QR codes, a whole world of options opens up for your restaurant to drive diners to specific action. Adding QR code content to your digital menu is a great way to do this, whether that's in your QSR, fast casual spot, or even a home restaurant.
Who doesn't love to see tasty menu options swirling around a colorful screen? And what restaurant wouldn't want their menu to be able to go beyond listing items & prices, with no additional cost of designing and redesigning menu boards with every update?
By strategically including QR codes on your digital menu screens, you can show customers where to find you on food delivery apps, encourage them to leave a review, or even point them to your social media pages! All the eyeball traffic falling on digital menu screens make them prime real estate inside your restaurant - use them wisely while you've got your customers' attention.
The right digital menu board software can help you design a menu that's modern, dynamic, and flexible in terms of content you can show. Want to display your lunch menu and drive traffic to your Instagram feed simultaneously? Want to promote premium items during peak business hours? Need to update your menu without paying to redesign and reprint them? It's all possible and easier than you probably think, thanks to nifty software tools like Fugo.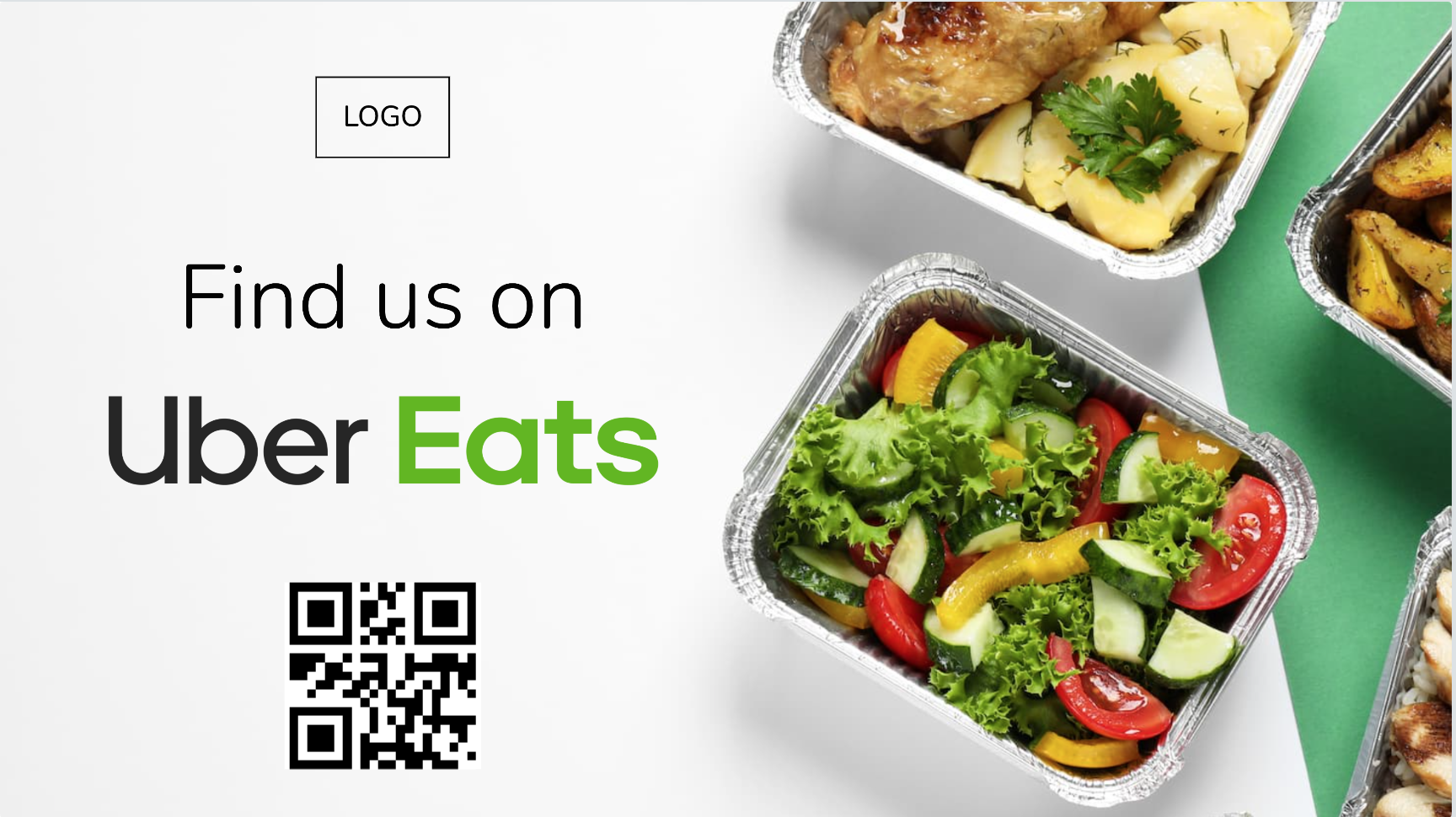 2. Contactless Ordering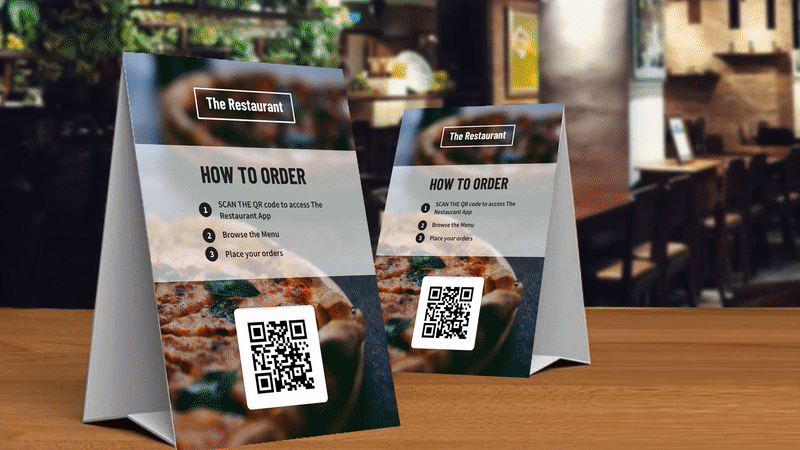 Digital signage for restaurants deserves to have some pizzazz. Plus, having a contactless menu provides an avenue for health-conscious customers to order from your business.
Even though we're coming through to the other side of this Covid mess, contactless ordering isn't going away. Restaurants that have switched to QR code menus have saved as much as $3,000 a year by eliminating the costs and labor associated with reprinting menus. And they've also enjoyed the flexibility to remove items from the menu when they sell out, a win-win for restaurants wanting to avoid disappointing customers.
If you're a quick-service or fast-casual restaurant, QR code restaurant ordering will absolutely be the next step in your evolution.
3. Restaurant Social Media Marketing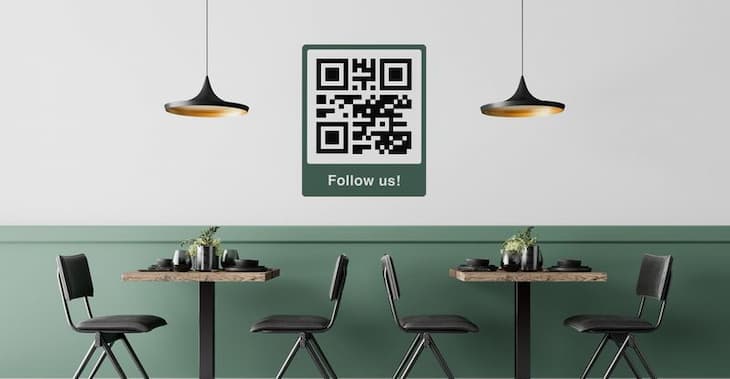 Don't stop at just the digital restaurant menu. Restaurant marketing can take on many different forms, including but not limited to social media campaigns. Get your customers following you on social media and they'll be able to keep up with stuff like promotions, happy hours, or event nights while they're not in store.
Discount codes and coupons are a great way to kick off campaigns, as well as some giveaways or contests. You might also use QR to instantly connect customers with social media handles. The choice is up to you!
4. Manage Your Online Waitlist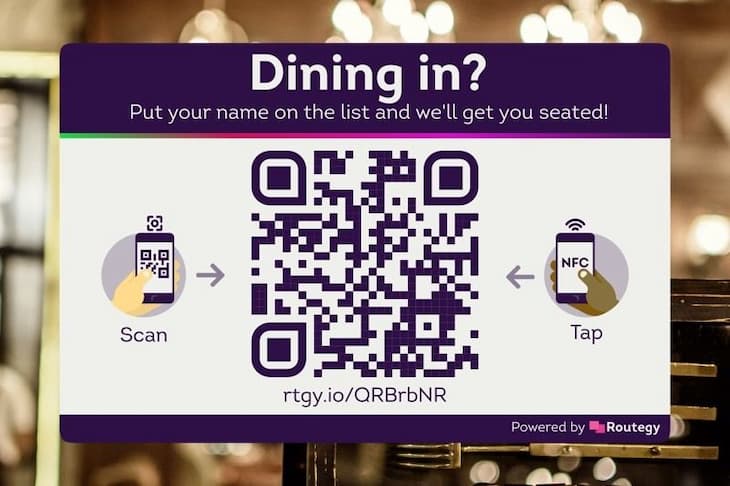 If you're constantly running waitlists for your tables, why not try using QR codes? Customers can scan and track their place in line, all without putting too much stress on your front-of-house staff. It's a win-win for everyone!
With much of the world opening back up, restaurants are turning to services like Yelp Waitlist and Routegy to help ease back into the dine-in experience.
5. Ask For Feedback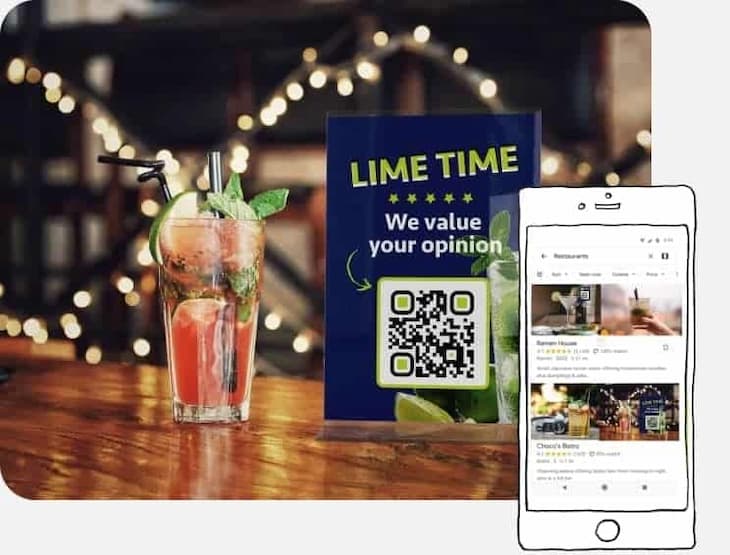 Have customers scan a conveniently located QR code in order to leave an online review. This convenience could lead to more reviews in less time (how about 60 seconds or less?) Try placing one near every table for optimal results.
6. Phone-Based Dinner Payments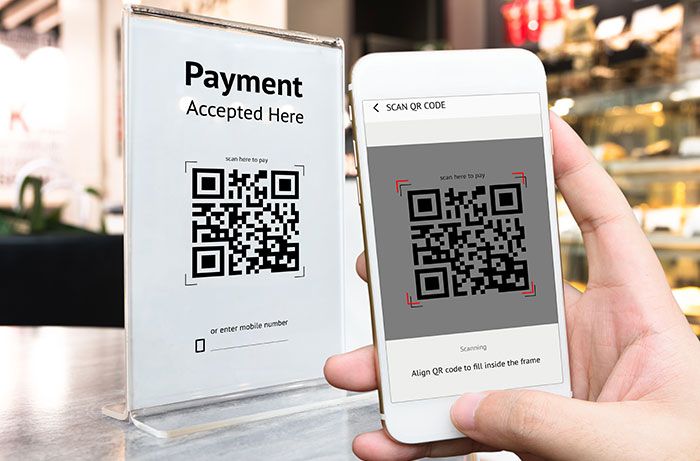 Free up the line by offering payment options via QR codes. Although this strategy may not work for all restaurants, it could be a really helpful feature during rush hour.
7. Automatically Connect To Restaurant WIFI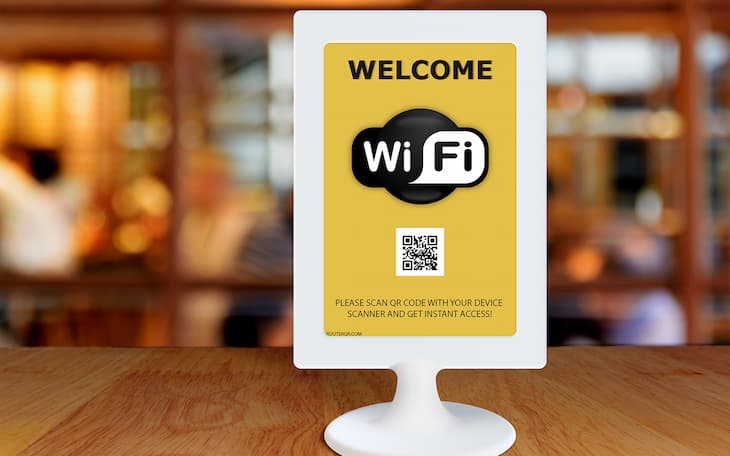 QR code advertising could be as easy as 1-2-3. By offering ways to quickly get connected to WIFI, you can secure some pretty positive WOM (and undying customer loyalty).
8. OOH Advertising With QR Codes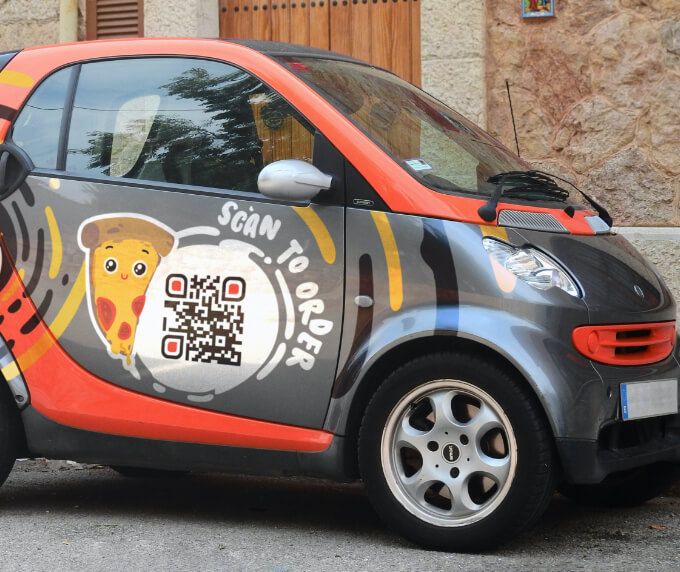 OOH, better known as 'out-of-home' advertising, is a big blanket term for advertising that does some pretty powerful things. Coupled with QR codes, OOH is an unstoppable plan for success.
Want some ideas?
Slap a QR code menu on a company car
Use QR codes on billboards to embed Google Map directions
Hook QR codes into your contact details and make it easier for customers to call you
9. Redeem Rewards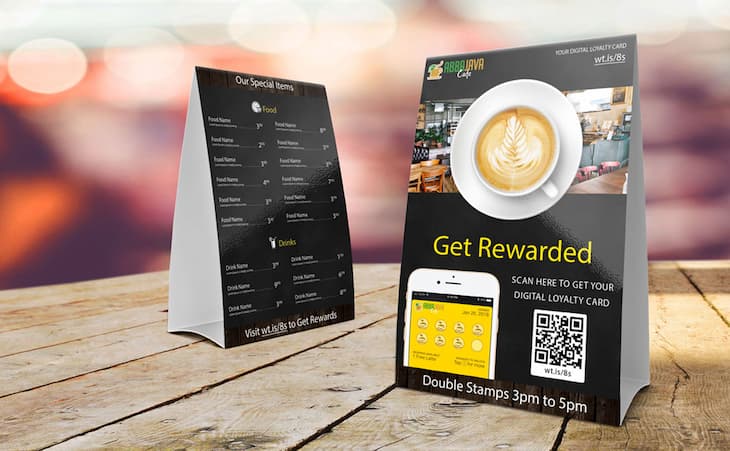 From ice cream parlors to coffee shops, offering digital punch-tickets for rewards are a thing of the future.
Use QR codes to connect customers with coupons, limited time offers, or special reward deals. You'll have 'em coming back for more, guaranteed!
Generate QR codes & display on screen in clicks - update any time free of charge
QR codes are a cheap, easy, and kinda fun way to upgrade your restaurant marketing collateral, including digital signage. With just a little bit of work and an easy QR code generator, you can engage customers with a delicious menu, eye-catching campaigns, and neat little touches that keep the orders rolling.
So okay - all of this sounds great. But you're probably thinking that's a LOT of effort. I have to find a QR code generator to create all the links, find a designer to create the banners and table stands, then pay a printer to print it all out... then what if I change the link? Or when my campaign ends? This doesn't sound very flexible.
The beauty of using digital signage software to display QR codes on screen is that you can display multiple codes for multiple campaigns and update them any time - without the costs of regenerating the codes and reprinting your materials. All you need is a screen, a media player, and Fugo CMS to get started.
Psst - you can also try the free and simple QR code generator from Canva
To add QR codes to your print & web materials, use the QR code generator at Canva to create a free QR code to attract new customers. Create professionally designed QR codes in just a few clicks — perfect for marketing brochures, business cards and also for restaurant menus.
Still got questions? We've got answers.
See how easy it is to implement your next QR code campaign with Fugo. Give it a go with a 14-day free trial, or give us a ring for more help. We're looking forward to lending a hand!